Description
Hung Tai Fresh Fruit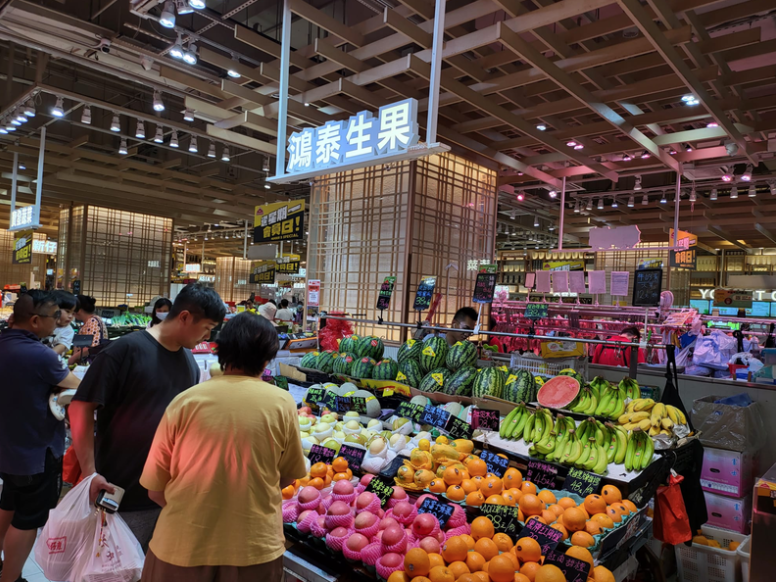 🚚 The Fastest Delivery Time : 2-3 day delivery.
🐝 Supplier / Place Of Origin:Hung Tai Fresh Fruit / Japan

🌱 Producer Introduction:
Cheung Gor have worked as a chef in a hotel for many years, and I definitely have requirements for ingredients. In another runway, He engaged in fruit wholesale. In 2013, Cheung Gor just rented my own durian factory in Thailand. Winning the love of customers and scientists, there is a T Market in Tin Shui Wai that sells fruit directly and operates a neighborhood business.
🌱 Supplier Products:
🛍 Product Information (Main) (English):
Binomial Name:Pyrus perifolia (Burm. f.) Nakai var. culta (Mak.) Nakai
Chinese Name:黃金梨 | 水晶梨
Other Names:Pear Gold
Product Description:Ganlu Pear contains a lot of fructose, which can be quickly absorbed by the body. Most of the fiber is on the peel. Eating together with the peel can get more complete fiber compounds.
Variety:The pears that Taiwanese often eat are also called sand pears, golden pears, Asian pears, Korean pears, Japanese pears, and Taiwanese pears. In addition, because of a round one, it looks a bit like an apple, so some people are called apple pears, but the most People call it a pear.
Pears can be divided into two categories: "West Pear" and "Oriental Pear". There are more than 20 varieties common in daily life, including Yali, crisp pear, Spring pear, perfume pear, Jingbai pear, autumn white pear, Yaluang pear and so on.
According to the color of the peel, Japanese pears are roughly divided into two types.
There are two types: "red pear" type, the peel is yellow -brown, represented by "KOSUI" and "Nitaka"; the "green pear" type, the peel is pale yellow. -In green, such as "twenty essence" and "chrysanthemum water".
The green pear varieties have become popular in the 20th century, but the number has gradually decreased since then. Nowadays, red pear varieties, such as high water pear and Fengshui pear, dominate.
Supply Season:The birth period from November to March of the following year.
Storage Method:The pear has a crunchy texture and the juice drips from the pear, making it juicy. To keep it intact and prevent it from drying out, put it in a plastic bag and store it in the vegetable drawer of the refrigerator. If you do, it will keep good for about a week, but be sure to eat it as soon as possible while it is still fresh.
Store pears are usually boxed or packaged with the bottom up, but this is because bottom pears have a higher sugar content, so it is important to distribute the flavor throughout the fruit. When putting it in the refrigerator, it is recommended to put it in the same way with the bottom facing up.
#Should Be / Avoided:
Pregnant women can eat pears

Properties (TCM): cold
Five Flavors in TCM: Sweet, Slightly Sour
Efficacy Promote body fluid and quench thirst, moisten dryness and resolve phlegm
Pregnant women eat pears in the early stages of pregnancy, which can clear away heat and detoxify, lower blood pressure, and prevent pregnancy edema and pregnancy-induced hypertension, but one pear a day is enough. The carbohydrates and vitamins contained in pears are easier to be absorbed by the body, and it is rich in B vitamins, which can reduce fatigue, protect the heart, and enhance myocardial vitality. It also has the effects of calming the nerves, nourishing the heart and protecting the liver, anti-inflammatory and analgesic, and has the effect of preventing and treating lung infection and hepatitis. Eating stewed pears often can increase body fluid in the mouth, prevent dry mouth and lips, eliminate phlegm and relieve cough, and have a maintenance effect on the throat.
Pears have a diuretic effect, so people with frequent nocturia should eat less pears before going to bed. Pears contain more fruit acids, and those with a lot of stomach acid should not eat more. At the same time, they should not be used with alkaline drugs, such as aminophylline and baking soda. Pay attention to the risk of spraying pesticides when eating pears. They are not our organic fruits, and they can only be eaten after peeling.
*Edible Compatibility:
Cooking Skills:It can be eaten raw, fermented wine, whole canned products, fruit juice, vinegar, pear tea, stewed pear, medicine, etc.
Store Nashi pears in the refrigerator. The fruit tastes best chilled. Do you often make juice with a slow juicer? Try using Nashi pears as your basis instead of apples or ordinary pears. Nashi pears contain a lot of juice, so they make a great basis for delicious juice drinks.
Notes:In terms of medicine, its fruit has the effects of promoting body fluid and moistening dryness, clearing away heat and reducing phlegm, and cleaning teeth.
The peel of pears is edible, because the peel contains a lot of fiber, so eating the peel is the best for health.
Sydney's dos and don'ts
1: Sydney is cold in nature and helps dampness. Eating too much will hurt the spleen and stomach, so people with weak spleen and stomach and who are afraid of cold food should eat less.
2: Sydney contains a lot of fruit acid, those who have a lot of stomach acid should not eat more.
3: Sydney has a diuretic effect, and those who urinate frequently at night should eat less Sydney before going to bed.
4: Patients with blood deficiency, chills, diarrhea, and cold hands and feet should not eat more pears, and it is best to cook them before eating to prevent the symptoms of dampness and cold from aggravating.
5: Sydney contains high sugar content, so diabetics should be careful.
6: Sydney contains a lot of fruit acid, so it should not be used with alkaline drugs, such as aminophylline and baking soda. Sydney should not be eaten with crabs to prevent diarrhea.
7: For those who relieve cough and reduce phlegm, it is not advisable to choose pears with too high sugar content.
Dish:Like apples, ripe pears are firm and can be eaten straight away. Eat a Nashi pear like an apple or pear: peel it (if you want to) and cut it into wedges.
In addition to being used for viewing, making fruit, fermented wine, whole canned products, fruit juice, vinegar, Sydney tea, stewed Sydney, the fruit can also be used as medicine.
Suggested Eating Method:
You can eat, fermented wine, tidy products, fruit juice, vinegar, gold pear tea, stewed gold pear, make medicine, etc.
🥗 Recipe (English Version):
Google Recipe 🔍 :

English CookPad 🍳 :

BBC Good Food 🥙 :

🔅Precautions (English Version):
🍎 Preserve fruits
1. Fruits especially with softer skin, if packaged, should be placed in the cold box in the original package;
2. Organic fruits are more prone to spoilage if they have water droplets. Put the fruits in a ventilated place to dry or wipe off the water vapor, then wrap the fruits in slightly damp newspaper and put them in a plastic bag before refrigerating. ;
3. Organic fruits do not use preservatives or special treatments. fruits are generally stored for three to five days in room temperature only, should be kept in fridge. Some fruits e.g. papaya will decompose enzymes, so they should be eaten as soon as possible.
🍏 How to wash fruits
Special attention: The dishes, especially small flowers and broccoli, are best soaked in the water to remove residual pesticides (this is organic farm, but will have, but not chemical, except to Re-generative Farm). It is recommended to use our vegetables and vegetables environmentally friendly cleaner
Dish Drops
for 3 to 5 minutes to eliminate residuals Sand and organic pesticide.
1. Wash fruits before eating to keep them fresh;
2. It is not advisable to soak the fruits for too long, and they should be washed first and then cut to avoid the loss of vitamins;
3. Washing fruits with dilute salt water or Dish Drop can easily remove vegetable insects;
4. Cut fruits with a stainless steel knife to reduce vitamin loss;
5. Vegetable leaves contain a lot of nutrients, so you should avoid shredding, chopping or grinding the leaves;
6. Immediately eat after cutting, to avoid the loss of vitamins due to air oxidation.