Description
Hung Tai Fresh Fruit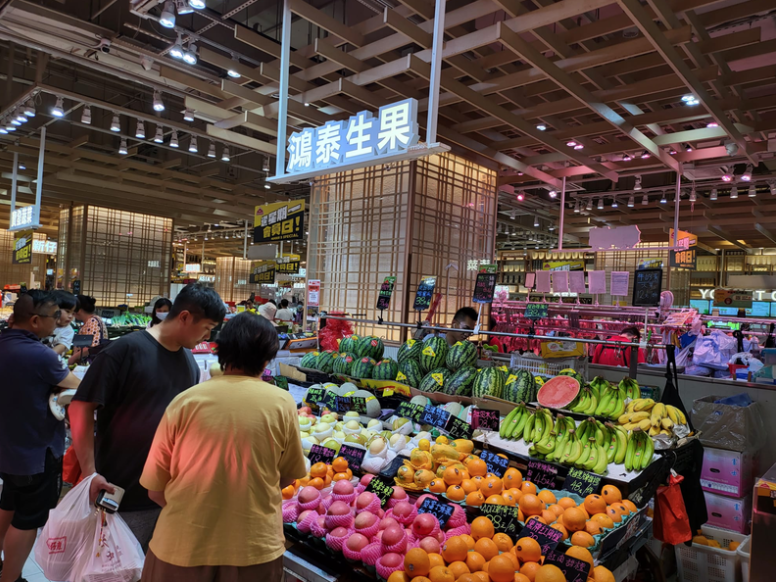 🚚 The Fastest Delivery Time : 2-3 day delivery.
🐝 Supplier / Place Of Origin:Hung Tai Fresh Fruit / Netherlands

🌱 Producer Introduction:
Cheung Gor have worked as a chef in a hotel for many years, and I definitely have requirements for ingredients. In another runway, He engaged in fruit wholesale. In 2013, Cheung Gor just rented my own durian factory in Thailand. Winning the love of customers and scientists, there is a T Market in Tin Shui Wai that sells fruit directly and operates a neighborhood business.
🌱 Supplier Products:
🛍 Product Information (Main) (English):
Binomial Name:Carica papaya L.
Chinese Name:木瓜
Other Names:Papaya
Product Description:It is the fruit of the papaya family papaya. Sweet, slightly cold in nature. It has the functions of strengthening the spleen and stomach, helping digestion, removing dampness and relaxing tendons, clearing summer heat and quenching thirst, enhancing breasts and breasts, softening blood vessels, and antibacterial and anti-inflammatory. It can treat stomach pain, indigestion, dysentery, poor stools, deficient heat and irritability. Its rich carotenoids and vitamin C bring anti-aging, beauty, anti-cancer and anti-cancer, and enhance physical health effects. Immature fruits and leaves are rich in papain, which helps digest animal protein.
Native to South America and distributed in Mexico, Peru, Brazil and other places. After Columbus discovered the new continent of America, it spread around the world with the traces of navigators. In Asia, it is more common in Indonesia, Thailand, Vietnam and other places. It has been introduced into China for about two or three hundred years, and is most cultivated in Guangdong, Guangxi, Fujian, Hainan Island and Taiwan.
Variety:Main varieties: Solo, Blue stem, Betty, etc. in America, with taller and larger plant types; Hortus gold in South Africa.
Chinese varieties are:
(1) Lingnan species (嶺南種): thick flesh, orange-yellow, sweet taste, but weak disease resistance;
(2) Suizhonghong (穗中紅): The quality is similar to that of Lingnan species, and the taste is lighter, but it has strong resistance to waterlogging and disease;
(3) Thai red meat (泰國紅肉 introduced from Thailand): The fruit is thinner, long cylindrical, and the flesh is thicker.
There are three kinds of papayas commonly found in Taiwan and China: Tainong No. 2 (臺農2號), Sunrise (日陞), and Red Lady (紅妃). Most of the papaya trees certified as organic in Hong Kong are Red Lady (紅妃).
Supply Season:Available in Hong Kong all year round, the most suitable period is from May to September.
Storage Method:It can be stored for 2 to 3 days at room temperature, it is recommended to consume it as soon as possible after purchase.
Don't put papaya in the refrigerator if it is not ripe, otherwise it will become a "dumb fruit" and will never be ripe!
Both bananas and papayas are crops that need to be matured. After taking home, you must confirm whether the papaya is ripe before putting it in the refrigerator. For unripe papayas, if you put it in the refrigerator before it is ripe, it may never be ripe. It will make the papaya ripen slowly.
Please pay attention, touch the papaya with your hands to check its maturity. After beating the unripe, you can wrap it in newspaper and check again in one to two days.
#Should Be / Avoided:
Appropriate: It is suitable for people with rheumatism, muscle and bone pain, chronic gastritis and stomach pain, indigestion, obesity and postpartum lactation deficiency.
Contraindications: People with astringent and painful urination should avoid taking it.
Pregnant women should avoid eating papaya

Properties (TCM): warm
Five Flavors in TCM: sour
Efficacy Calming liver and stomach, relaxing tendons and collaterals, invigorating muscles and bones, lowering blood pressure
Papaya is known as "Longevity Fruit" in China. It is sweet, delicious and nutritious. It contains proteolytic enzymes, which help break down protein and starch, and are of great benefit to the digestive system. However, the papaya glycosides contained in papaya have a significant contraction effect on the uterus, and pregnant women will experience accidental miscarriage or premature delivery after eating it. In addition, papaya is a cold fruit, and pregnant women with slightly weak constitutions are prone to stomach cold or gastrointestinal discomfort after eating papaya.
Papaya itself has adverse effects on teeth and bones. Pregnant women are prone to bleeding gums during pregnancy. Eating papaya will only aggravate oral problems and is not conducive to bone health. The papain in papaya has obvious excitatory effect on the uterus. Pregnant mothers will feel abdominal discomfort after eating it. Papain also has a paralyzing effect on the smooth muscle and skeletal muscle of pregnant women, and it also has a certain degree of toxicity. If pregnant women eat it, it may cause allergic reactions.
Therefore, in order to avoid accidental miscarriage and premature delivery, it is best for pregnant women not to eat papaya, whether it is raw or cooked.
*Edible Compatibility:
Affordable: 1. Papaya and milk: Papaya protein in papaya helps the digestion and absorption of protein in milk. 2. Papaya and beef or pork: The milk in papaya is the main ingredient for making papain, which is commonly called loose meat powder on the market, which can soften the muscle fibers of pork or beef, make the meat tender and smooth, and help the absorption of protein. 3. Papaya and raw fish: Papaya to cook raw fish, fish tail or stewed pig's trotters has the effect of promoting milk secretion. Phase grams: 1. Papaya and pumpkin: The vitamin C decomposing enzyme in pumpkin will destroy the vitamin C in papaya and affect its nutritional value. 2. Papaya and beef liver: The copper in beef liver will accelerate the oxidation of vitamin C in papaya, making it lose its nutritional value.
Cooking Skills:
Important Information 
Most of the organic papayas you buy here are not eaten immediately. They need to be undergo "ripening process", wrapped in newspaper, and stored at room temperature for two to several days. In rare cases, they can be eaten immediately. If the papaya is not sweet, it does not mean that there is a problem with the quality, it just means that the papaya is not ripe enough, which is similar to mango, pineapple and many other fruits.
The fruits are oblong, oval or pear-shaped. When ripe, the peel changes from green to yellow, and the outer belt is wrinkled. The meat is thick and soft, orange-yellow or red. The seeds are white when immature and turn black when ripe. The fruit weighs about 1-2.5 kg. Most of the edible varieties are papayas from the south. In addition to raw food, it can also be processed into jam, preserved fruit and dried fruit.
Papaya can be cut into small pieces and eaten fresh, or put into rock sugar to make papaya juice. Southern papayas are eaten raw or as a vegetable stew with meat.
Every naturally ripened papaya is familiar. The appearance of black spot and get mouldy of the outer skin is a natural phenomenon. This is very different from the artificial ripped papaya. It is also difficult to avoid. In this case, in addition to giving us back to us, it can also cut the slightly damaged meat. Generally, he will not affect the flavor of the melon. Nevertheless, sensitive people should avoid eating.
Notes:Important The papayas we sold here and in most cases are not unsuitable to eat immediately, they all need the stage of "ripening". If they are not ripe, they will not be sweet. This has nothing to do with the quality. It's just that the papayas bought in the market and supermarkets have been artificially ripened, so they look beautiful and are in the most perfect state for you. Most of them can be eaten immediately.
The papain in papaya is slightly toxic to the human body, so it should not be eaten too much each time, and those with allergies should eat with caution. In addition, avoid contact with iron or lead utensils.
Another traditional Chinese medicine called "Chuan Papaya", also known as "Xuan Papaya", is not "Papaya" that can be eaten fresh. Chuan papaya (scientific name: Chaenomeles sinensis, a Rosaceae plant), sour in taste and flat in nature, is mainly used to eliminate dampness, relax tendons and activate collaterals, and is most suitable for patients with rheumatism. Xuan papaya in the north is mostly used to treat diseases and should not be eaten fresh.
About the issue of genetically modified (GMO) papayas
Hong Kong has passed a "Genetically Modified Organisms (Control of Release) Ordinance (the "Ordinance") to protect biodiversity under the precautionary principle. GMO crops cannot be grown, otherwise it is illegal.
However, because the GMO papaya has been widely planted in Hong Kong, it is difficult to enforce the law, and there are no close relatives of it in the local wild. Therefore, starting from June 23, 2012, Hong Kong has completely exempted the cultivation of GMO papaya and exempted two imports. GMO papaya seeds that have been produced commercially are not regulated by the Ordinance. The so-called comprehensive exemption means that regardless of whether it has been approved for commercial production by the place of production or has not yet been approved, it can be planted without exception.
Comprehensive exemption is of course a one-hundred-thousand, without law enforcement, but it allows the pollen of GMO papaya to contaminate other non-GMO conventional and organic papayas uncontrollably, sacrificing the planting rights of local and organic growers, as well as the genes of local agricultural resources Diversity, moreover, leaves gaps in local food security.
In order to draw Hong Kong people's attention to the local genetic pollution problem and its impact on local conventional and organic farmers, as well as ordinary growers, the Green Field Fund launched the "Hong Kong No Genetically Modified Planting Areas" campaign in 2011, calling on all Hong Kong Farms or individuals who plant space participate in this civil spontaneous movement and express their will to the government. As Hong Kong currently does not have mandatory genetically modified food labeling laws, the seeds or tubers of some genetically modified fruits and vegetables (such as papaya, potato, etc.) may be used by citizens or farmers for planting. According to the "Survey Results of Genetically Modified Organisms in Hong Kong" by the Fisheries and Conservation Department, in 2011-2012, 69% of papayas imported into Hong Kong were genetically modified. If a citizen or farmer leaves the seeds of the papaya he has eaten, and then grows it himself, then his papaya may be genetically modified.
Exempt two commodity varieties of GM papaya (i.e. GM papaya with unique identifier code CUH-CP551-8 (also known as 55-1) and GM papaya with GM event code Huanong 1) so that they are not subject to Ordinance (regarding that no person shall knowingly import genetically modified organisms intended for release into the environment). After the exemption takes effect, anyone who grows or raises genetically modified papayas in the field, or administers genetically modified live vaccines for animals to animals will not be guilty of an offense under the Ordinance.
In addition, organic certification in Hong Kong prohibits the use of genetically modified seeds and the self-propagation of papayas. Non-GM papaya seedlings must be purchased from approved producers to ensure that the farm papaya is not contaminated by genetically modified seeds. Therefore, as long as the farm is not certified, even if it is organic cultivation, the risk of local citizens buying organically modified papayas is really high.
Dish:The immature fruit has green skin and pale yellow flesh, which is suitable for cooking materials, such as papaya fish soup.
It is usually eaten raw. The ripe fruit of papaya is usually eaten raw, without the skin or seeds.
Suggested Eating Method:
Important Information
Most of the organic papaya we bought is not immediately eaten. It needs to be "cooked". It needs to be wrapped in newspapers. Storage room temperature ranges from two to a few days. In rarely, it can be eaten immediately. If it is not sweet to eat papaya, it does not mean that there is a problem with quality. It only means that papaya is not cooked, and it is similar to mango, pineapple and many fruits.
The fruits are divided into round, ovate or pear -shaped. When mature, the peel changes from green to yellow, and the outer leather has wrinkles. The meat is thick and soft, orange or red. When the seeds are immature, it is white, and it becomes black when mature. The fruit weighs about 1 ~ 2.5 kg. Most of them are papaya in the south. In addition to raw food, you can also process fruit sauce, preserved fruits and dried fruit.
It is recommended to eat:
Papaya can be cut into small pieces of fresh food, and can also be put into rock sugar to make papaya juice. The papaya in the south can be eaten raw, or it can be stewed together as vegetables and meat.
Every papaya is naturally cooked, and the appearance of black class and mildew and moldy skin is natural phenomenon. Avoid this situation, in addition to giving us back to us, you can also cut the slightly damaged meat. Generally, he will not affect the flavor of the melon; if papaya is bad or deteriorated, it will naturally have a sour taste and fermentation flavor. These will be It is the role of microorganisms. For people with sensitive gastrointestinals, avoid eating.
🥗 Recipe (English Version):
Google Recipe 🔍 :

English CookPad 🍳 :

BBC Good Food 🥙 :