Description
Hung Tai Fresh Fruit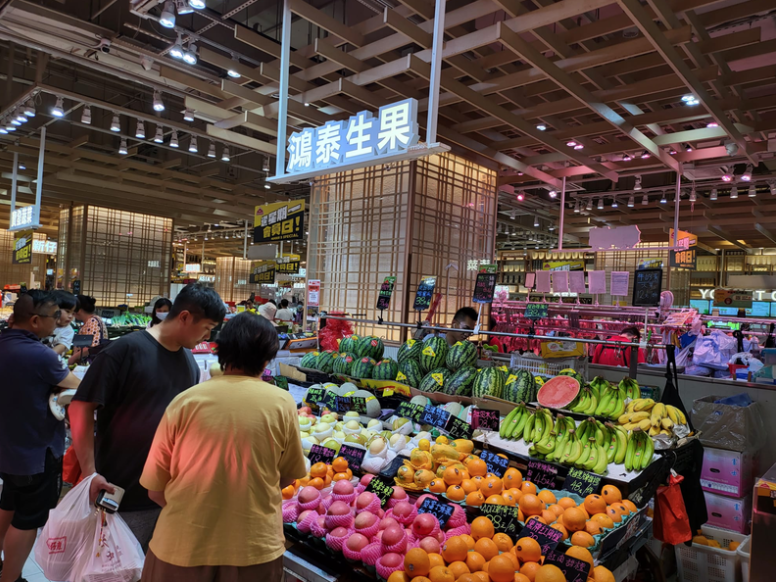 🚚 The Fastest Delivery Time : 2-3 day delivery.
🐝 Supplier / Place Of Origin:Hung Tai Fresh Fruit / Usa
🔖 Certification:
🌱 About the Supplier:
Cheung Gor have worked as a chef in a hotel for many years, and I definitely have requirements for ingredients. In another runway, He engaged in fruit wholesale. In 2013, Cheung Gor just rented my own durian factory in Thailand. Winning the love of customers and scientists, there is a T Market in Tin Shui Wai that sells fruit directly and operates a neighborhood business.
🌱 Supplier Products:
🛍 Product Information:
Binomial Name:Phoenix dactylifera
Chinese Name:帝王椰棗
Other Names:Medjool | Medjoul Dates
Product Description:The name medjool, meaning 'to not know', comes from its once unknown origin.
Medjool is a unique landrace described as producing "large, soft fruits with orange-yellow flesh and a mild, tangy flavor. The fruits are large, but the sweetness is not diluted with size and tastes very Sweet. However, because this type may be too sweet when eaten alone, it is more suitable for making pastries, bread, or eating with salty ingredients such as nuts. Israel currently has more than 60% of the global Medjool market share, making it Becoming the largest exporter of Medjool dates in the world.
Medjoul is highly regarded at parties and weddings in Morocco and among the Moroccan diaspora. Medjoul is usually stuffed with almonds or sweet almond paste. It is also popular when breaking the fast during the holy month of Ramadan. In addition, in grand ceremonies, as a welcome ceremony, the host usually provides a glass of milk with Mughal dates when receiving guests. Its price in Morocco is around 150 dirhams (about 15 USD) per kilogram.
Origin: Israel
Quality: Super Giant, Selected
King Dates (Extra Large):
Taste: Sweet, caramel flavor
Date palm (scientific name: Phoenix dactylifera), also known as date palm, Persian date, Iraqi candied date, etc., is a plant of the family Palmaceae and is commonly grown as an ornamental plant and street tree in parks, courtyards, and hedges in Hong Kong. Date palm trees are drought tolerant, alkali tolerant, heat tolerant and like moisture. The trees can be hundreds of years old. The fruit yield is high and it is an important export crop for some countries in the Middle East. The date palm plays an important role in Arab mythology and is featured above the national emblem of Saudi Arabia. As an exotic plant, it is also very popular among the Greeks, who often use the shape of its branches and leaves to decorate around the temple. In addition, dates have high nutritional value and are also known as desert bread. The Iraqis call dates green gold. Date palms are rich in sugar and protein and are small in size, making them easy to carry and store. They have become an important alternative food for people in desert areas. Dates provide a variety of essential nutrients and are a good source of dietary potassium. The sugar content of ripe dates is about 80%; the remainder consists of protein, fiber and trace elements, including boron, cobalt, copper, fluorine, magnesium, manganese, selenium and zinc. The use of dates in the medical field. The tannin content in dates is high and it is used medicinally as a gastrointestinal cleanser (with cleansing power) and an astringent to solve intestinal problems. Dates are useful in increasing fertility in both men and women because dates contain the hormones botulinum toxin and oxytocin.
I often eat 2-3 dates directly after breakfast in the morning. In addition to being able to eat sweet things early in the morning, it makes me feel happy. I also think that it can increase my energy for the day and give me the strength and motivation to go to work or do other things.
Variety:The most renowned cultivars worldwide include Deglet Noor, originally of Algeria; Yahidi and Hallawi of Iraq; Medjool of Morocco; Mazafati of Iran.
Biskra 的 Dattes delet
A mejhoul date (left) compared to a dried khadrawi cultivar date
Supply Season:There are supply throughout the year.
Storage Method:It can be stored in the refrigerator and at room temperature for a period of time.
#Should Be / Avoided:
Muslims practice fasting to discipline their body and mind and stay away from evil words and deeds. The dates, which are like rubies, are not only the inheritance of religion and culture, but also provide a hint of sweetness to the disciples during the long fasting month.
Since dates are almost composed of sugar, up to 55% to 70%, they have low calories and are easy to digest, which can help relieve hunger and appetite, and avoid overeating. In addition, Muslims also drink less water during the fasting month. Dates are rich in dietary fiber, which helps digestion and smooth bowel movements.
Dates have become a very important food for Middle Eastern people, mainly related to the local climate. Countries in the Middle East mostly have desert climates, and many crops cannot grow. However, date palms can adapt to arid climates and can thrive as long as the soil is not too poor and has good drainage.
*Edible Compatibility:
Since dates are almost composed of sugar, up to 55% to 70%, they have low calories and are easy to digest, which can help relieve hunger and appetite, and avoid overeating. In addition, Muslims also drink less water during the fasting month. Dates are rich in dietary fiber, which helps digestion and smooth bowel movements. Every year during Ramadan, countries in the Middle East eat large amounts of dates to celebrate the festival.
Dates are mentioned over 50 times in the Bible and 20 times in the Quran. Date palms have great significance in Abrahamic religions. In ancient Israel, where Judaism and later Christianity developed, the tree was cultivated in large numbers as a food source. Date palm leaves are used in Christianity for Palm Sunday.
Cooking Skills:Serve as a snack or make them the star of any dish. You can also chop and mash dates as a dressing for sweet dishes or as a condiment.
Dried or soft dates can be eaten as they are, or pitted and stuffed with fillings such as almonds, walnuts, pecans, candied orange and lemon zest, tahini, marzipan, or cream cheese. Pitted and dried dates are sold in the market.
Notes:Dates have many different qualities. Our dates are flown in freshly from Israel every season and are classified as "Super Dates" with an average of over 30 grams each! The average is over 30 grams per pill. In comparison, the average weight per pill is 16-20 grams. Because our dates are juicier, sweeter and more flavorful than regular dates.
In Islamic culture, dates and yogurt or milk are traditionally the first foods eaten after the holy month of Ramadan. So during the meeting, I saw that the worker sister likes to eat dates.
Dish:
gourmet food
Indian, British, French, Spanish
food pairing
Cakes, Jams, Smoothies, Brownies, Cupcakes, Chia Seeds, Mint, Hazelnuts, Almonds, Cereal, Olives, Chocolate, Apples, Coconuts
Dried or soft dates can be eaten as is, or pitted and stuffed with fillings such as almonds, walnuts, pecans, candied orange and lemon zest, tahini, marzipan or cream cheese. Pied dates are also called pitted dates. Partially dried pitted dates can be coated with glucose syrup and used as a snack.
Pre-order for 2-4 days. The supply depends on the delivery situation, or it will be shipped separately.
🥗 Product Category (English): Medjool
Google Recipe 🔍 :

English CookPad 🍳 :

BBC Good Food 🥙 :

🔅 Remark:
🍎 Preserve fruits
1. Fruits especially with softer skin, if packaged, should be placed in the cold box in the original package;
2. Organic fruits are more prone to spoilage if they have water droplets. Put the fruits in a ventilated place to dry or wipe off the water vapor, then wrap the fruits in slightly damp newspaper and put them in a plastic bag before refrigerating. ;
3. Organic fruits do not use preservatives or special treatments. fruits are generally stored for three to five days in room temperature only, should be kept in fridge. Some fruits e.g. papaya will decompose enzymes, so they should be eaten as soon as possible.
🍏 How to wash fruits
Special attention: The dishes, especially small flowers and broccoli, are best soaked in the water to remove residual pesticides (this is organic farm, but will have, but not chemical, except to Re-generative Farm). It is recommended to use our vegetables and vegetables environmentally friendly cleaner
Dish Drops
for 3 to 5 minutes to eliminate residuals Sand and organic pesticide.
1. Wash fruits before eating to keep them fresh;
2. It is not advisable to soak the fruits for too long, and they should be washed first and then cut to avoid the loss of vitamins;
3. Washing fruits with dilute salt water or Dish Drop can easily remove vegetable insects;
4. Cut fruits with a stainless steel knife to reduce vitamin loss;
5. Vegetable leaves contain a lot of nutrients, so you should avoid shredding, chopping or grinding the leaves;
6. Immediately eat after cutting, to avoid the loss of vitamins due to air oxidation.