Description
Hung Tai Fresh Fruit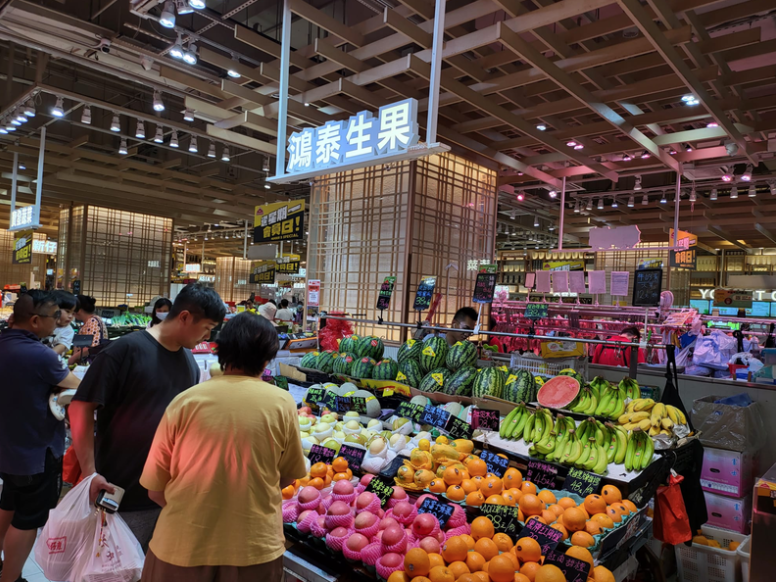 🚚 The Fastest Delivery Time : 2-3 day delivery.
🐝 Supplier / Place Of Origin:Hung Tai Fresh Fruit / Xinjiang, China

🌱 About the Supplier:
Cheung Gor have worked as a chef in a hotel for many years, and I definitely have requirements for ingredients. In another runway, He engaged in fruit wholesale. In 2013, Cheung Gor just rented my own durian factory in Thailand. Winning the love of customers and scientists, there is a T Market in Tin Shui Wai that sells fruit directly and operates a neighborhood business.
🌱 Supplier Products:
🛍 Product Information:
Binomial Name:Cucumis melo L.
Chinese Name:哈密瓜
Other Names:Cantaloupe | Hami Melon
Product Description:It is the fruit of the cantaloupe plant of the Cucurbitaceae family. Sweet, slightly cold in nature. It has the therapeutic effects of relieving summer heat and quenching thirst, protecting the liver and moistening the lungs, clearing the urine, and producing body fluid to quench thirst. Honeydew melon is rich in fructose, which not only brings a sweet and aromatic taste, but also provides the human body with the energy needed for daily activities and body functions.
Native to Hami County, Xinjiang Province, China
Variety:It can be divided into three varieties: early, medium and late.
(1) Early-maturing seeds (commonly known as "Guodanzi"):
(1) Huangdanzi (originating in Russia, distributed throughout Xinjiang after being introduced into Xinjiang), the fruit is round, turns bright yellow when ripe, the peel is shiny or has half-reticulate, the flesh is white, crisp and juicy , the average melon weighs about 1.5
kilogram.
(2) Naxigan (originating in Xinjiang), the fruit is oval, green with yellow spots when mature, the peel is smooth but has ten gray longitudinal stripes, the flesh is thin, orange-red, crispy and sweet, generally The melon weighs about 1.5 ~
3 kg.
(2) Medium-ripening seeds (called "summer melon"):
(1) Xiapi yellow (originating in Shanshan, Xinjiang), the fruit is oval, yellow-green with green radial spots when mature, smooth skin, white flesh, tight, crisp and juicy, generally about the size of a melon. Weighs 3 to 4 kg.
(2) Fragrant pear yellow (originating in Toksun, Xinjiang), the fruit is dark yellow oblong, the peel is smooth and partially reticulated, the flesh is white, crispy and soft, and the average melon weighs about 2 to 3 kg.
(3) Red Heart Crisp (planted all over Xinjiang) The fruit is oval in shape, the outer skin is light green on the sunny side, the back is light yellow, covered with reticulate pattern and has several shallow longitudinal grooves, the flesh is orange-red, crisp and tender, Juicy and sweet, usually about the weight of a melon
3 to 5 kg.
(4) Tiepi melon (originating in Xinjiang, cultivated in southern and northern Xinjiang), commonly known as "Old Tiepi", the fruit is oval, the outer skin is yellow-green with rust color, yellow spots after maturity, and the surface is smooth. There are inconspicuous reticulations and cracks near the melon stem, the pulp is orange-red, crispy and sweet, and the melon is generally about heavy.
5 kg.
(3) Late-maturing species (called "winter melon"):
(1) Green hemp skin (originating in Changji, Xinjiang), the fruit is oblong, the outer skin is green and densely meshed, the flesh is blue-white, crisp and juicy, and the melon generally weighs about 4 to 6 kg.
(2) Fortress Red (originating in Xinjiang), the fruit is oval or oval, the peel is yellow-green with reticulate and green stripes, the melon surface has ribbed protrusions, the flesh is orange-red, crispy and sweet, generally melon About 5 ~ 6 kg in weight.
Supply Season:Hong Kong is supplied throughout the year, the most suitable is July to September.
Storage Method:Cantaloupe is a post-ripening fruit and can be stored for a period of time. It is recommended to store it in a cool and ventilated place for about 2 weeks, or store it in a refrigerator.
#Should Be / Avoided:
Appropriate: It is suitable for those who suffer from hot thirst, difficulty urinating, diarrhea and abdominal pain due to hot summer.
Bogey: Cantaloupe is sweet and cold in nature, and patients with hematemesis, hemoptysis, gastric ulcer and heart disease should eat it with caution. In addition, it is not suitable for people with spleen and stomach deficiency, abdominal distension, loose stools, postpartum, and the sick. People with beriberi, chronic renal failure, jaundice, cold cough and diabetes should not eat it.
Pregnant women can eat a small amount of cantaloupe

Properties (TCM): cold
Five Flavors in TCM: sweet
Efficacy Cures hunger, facilitates bowel movements, replenishes qi, clears lung heat and relieves cough
Hami melon has high nutritional value and is very suitable for pregnant women to eat, but it is high in sugar and should not be eaten too much. Hami melon contains protein, dietary fiber, carotene, pectin, sugar, vitamin A, vitamin B, vitamin C, phosphorus, sodium, potassium, etc. The pulp is good for urination, quenching thirst, relieving restlessness and heat, and preventing heatstroke. Conducive to pregnant women to maintain a stable, happy, peaceful mood.
The vitamin content in cantaloupe flesh is 4 to 7 times higher than that of watermelon and 6 times higher than that of apple. These components facilitate the work of the heart and liver and the activity of the intestinal system, promote endocrine and hematopoietic functions, prevent anemia, and strengthen the digestive process.
Pay attention when eating:
Although eating cantaloupe for Pregnant women can bring more benefits, it is cold in nature and contains certain emetic hormones. If pregnant women eat it incorrectly, they are prone to symptoms such as vomiting and diarrhea. Therefore, pregnant women should pay more attention when eating cantaloupe. Eating too much at one time can easily lead to diarrhea. It is recommended that pregnant women eat about 100 grams each time. Cantaloupe has a very high sugar content. If you consume too much sugar, it is easy to cause gestational diabetes, which will affect both the body and the fetus. Therefore, women with high blood sugar should eat it with caution.
*Edible Compatibility:
appropriate:
1. Cantaloupe and celery: Both cantaloupe and celery contain carotenoids, which can help prevent dry and rough skin, and bring beauty and beauty effects.
Xiangke:
1. Cantaloupe and cola: Both cantaloupe and cola contain considerable phosphorus, especially cola. Excessive consumption may lead to the consumption of calcium in the body.
2. Cantaloupe and vinegar: Cantaloupe contains carotenoids, and the acidity of vinegar will destroy the carotenoids and cause them to be lost.
If cantaloupe and bananas are eaten together, it will increase the burden on the kidneys. It is best not to eat cantaloupe with bananas.
Cooking Skills:The fruit is oval in shape, the skin of the melon is green or yellow, and the surface has obvious reticulation and roughness. The pulp is light yellow, the juice is sweet and the meat is tender and crisp. There is a flesh in the pulp, and the seeds are mainly concentrated on the flesh of the melon. In addition to being eaten raw, it can also be juiced for drinking.
Notes:Cantaloupe is cold in nature and should not be eaten too much. Since this variety is abundant in Hami County, Xinjiang Province, China, this melon variety is named Hami melon.
Dish:
Stir-fried tender beef tenderloin with cantaloupe.
Pre-order for 2-4 days. The supply depends on the delivery situation, or it will be shipped separately.
🥗 Product Category (English): Cantaloupe
Google Recipe 🔍 :

English CookPad 🍳 :

BBC Good Food 🥙 :

🔅 Remark:
🍎 Preserve fruits
1. Fruits especially with softer skin, if packaged, should be placed in the cold box in the original package;
2. Organic fruits are more prone to spoilage if they have water droplets. Put the fruits in a ventilated place to dry or wipe off the water vapor, then wrap the fruits in slightly damp newspaper and put them in a plastic bag before refrigerating. ;
3. Organic fruits do not use preservatives or special treatments. fruits are generally stored for three to five days in room temperature only, should be kept in fridge. Some fruits e.g. papaya will decompose enzymes, so they should be eaten as soon as possible.
🍏 How to wash fruits
Special attention: The dishes, especially small flowers and broccoli, are best soaked in the water to remove residual pesticides (this is organic farm, but will have, but not chemical, except to Re-generative Farm). It is recommended to use our vegetables and vegetables environmentally friendly cleaner
Dish Drops
for 3 to 5 minutes to eliminate residuals Sand and organic pesticide.
1. Wash fruits before eating to keep them fresh;
2. It is not advisable to soak the fruits for too long, and they should be washed first and then cut to avoid the loss of vitamins;
3. Washing fruits with dilute salt water or Dish Drop can easily remove vegetable insects;
4. Cut fruits with a stainless steel knife to reduce vitamin loss;
5. Vegetable leaves contain a lot of nutrients, so you should avoid shredding, chopping or grinding the leaves;
6. Immediately eat after cutting, to avoid the loss of vitamins due to air oxidation.