Description
Kaltbach
🚚 The Fastest Delivery Time : It takes 2-3 days.
🐝 Supplier / Place Of Origin:Kaltbach / Emme Valley, Switzerland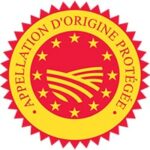 appellation d'origine protégée (AOP)
🌱 About the Producer:
As the saying goes, the biggest fun lies in expectation. In the 12 -month aging period of our Kaltbach Le Gruyère Aop. This classic product is produced in our sand rock caves, which enables it to develop its rich taste. Its rustic light brown outer skin is formed, and the delicate and crispy salt crystals mature in their soft group blocks. Supremely taste experience.
EMMI AG is headquartered in Lussen and is the largest milk processing company in Switzerland. In 1907, 62 cooperatives established the Central Swiss Milk Association Lushen (MVL). In 1947, the association produced EMMI soft cheese and yogurt with EMMI AG brand, and finally established Emmi Ag in 1993.
🌱 Supplier Products:
🛍 Product Information:
Historians identify Emmentaler origins as early as in the 13th century. From Bern in Switzerland, this alpine cheese is characterized by its small holes left by air bubbles. Kaltbach Emmentaler matures for 3 months in the cheese dairy and for more than 300 days in the sandstone caves of Kaltbach. During this period the natural black-brown rind and the inclusions of white salt crystals and water droplets form.
The cave maturation results in a tangly nutty flavour and crumbly texture, typical of the fine Swiss classic from the caves.
This genuine classic cheese tastes delicious with dried fruits!
🔸 Supplementary Information:
Pre -order once a week. The supply depends on the delivery situation, or it will be shipped separately.
👩🏻‍🍳 Suggested Serving:
🍷 Wine Pairing:
Red Wines (Cotes de Beaune, Beaujolais)
White Wines (Chardonnay, Gewurztraminer)
🥗 Product Line:
Semi Hard Cheese
🔅 Remark:



Best Before: 17 Dec 2023
Can be stored in the fridge for two to three weeks after being opened, or two months if the packet is untouched.
🚚 Supply Period:
Annual supply
Cheese Pairing Chart cheese matching table