Description
A LA CARTE

🚚 The Fastest Delivery Time : 2-day delivery.
🐝 Supplier / Place Of Origin:Imported Vegetable And Fruit Series / Bazz Island, France
🔖 Certification: Organic European
🌱 About the Producer / Supplier:
We select our suppliers for the love they put in their products,
seeking the best quality while respecting traditional production methods.
Most of them are family owned, of human size. We value the direct collaboration with them.
By buying directly at the source, we are proud to contribute to the local economy,
while ensuring that, ultimately, our clients get the most tasty and fresh products at the best prices.
All our farmers follow specific certifications minimizing the use of chemicals. From sustainable agriculture ''Agriculture Raisonnee'' (AR) to Organic certified ''Agriculture Biologique'' (AB), these guarantees that the fruits delivered to you a safe and healthy.
🌱 Supplier Products:
🛍 Product Information:
Binomial Name:Solanum tuberosum L.
Chinese Name:薯仔 | 馬鈴薯
Other Names:Potato
Product Description:Potatoes are tubers with an enlarged tip of underground stems and are underground organs used to store starch. Potatoes are sometimes slightly sweet, but often have a special bitter and earthy taste. It is one of the main foods in the world, and together with rice, wheat, corn, and sorghum, it is called the world's five major crops. It is rich in nutrients and is known as the "underground apple" in France. It is also known as the "second bread" in Europe and the United States. It is low in calories, high in protein, and contains a variety of vitamins, making it an ideal food for those who want to lose weight. And because the vitamin C in potatoes is wrapped in starch, even if the potatoes are heated and cooked, the vitamin C in them is not easily destroyed.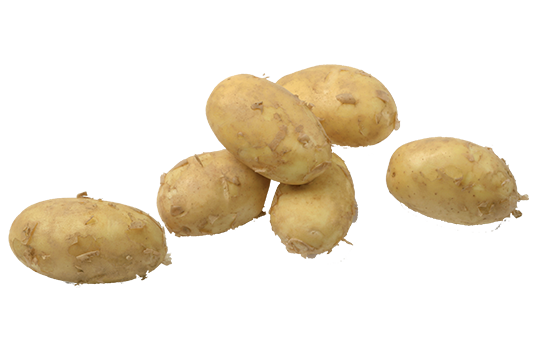 It is best to eat the potato with the skin, because it is rich in minerals and potassium, which are accumulated very close to the skin. Peeling off the potato skin means losing most of the nutrients. In addition, potassium is a kind of salt. If you cook it with the skin, there is no need to add salt. Readers are also advised to cook it over low heat to avoid loss of nutrients.
Potatoes are native to South America, where they have been cultivated for 4,000 to 7,000 years. It was introduced to China in the 18th century. Potatoes are widely grown throughout the world.
Variety:There are many varieties of potato, and there are more than 500 kinds in the world, each with different body shape, taste and color. According to body shape, they can be divided into spherical, oblate, and oval.
To distinguish by color, it can be roughly divided into seven categories, which are red skin, yellow skin, purple skin, white skin, fingers, yellow heart and brown spots. Brown class potatoes have irregular dark parts on the skin; Heart potato means that the potato flesh is yellow, but it does not mean that the potato skin is also yellow.
The following is a brief introduction of several famous varieties:
May Queen: It is long oval in shape and is a representative variety of slime. It is easier to peel and will not boil. Red Andes (Red Andes): The skin is red, and the flesh is yellow like sweet potatoes. On the palate it is viscous, sweet and intense.
Cynthia: Oval in shape with light yellow flesh. Sticky and creamy, it won't overcook when stewed.
And all varieties are further divided into newborn potatoes and mature potatoes. Newborn potatoes refer to immature tubers harvested from late spring to summer. Young potatoes are moist and sweet, and have low starch content, but they rot faster.
According to the texture of potatoes when they are cooked, they can be divided into two categories:
The "silty type" is mainly brown-skinned blue meat and purple meat. When cooking, the cells will condense more dry starch, which will make a fine and fluffy texture, suitable for frying, roasting, and making mashed potatoes.
"Waxy" is mainly newborn potatoes and common red and white varieties. When cooked, the cells will bond more firmly and produce a firm and moist texture. It is suitable for baking, hash browns and salads.
Supply Season:It is =if(isblank(P:P),"",(GOOGLETRANSLATE(P:P,"zh-hant","en"))), with peak season from September to October. The new potatoes are around May.
Storage Method:The storage time of potatoes is very long, if stored in a cool place, the shelf life can reach four to five months. But it should not be placed in a sunny and humid place to avoid germination.
Sometimes the potatoes you buy will germinate the next day. Next time you buy the potatoes, wrap them in newspaper or cover them. In short, keep them out of the sun and they can be stored for a long time! You can also put an apple together with the potato to delay germination. The apple will produce ethylene gas, which can delay the ripening of the potato, and it can be stored for about 7 days. Putting it in the cold room of the refrigerator, avoiding light and low temperature environment is also very helpful for delaying the germination of potatoes. Generally, potatoes can be successfully preserved for about 2 months by using the above method.
#Should Be / Avoided:
Appropriate: The average person can eat. Potatoes are low in calories, rich in fiber, and easy to feel full. They are ideal foods for people who lose weight. In addition, the starch in potatoes is absorbed slowly in the human body and will not cause a spike in blood sugar, which can be used as a diet for diabetic patients.
Avoid: Because of the high content of alkaloids, pregnant women should be careful.
*Edible Compatibility:
Affordable: Vinegar should be eaten with potatoes, because vinegar can decompose trace harmful substances in potatoes. Potatoes should also be eaten with beans, which can regulate the digestive system, eliminate chest tightness and fullness, and can also prevent acute gastroenteritis. Xiang Ke: Potatoes should not be eaten with pomegranate, which will easily cause physical discomfort. Potatoes should not be eaten with persimmons, because the starch in potatoes and tannic acid (tannins) in persimmons will condense in the stomach to form gastric stones. Potatoes are also not suitable for eating with bananas, which may cause facial spots.
Cooking Skills:Potatoes should be peeled and eaten. When cooking, you can put cut potato chips and shredded potatoes into water to remove excess starch for cooking. But be careful not to take too long, it is easy to lose water-soluble vitamins. It should also be noted that potatoes have a high oil absorption capacity and should be cooked with as little oil as possible.
Potatoes are prepared in many ways: skin-on or peeled, whole or cut up, with seasonings or without. The only requirement involves cooking to swell the starch granules. Most potato dishes are served hot but some are first cooked, then served cold, notably potato salad and potato chips (crisps). Common dishes are: mashed potatoes, which are first boiled (usually peeled), and then mashed with milk or yogurt and butter; whole baked potatoes; boiled or steamed potatoes; French-fried potatoes or chips; cut into cubes and roasted; scalloped, diced, or sliced and fried (home fries); grated into small thin strips and fried (hash browns); grated and formed into dumplings, Rösti or potato pancakes.
Unlike many foods, potatoes can also be easily cooked in a microwave oven and still retain nearly all of their nutritional value, provided they are covered in ventilated plastic wrap to prevent moisture from escaping; this method produces a meal very similar to a steamed potato, while retaining the appearance of a conventionally baked potato. Potato chunks also commonly appear as a stew ingredient. Potatoes are boiled between 10 and 25 minutes, depending on size and type, to become soft.
Notes:Don't Be Fussy and Remove the Sprouts
Check to see if your potatoes are still ok to eat. Potatoes that have started to sprout should still be ok to eat – just check that it is still firm and not too wrinkly. Just remove any sprouts before cooking. Throw away any potatoes that have gone green and if you have them.
Cut potatoes are easy to oxidize and change color. You can soak the cut potatoes in water, but the time should not be too long.
Potatoes (a lot of the toxin is concentrated in the green, sprouted part) contain glycoalkaloids. Burning sensation in the mouth or severe stomach pain, nausea and vomiting after eating. Avoid buying or eating sprouted or damaged potatoes as solanine cannot be destroyed by heat cooking
Traditional Chinese medicine believes that potatoes are flat in nature and sweet in taste. They have the effects of harmonizing the stomach, nourishing qi and invigorating the spleen, strengthening the body and kidney, reducing inflammation, promoting blood circulation and reducing swelling. It can be used to treat symptoms such as indigestion, constipation, and stomach pain.
Potatoes are rich in potassium, which can prevent arteriosclerosis, high blood pressure, and stroke.
Dish:
Potatoes can be cooked as food or vegetables. Baked potatoes, salad, stir-fried shredded pork belly, onion, tomato and potato soup, French fries, and hash browns. A popular dish is qīng jiāo tǔ dòu sī, made with green peppers, vinegar and thinly sliced ​​potatoes.
Fresh potato tubers are large in size and have high water content, making transportation and long-term storage difficult. For this reason, many potato potatoes are processed into different forms of processed foods, such as French fried sticks, fried chips, instant flour, starch, and various pastries, egg rolls, etc. Potatoes are used to brew alcoholic beverages such as vodka, poitín or akvavit.
Potatoes have become one of the most widely consumed crops in the United States and are therefore available in a variety of preparation methods and condiments. French fries and hash browns are commonly found in typical American fast food burger joints and cafeterias. One of the most popular is baked potatoes topped with cheddar cheese (or sour cream and chives) and, in New England, "mashed potatoes," a chunkier variation of mashed potatoes. Keep the peel) is very popular. Potato chips are popular as a quick version of mashed potatoes, which are reconstituted into mashed potatoes by adding water, butter or oil and salt to taste.
In the UK, potatoes are part of the traditional staple food, fish and chips. Roasted potatoes are often served as part of a Sunday roast dinner, while potato mash is a main ingredient in several other traditional dishes, such as shepherd's pie, bubble and squeak, and sausage and potato mash. New potatoes can be cooked with mint and usually served with butter.
Tattie scones are a popular Scottish dish containing potatoes. Colcannon is a traditional Irish food made from mashed potatoes, chopped kale or cabbage, and onions; Champ is a similar dish. Boxty pancakes are eaten throughout Ireland, but are particularly associated with the North and the Irish diaspora community; they are traditionally made from grated potatoes, soaked to loosen the starch, and then mixed with flour, buttermilk and baking powder . A variation eaten and sold in Lancashire (especially Liverpool) is made from cooked mashed potatoes.
Various typical American potato products: (clockwise from top left) potato chips, hash browns, mashed potatoes, mashed potatoes, and baked potatoes
Homemade Potato Chips: Carefully use the large side of a cheese grater or a regular potato peeler to make your own potato chips. Then, place thin slices of raw potato on a baking sheet, spray with cooking oil and a range of salt, pepper and any herbs and spices you may have in the cupboard.
Papa rellena
Baked potatoes with sour cream and chives
German Bauernfrühstück ("peasant's breakfast")
Cepelinai
French fries with burger
Poutine, a Canadian dish consisting of fried potatoes, cheese curds and gravy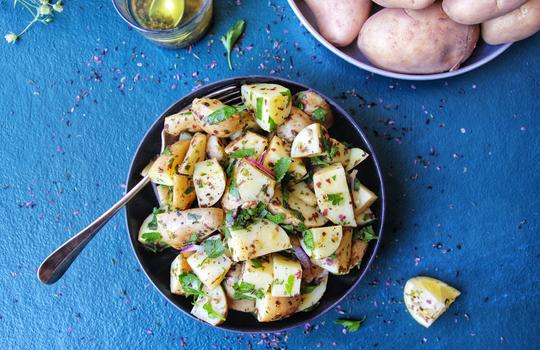 Earthweed Salad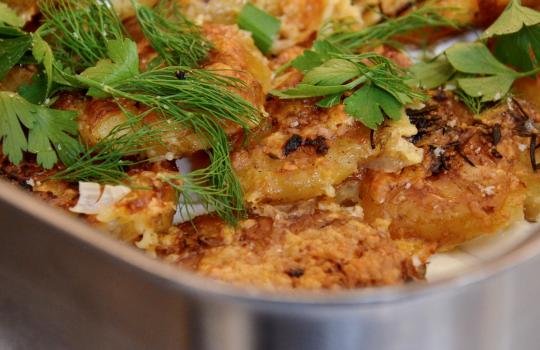 Salt and Vinegar Mashed Potatoes
Crochet by New Potato and Ocean Chick (Brochettes de Pommes de terre nouvelle récolte et poulet mariné)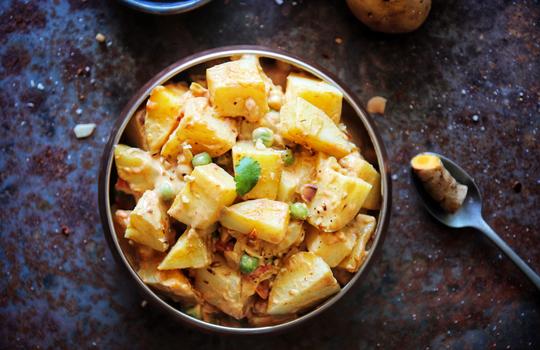 en primeur curry
For more potato dishes, please visit the British recipe resource project
Love Potatoes
of dishes.
This product is imported from foreign countries. The supply depends on the delivery situation. It may be insufficient or out of stock!
🥗 Product Category (English): Potato
Google Recipe 🔍 :

English CookPad 🍳 :

BBC Good Food 🥙 :