Description
European Vegetables
🚚 The Fastest Delivery Time : It Takes 3-5 Days.
🐝 Supplier / Place Of Origin:European Vegetables / Origin Depends

🌱 Producer Introduction:
Background
We Started in 2007 and Imported Various Organic Foods and Nature Foods from EUROPE. Since 2016, we have focused organic fresh from vegetables, Su Ch astatoes, Beetroots, Carrots, Onions from the Netherlands, Pumpkin, Orange, Lemon, Sweet Potato , Apple, Blood Orange, from italy, from italy, from italy kiwi, ginger, banana from peru, a touch of more than 40 kinds.
Why choose us?
100% Fresh Guarantee
There are Also Aircraft Shipping to Hong Kong Every Week and Ship Directly after Arriving at Hong Kong, so the fruits and vegetables are 100%Fresh.
Strict Quality Monitoring
We have enriched years of excerience and questioning, It of all vegetables and vegetable products.
🌱 Supplier Products:
🛍 Product Information (Main) (English):
Binomial Name:Solanum lycopersicum var. cerasiforme
Chinese Name:串串車厘茄
Other Names:Cherry Tomato On The Vine
Product Description:Mini Cherry Tomato on the Vine is a small cherry tomato usually grown in whole bunches on the vine.
A small tomato, hence the name small tomato. Taste delicious raw, can also be dried to make candied fruit. It is refreshing and sweet when eaten raw, and has a good taste. There are many small seeds like ordinary tomatoes, but they are seedless, have high Nutritional value, and taste slightly sweeter than ordinary tomatoes.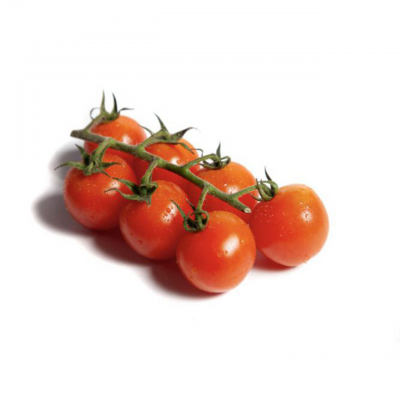 Nutritional value
Cherry tomato has higher lycopene and vitamin C, and slightly higher sugar and calories than tomato.
Lycopene is a component found in cherries and other tomato varieties. These are the ones that give the fruit its characteristic red color. Lycopene is a carotene with antioxidant properties. Plus, it's 10 times more effective than other classic antioxidants like Vitamin E.
Variety:
Supply Season:The main production period is from November to April of the following year, and it is available in Hong Kong throughout the year.
Storage Method:
#Should Be / Avoided:
*Edible Compatibility:
Cooking Skills:On The Vine Cherry tomatoes have a rich, sweet, and tangy taste suited for fresh and cooked preparations. The tomatoes should be showcased with their vine still attached and can be arranged on vegetable platters, charcuterie boards, or as an edible decoration placed on serving platters with olive oil and balsamic dipping sauces.
The vines provide added aroma to plating and are aesthetically pleasing to the eye, symbolizing garden freshness. On The Vine Cherry tomatoes can also be roasted or grilled still attached to the vine, served with fresh cheeses such as burrata, placed on top of cooked meats, layered on seasoned toast, or used as a gourmet addition to traditional English breakfasts. Serving On The Vine Cherry tomatoes cooked whole allows for a dramatic presentation.
Notes:Cherry tomato contains a lot of vitamin K and potassium. People with kidney problems should reduce their potassium intake, otherwise it may cause adverse effects such as the formation or recurrence of kidney stones.
Dish:Bacon Cherry Tomato Skewers
Spaghetti with Mapo Bolognese and Cherry Tomatoes
Plum Bing Cherry Tomato
Basil Penne with Cherry and Cheese
Fried White Clams with Garlic Chili Cheese Cherry Tomato Butter
Plum Cherry Tomato (Cold Dish)
Boiled egg, ham, rocket, onion, cherry tomato, walnut salad with hollandaise dressing
Cherry Tomato Soaked in Plum Sauce
Pre -Order Once A Week. The Supply Depends On The Delivery Situation, Or It Will Be Shipped Separately.
Suggested Eating Method:
The cherry tomato tastes rich, sweet, rich, and is suitable for fresh and cooked foods. The cherry eggplant should be displayed when the vine is still attached, and can be placed on a vegetable platter, cooked food board, or used as a edible decoration on a plate with olive oil and vinegar dipping sauce.
There is a cherry cherry tomato vine added aroma, pleasing to the eye, symbolizing the freshness of the salad platter. There are branches on the vine, cherry eggplant can also be hung on a vine, bake or barbecue, paired with fresh cheese and other fresh cheese, put it on the cooked meat, put it on the seasoning bread, or use it as a traditional British style The delicious breakfast. The cherished cherry eggplant can show the visual effect when eating the entire cooked cherry.
🥗 Recipe (English Version):
Google Recipe 🔍 :

English CookPad 🍳 :

BBC Good Food 🥙 :

🔅Precautions (English Version):
☘️ Preserve vegetables
1. Leafy vegetables and softer vegetables, if packaged, should be placed in the cold box in the original package;
2. Organic Vegetables are more prone to spoilage if they have water droplets. Put the vegetables in a ventilated place to dry or wipe off the water vapor, then wrap the vegetables in slightly damp newspaper and put them in a plastic bag before refrigerating. ;
3. Organic vegetables do not use preservatives or special treatments. Vegetables are generally stored for three to five days. Some vegetables will decompose enzymes, so they should be eaten as soon as possible.
☘️ How to wash vegetables
1. Wash vegetables before cooking to keep them fresh;
2. It is not advisable to soak the vegetables for too long, and they should be washed first and then cut to avoid the loss of vitamins;
3. Washing vegetables with dilute salt water or Dish Drop can easily remove vegetable insects;
4. Cut vegetables with a stainless steel knife to reduce vitamin loss;
5. Vegetable leaves contain a lot of nutrients, so you should avoid shredding, chopping or grinding the leaves;
6. Immediately after cutting, to avoid the loss of vitamins due to air oxidation.