Description
European Vegetables
🚚 The Fastest Delivery Time : It Takes 3-5 Days.
🐝 Supplier / Place Of Origin:European Vegetables / Origin Depends

🌱 Producer Introduction:
Background
We Started in 2007 and Imported Various Organic Foods and Nature Foods from EUROPE. Since 2016, we have focused organic fresh from vegetables, Su Ch astatoes, Beetroots, Carrots, Onions from the Netherlands, Pumpkin, Orange, Lemon, Sweet Potato , Apple, Blood Orange, from italy, from italy, from italy kiwi, ginger, banana from peru, a touch of more than 40 kinds.
Why choose us?
100% Fresh Guarantee
There are Also Aircraft Shipping to Hong Kong Every Week and Ship Directly after Arriving at Hong Kong, so the fruits and vegetables are 100%Fresh.
Strict Quality Monitoring
We have enriched years of excerience and questioning, It of all vegetables and vegetable products.
🌱 Supplier Products:
🛍 Product Information (Main) (English):
Binomial Name:Brassica oleracea var. capitata L.
Chinese Name:抱子甘藍 | 椰菜BB
Other Names:Brussels Sprouts
Product Description:Brussels sprouts are members of the Gemmifera cultivar group of cabbage (Brassica oleracea), grown for their edible shoots.
Edible efficacy
Broccoli has the effects of nourishing bone marrow, moistening viscera, benefiting heart, strengthening muscles and bones, dispelling stagnation, clearing heat and relieving pain, increasing appetite, promoting digestion, and preventing constipation. Patients with allergies, poor joint flexion and extension, and epigastric pain have therapeutic effects. It is suitable for patients with arteriosclerosis, gallstone disease, obese patients, pregnant women and people with peptic ulcer.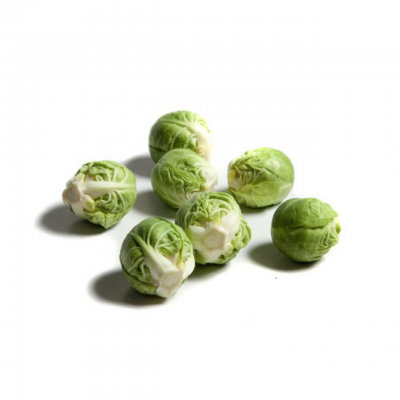 Sweet in the mouth, flat in nature. It clears away heat and dissipates stagnation, diuresis and detoxification, laxative, clears collaterals, strengthens bones and joints, invigorates the stomach and kidneys, and promotes the healing of gastrointestinal ulcers. Broccoli is known as a natural stomach medicine. The vitamin U contained in it is an anti-ulcer factor, which has the effect of repairing injured tissues in the body, especially the gastrointestinal tract, so it can relieve pain and promote healing of gastric ulcer and duodenal ulcer. In addition, broccoli also contains phenols, which can have antioxidant activity. This property can explain its anti-atherosclerotic effect, sulfur-containing anti-thyroid substances, etc. Broccoli contains enzymes that can decompose amine nitrite, which can help eliminate the mutation effect of amine nitrite, so it has a certain anti-cancer effect.
Native to the Mediterranean coast, it evolved from non-heading wild cabbage. It was introduced to China in the 14th century and introduced to Taiwan when the Dutch ruled Taiwan. It is now generally cultivated all over the world.
Variety:The broccoli plants have short stems, and the later-growing vegetable pieces are wrapped around each other to form a compact head-shaped leaf ball, which is green and white in color. In addition to green and white broccoli on the market, there are also purple-red varieties. This purple broccoli is rich in nutrients, especially the anthocyanins contained in it, which have high-strength antioxidant functions and can protect cells from free Base damage; its cellulose is also relatively thick, and it is mostly used for lettuce and plate decoration.
Supply Season:The main production period is from December to April of the following year.
Storage Method:Can be wrapped in toilet paper in a cool place or refrigerated for about 2 to 3
week. Since the short stem (center part) of broccoli is prone to rot, when buying the whole cabbage, you can dig out the center, stuff it with damp paper, and wrap it in plastic wrap.
#Should Be / Avoided:
Appropriate: suitable for pregnant women, people who lose weight, patients with peptic ulcer (especially gastric and duodenal ulcer), epigastric pain, diabetes, constipation, jaundice and other diseases.
Contraindications: People with spleen and stomach deficiency, indigestion, and abdominal distension should not eat it. People with thyroid dysfunction should not eat a lot.
Pregnant women can eat broccoli
Broccoli is rich in nutrients, and mothers-to-be can eat it not only in the early stages of pregnancy, but also during other pregnancy and postpartum periods. Broccoli can better inhibit cancer cells, and the inhibition rate of broccoli planted in autumn is usually higher, so you can eat more broccoli in autumn and winter.

Nature: neutral
Five Flavors in TCM: sweet
Efficacy Tonify bone marrow, moisten viscera, benefit heart, strengthen muscles and bones, dispel stagnation, clear heat and relieve pain, increase appetite, promote digestion, prevent constipation
main nutrition
Broccoli is rich in folic acid, which is a key nutrient for fetal neurodevelopment. It is also rich in various vitamins, which can regulate metabolism and play an important role in the formation and development of embryonic organs.
*Edible Compatibility:
Suitable: 1. Broccoli and pork: The vitamin C in broccoli and the protein of pork can help enhance skin elasticity and prevent the formation of dark spots and freckles. 2. Broccoli and bamboo shoots: Broccoli and bamboo shoots also contain potassium, vitamin C and vitamin B, which can help maintain the balance of sodium in the body, maintain blood pressure, and promote blood circulation. Avoid: 1. Broccoli and cucumber: Cucumber contains vitamin C decomposing enzyme, which will decompose vitamin C in broccoli, thus causing nutrient loss. 2. Broccoli and honey: When the vitamin C of broccoli meets honey, it will be oxidized by the copper of honey, thereby reducing the nutritional value of broccoli. 3. Broccoli and foie gras or other animal viscera: Minerals such as copper and iron contained in foie gras and animal viscera will oxidize vitamin C in broccoli, making it difficult for vitamin C to fully exert its effects and affecting food. overall nutritional value.
Cooking Skills:cooking and preparation
Brussels sprouts can be eaten in many ways, including stir-frying, roasting, boiling and then cold salad, baking, making soup, hot pot side dishes, kimchi, pickling, etc. The easiest way to eat it is to cut the washed leaf balls into crosses/halves at the base of the leaf balls with a knife, then boil them in boiling water with a small amount of salt and oil for 3 to 5 minutes. After blanching, they can be mixed with any sauce. Pair it with the juice.
The most common way to prepare Brussels sprouts for cooking is to cut the sprouts from the stems. Any excess stems are cut off and any loose surface leaves are peeled and discarded. Once cut and cleaned, the buds are typically cooked by boiling, steaming, sautéing, roasting, slow cooking, or baking. This process can last up to 45 minutes, and to ensure even cooking throughout, sprouts of similar size are usually chosen. Some cooks make a slit or a cross in the center of the stem to aid heat penetration. However, cross-cutting can be ineffective and is widely believed to cause the sprouts to become waterlogged when boiled.
Overcooking can make the sprouts turn gray and soft, and they can then develop a strong flavor and smell, and some people don't like its garlicky or onion-smelling properties. The smell is related to glucosinolates, a sulfur compound with a characteristic pungency. In terms of flavor, roasting Brussels sprouts is a common cooking method that enhances the flavor. Common toppings or add-ons include Parmesan cheese and butter, balsamic vinegar, brown sugar, chestnuts or pepper.
Notes:In recent years, experiments have proved that broccoli has a preventive effect on gastric cancer.
Dish:Chicken wraps with broccoli, fried salted pork with broccoli, Shanghai rice cakes fried with broccoli and chives.
Pre -Order Once A Week. The Supply Depends On The Delivery Situation, Or It Will Be Shipped Separately.
Suggested Eating Method:
Cooking and preparation
There are many ways to eat in the housing cabbage, which can be stir -fry, grilled, boiled cold, grilled, soup, hot pot side dishes, kimchi, pickled, etc. The easiest way to eat is to cut the washed leaf ball with a knife at the base of the leaf ball and cut it half, and then cook it in boiling water with a small amount of salt and oil for 3 to 5 minutes. Match the juice together.
The most common way to prepare for the germaking cabbage for cooking is to cut the buds from the stem. Any extra stems are cut off, and any loose surface leaves are peeled and discarded. After cutting and cleaning, the buds are usually cooked by boiling, steaming, frying, baking, slow boiling or baking. This process lasts up to 45 minutes. In order to ensure that the entire cooking process is uniform, the buds of similar sizes are usually selected. Some chefs make a incision or a cross in the center of the stem to help the heat penetrate. However, horizontal cutting may be invalid, and people generally believe that it will cause bean sprouts to soak water when boiling.
Excessive cooking will make the buds soft and softer, and then they will have a strong taste and smell. Some people do not like its garlic or onion smell characteristics. This smell is related to mustard oil. Mustardoside is a sulfur compound with unique irritation. In terms of taste, roasting balls are a common cooking method that can enhance flavor. Common heads or additives include Palma cheese and butter, vinegar, brown sugar, chestnuts or pepper.
🥗 Recipe (English Version):
Google Recipe 🔍 :

English CookPad 🍳 :

BBC Good Food 🥙 :

🔅Precautions (English Version):
☘️ Preserve vegetables
1. Leafy vegetables and softer vegetables, if packaged, should be placed in the cold box in the original package;
2. Organic Vegetables are more prone to spoilage if they have water droplets. Put the vegetables in a ventilated place to dry or wipe off the water vapor, then wrap the vegetables in slightly damp newspaper and put them in a plastic bag before refrigerating. ;
3. Organic vegetables do not use preservatives or special treatments. Vegetables are generally stored for three to five days. Some vegetables will decompose enzymes, so they should be eaten as soon as possible.
☘️ How to wash vegetables
1. Wash vegetables before cooking to keep them fresh;
2. It is not advisable to soak the vegetables for too long, and they should be washed first and then cut to avoid the loss of vitamins;
3. Washing vegetables with dilute salt water or Dish Drop can easily remove vegetable insects;
4. Cut vegetables with a stainless steel knife to reduce vitamin loss;
5. Vegetable leaves contain a lot of nutrients, so you should avoid shredding, chopping or grinding the leaves;
6. Immediately after cutting, to avoid the loss of vitamins due to air oxidation.