Description
Hung Tai Fresh Fruit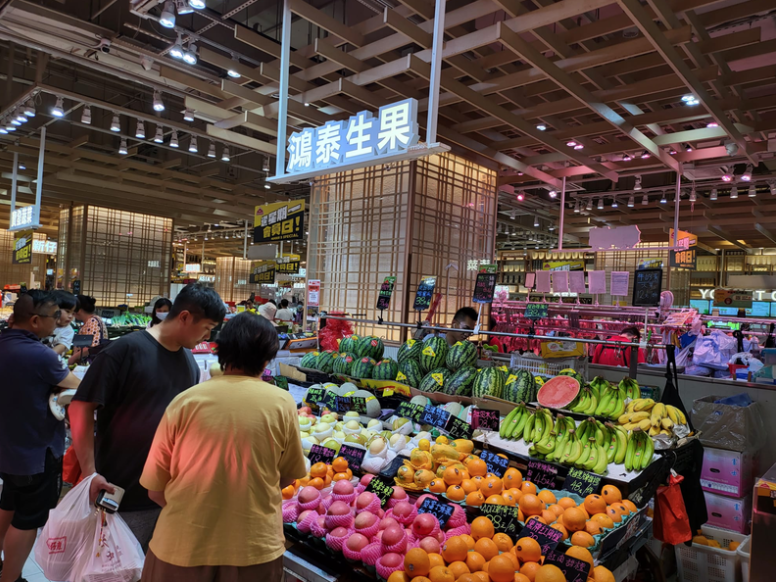 🚚 The Fastest Delivery Time : 2-3 day delivery.
🐝 Supplier / Place Of Origin:Hung Tai Fresh Fruit / Japan

🌱 Producer Introduction:
Cheung Gor have worked as a chef in a hotel for many years, and I definitely have requirements for ingredients. In another runway, He engaged in fruit wholesale. In 2013, Cheung Gor just rented my own durian factory in Thailand. Winning the love of customers and scientists, there is a T Market in Tin Shui Wai that sells fruit directly and operates a neighborhood business.
🌱 Supplier Products:
🛍 Product Information (Main) (English):
Binomial Name:Cucumis melo L. var. reticulatus Naud.
Chinese Name:網紋密瓜 | 麝香甜瓜
Other Names:Netted Muskmelon | Japanese Melon
Product Description:Muskmelon is the general name for melons with a strong musky flavor. Also known as Musk Melon. It is very difficult to cultivate because it is not resistant to grape wilt or other diseases such as powdery mildew. It is cultivated by grafting onto melons (Oi, Barnett-Hilfeborit and other rootstock-only varieties) with weak root systems that are resistant to vine wilt. In Japan, it mainly refers to Earl's Favorite (or a breed of its lineage, introduced later) rather than the name of the breed. The "mask" in the name is "musk" (pronounced [mʌˈsk]), which means musk, not "mask".
It is the fruit of the thick-skinned melon of the Cucurbitaceae plant. Sweet, cold in nature. It has the effects of clearing summer heat, relieving polydipsia, urination, and relieving dysentery. It is rich in potassium, which helps to regulate the action of the heart muscle and also plays a role in stabilizing blood pressure.
Native to tropical Guinea in Africa, it was introduced to the Middle and Near East, Central Asia and India through ancient Egypt. Melons introduced into Central Asia have evolved into thick-skinned melons through cultivation. It was introduced to Russia from Central Asia in the thirteenth century, Europe in the sixteenth century, and Asia in the nineteenth century. In China, it is mainly distributed in Xinjiang and Gansu provinces.
Variety:The European cantaloupe, C. melo var. cantalupensis, is lightly ribbed with a sweet and flavorful flesh and a gray-green skin that looks quite different from that of the North American cantaloupe.
The North American cantaloupe, C. melo var. reticulatus, common in the United States, Mexico, and some parts of Canada, is a different variety of C. melo, a muskmelon with a reticulated ("net-like") peel. It is a round melon with firm, orange, moderately sweet flesh.
日本ではマスクメロンがメロンの品種としては最初に普及し、メロンの代名詞的ブランドにまで成長した。主なマスクメロン:
カンタロープメロン
カンタルペンシス群 (Cantalupensis group)
ネットの網目と果皮が粗い(イボがある)もの、楕円形型の形状。
カンタロープ、スペインメロンなど。
レティクラトゥス群 (Reticulatus Group)
ネットの網目が細かく、球形型の形状。
アンデスメロン、アールスメロン(アールスフェボリット)、タカミメロン、夕張メロンなど
アールスフェボリットメロン(アールスメロン)
アールスフェボリット (Earl's Favourite)
網メロンの代表品種である。略してアールスメロンとも呼ばれる。
Supply Season:The supply in Hong Kong is most suitable from May to September.
Storage Method:Store in a cool and ventilated place for about 3 days to 1 week.
#Should Be / Avoided:
Appropriate: Suitable for general consumption.
Avoid: normal consumption is no problem, should not be excessive. People suffering from chronic enteritis and physically weak should not eat it.
Hami melon has high nutritional value and is very suitable for pregnant women to eat, but it is high in sugar and should not be eaten too much. Hami melon contains protein, dietary fiber, carotene, pectin, sugar, vitamin A, vitamin B, vitamin C, phosphorus, sodium, potassium, etc. The pulp is good for urination, quenching thirst, relieving restlessness and heat, and preventing heatstroke. Conducive to pregnant women to maintain a stable, happy, peaceful mood.
The vitamin content in cantaloupe flesh is 4 to 7 times higher than that of watermelon and 6 times higher than that of apple. These components facilitate the work of the heart and liver and the activity of the intestinal system, promote endocrine and hematopoietic functions, prevent anemia, and strengthen the digestive process.
Pay attention when eating:
Although eating cantaloupe for Pregnant women can bring more benefits, it is cold in nature and contains certain emetic hormones. If pregnant women eat it incorrectly, they are prone to symptoms such as vomiting and diarrhea. Therefore, pregnant women should pay more attention when eating cantaloupe. Eating too much at one time can easily lead to diarrhea. It is recommended that pregnant women eat about 100 grams each time. Cantaloupe has a very high sugar content. If you consume too much sugar, it is easy to cause gestational diabetes, which will affect both the body and the fetus. Therefore, women with high blood sugar should eat it with caution.
*Edible Compatibility:
Appropriate: No literature report.
Xiangke: If cantaloupe and bananas are eaten together, it will increase the burden on the kidneys. It is best not to eat cantaloupe with bananas.
Cooking Skills:The fruit is round or oval; the peel is generally yellow-to-green in color, and is characterized by a net-like pattern; the flesh is orange or green, and the flesh is softer. In addition to being eaten raw, it can also be juiced for drinking.
Notes:Netted melon is cold in nature and should not be eaten too much.
Variations of reticulated melons can be yellowish green reticulated peel, and its flesh is bluish yellow.
Dish:Italians like to eat melon with cured Parma ham.
In addition to their consumption when fresh, melons are sometimes dried. Other varieties are cooked, or grown for their seeds, which are processed to produce melon oil. Still other varieties are grown only for their pleasant fragrance. The Japanese liqueur Midori is flavored with melon.
Suggested Eating Method:
The fruit is round or oval; the peel is generally yellow with a green color, which is characterized by a mesh pattern; the flesh is orange or green, and the meat is soft. In addition to raw food, you can also squeeze juice.
🥗 Recipe (English Version):
Google Recipe 🔍 :

English CookPad 🍳 :

BBC Good Food 🥙 :

🔅Precautions (English Version):
🍎 Preserve fruits
1. Fruits especially with softer skin, if packaged, should be placed in the cold box in the original package;
2. Organic fruits are more prone to spoilage if they have water droplets. Put the fruits in a ventilated place to dry or wipe off the water vapor, then wrap the fruits in slightly damp newspaper and put them in a plastic bag before refrigerating. ;
3. Organic fruits do not use preservatives or special treatments. fruits are generally stored for three to five days in room temperature only, should be kept in fridge. Some fruits e.g. papaya will decompose enzymes, so they should be eaten as soon as possible.
🍏 How to wash fruits
Special attention: The dishes, especially small flowers and broccoli, are best soaked in the water to remove residual pesticides (this is organic farm, but will have, but not chemical, except to Re-generative Farm). It is recommended to use our vegetables and vegetables environmentally friendly cleaner
Dish Drops
for 3 to 5 minutes to eliminate residuals Sand and organic pesticide.
1. Wash fruits before eating to keep them fresh;
2. It is not advisable to soak the fruits for too long, and they should be washed first and then cut to avoid the loss of vitamins;
3. Washing fruits with dilute salt water or Dish Drop can easily remove vegetable insects;
4. Cut fruits with a stainless steel knife to reduce vitamin loss;
5. Vegetable leaves contain a lot of nutrients, so you should avoid shredding, chopping or grinding the leaves;
6. Immediately eat after cutting, to avoid the loss of vitamins due to air oxidation.