Description
Hung Tai Fresh Fruit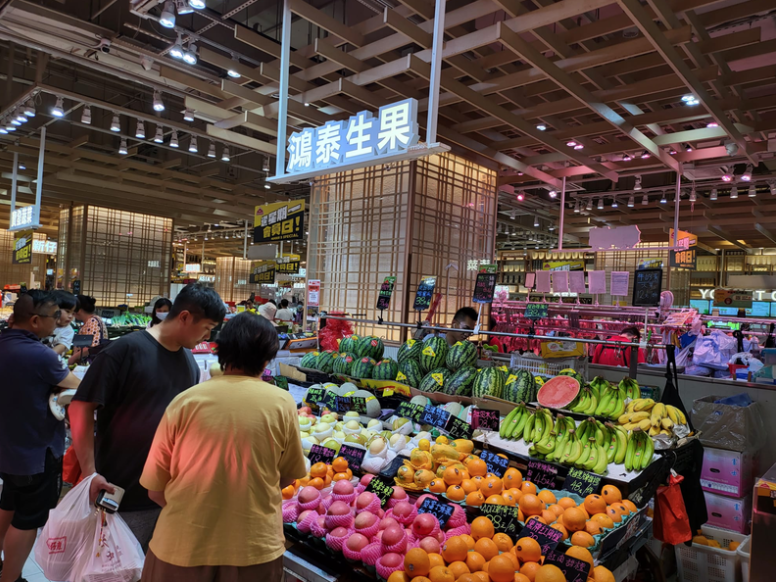 🚚 The Fastest Delivery Time : 3-5 day delivery.
🐝 Supplier / Place Of Origin:Hung Tai Fresh Fruit / Japan, Taiwan, China and Thailand and other places
🔖 Certification:
🌱 Producer Introduction:
Cheung Gor have worked as a chef in a hotel for many years, and I definitely have requirements for ingredients. In another runway, He engaged in fruit wholesale. In 2013, Cheung Gor just rented my own durian factory in Thailand. Winning the love of customers and scientists, there is a T Market in Tin Shui Wai that sells fruit directly and operates a neighborhood business.
🌱 Supplier Products:
🛍 Product Information (Main) (English):
Chinese Name:豪華水果組合
Other Names:Luxury Fruit Hampers
Product Description:Are You Looking For a Healthy Fruit and Vegetable Hamper?

Fruit Baskets are the great gifting choice for corporate. It's perfect for grand opening, thank you, congratulations and all other big ceremony and celebration. It may include fruits like dragon fruit, apples, pineapple, melons and oranges.
Vegetable Hampers are the healthiest choice of gift that you should consider if your recipients are health concerned. Various selections of fresh vegetables and other wellness products are arrived in our signature basket or gift box.
Additional beverage option allows you to choose French red wine or champagne as an add-on for your fruit and vegetable baskets. It's ideal for your corporate clients and customers.
Variety:There are 6 buildings and special fruits that are freshly transported from all over the world to Hong Kong:
瑭 瑭 x 1
New Zealand/French Rocket Apple X 1 Tube
Cooked papaya on Hawaiian tree X 1
Australian treasure big avocado x 1
瑭 瑭 2 x 2
American Orange X 3
A variety of high -quality and delicious fruits in the fruit box can definitely give you rich nutrition to face daily challenges, and it can bring umami shock to your taste buds. If a certain product does not have inventory, it will replace it with the same value products, thank you.
水果种类会根据季节情况而供应, 或会包括: 苹果, 奇异果, 橙, 啤梨, 水晶梨, 提子, 火龙果, 牛油果, 麒麟果, 西柚, 木瓜, 芒果, 布霖, 蜜柚, Pineapple, Chinese honey melon, etc.
Supply Season:See species introduction for details.
Storage Method:-
#Should Be / Avoided:
There are no literature reports.
*Edible Compatibility:
There are no literature reports.
Cooking Skills:-
Notes:What types of fruit are included in the fruit basket?
The types of fruits will be available according to the season, and may include: Apple, Kiwi, Orange, Pear, Crystal Pear, Grape, Dragon Fruit, Avocado, Kirin Fruit, Grapefruit, Papaya, Mango, Brin, Honey Pomelo, Pineapple, Chinese Melon, etc.
Can I choose the fruit in the basket?
As we use seasonal fruit with every order, all seasonal fruit will be used at random, however, if you have any fruit allergies or any specific fruit you don't want to eat, you are welcome to leave a special request/additional information when you place your order online, We will help you remove the selected fruit from the order's fruit list.
Can I include a personalized message or card with my fruit basket?
Yes, we provide a complimentary gift card with each hamper, which you can provide at checkout.
Can I have my own card added to the fruit basket order?
Yes, if you have your own gift card or business card, please let us know when placing the order and send it to our customer service department, once we receive the card, we will arrange delivery.
Please note: Additional processing charges may apply, for more details please contact us on 35561770.
Address: Room 1503, Yu Fung Industrial Building, 35-45 Sai Chai Wan Kok Street, Tsuen Wan
What is the return or refund policy if there is a problem with the fruit basket?
Fruit is a perishable product, therefore no refunds will be issued once the order has been delivered. If you have a complaint about any of our products (including fruit, food, beverages, other perishable items or damaged gifts), you can contact the customer service department within 24 hours of receiving the gift basket, and our customer service staff will deal with it and resolve your complaints. If you contact us outside of office hours, or during public holidays, Customer Service will contact you on the next working day.
Dish:-
Suggested Eating Method:
-
🥗 Recipe (English Version):
Google Recipe 🔍 :

English CookPad 🍳 :

BBC Good Food 🥙 :

🔅Precautions (English Version):
🍎 Preserve fruits
1. Fruits especially with softer skin, if packaged, should be placed in the cold box in the original package;
2. Organic fruits are more prone to spoilage if they have water droplets. Put the fruits in a ventilated place to dry or wipe off the water vapor, then wrap the fruits in slightly damp newspaper and put them in a plastic bag before refrigerating. ;
3. Organic fruits do not use preservatives or special treatments. fruits are generally stored for three to five days in room temperature only, should be kept in fridge. Some fruits e.g. papaya will decompose enzymes, so they should be eaten as soon as possible.
🍏 How to wash fruits
Special attention: The dishes, especially small flowers and broccoli, are best soaked in the water to remove residual pesticides (this is organic farm, but will have, but not chemical, except to Re-generative Farm). It is recommended to use our vegetables and vegetables environmentally friendly cleaner
Dish Drops
for 3 to 5 minutes to eliminate residuals Sand and organic pesticide.
1. Wash fruits before eating to keep them fresh;
2. It is not advisable to soak the fruits for too long, and they should be washed first and then cut to avoid the loss of vitamins;
3. Washing fruits with dilute salt water or Dish Drop can easily remove vegetable insects;
4. Cut fruits with a stainless steel knife to reduce vitamin loss;
5. Vegetable leaves contain a lot of nutrients, so you should avoid shredding, chopping or grinding the leaves;
6. Immediately eat after cutting, to avoid the loss of vitamins due to air oxidation.