Description
🚚 Fastest delivery time: 2-day delivery. Cold Chain Logistics
🔖 Certified: All organic certified, HKORC or Canada Organic Certified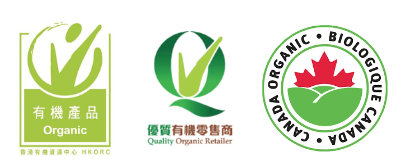 🌱 Supplier introduction:
More than 30% of our certified organic vegetables come from local certified organic farms, which is the largest source of certified organic vegetables besides the mainland (43.3%).
Most of the produces come from our partners' homegrown farms. Organic certification helps increase consumer confidence in our industry's produce. All certified organic crops, from planting, fertilization to harvesting and sales, must comply with the requirements of the ""Organic Crop Production, Aquaculture and Processing Standards"" to ensure that the production of crops is responsible for the health of consumers and the environment.
When organic products need to be sold at the wholesale and retail level, consumers cannot have direct contact with producers, and consumers do not understand the production process; at this time, organic certification can be used as a transaction standard for both parties, and consumers can see the certification mark You can buy with confidence, and if you have doubts, you can also make inquiries or complaints to the certification body.
🛍 Product Information: 
Remarks: For the Vegetable Box plan, you can choose to pay by credit card automatically every installment, or you can prepay for 3 months / 6 months / 9 months / 12 months, and there are additional discounts for prepayment.
Customer Reviews
{{'product.product_review.no_review' | translate}}