Description
Bertrand Pere & Fils
🚚 The Fastest Delivery Time : It takes 2-3 days.
🐝 Supplier / Place Of Origin:Bertrand Pere & Fils / Normandy, France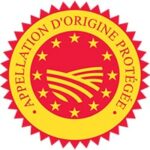 appellation d'origine protégée (AOP)
🌱 About the Producer:
Normandy Cammont Belrand (Bertrand) is a kind of origin to protect cheese (PDO) made of raw milk. It has the characteristics of softness, smooth, soft, and white. The mature time is long, and it will even show brown to red.
This small raw milk karmens were born in the center of Ornais Bocage. Its milk comes from the carefully selected farm selected within 30 kilometers of the cheese factory, giving it its unique quality and rich aroma.
🛍 Product Information:
Soft cheese is matured for 2-4 weeks. Because of its soft texture, it is often packaged in boxes. The difference from fresh cheese is the rind attached to the surface. Camembert is named after the small town of Normandy in northern France. The surface is covered with white mold, the skin is soft, and the texture is creamy.

Rated 5.00 out of 5.00
In 1791, Marie Harel created the Camembert de Normandie from raw milk by superimposing 5 layers of curd milk separated by 40 minutes between each of them to drain the milk during the manufacturing process.
Nowadays, lots of Camembert are produced all over the world. To produce the real Camembert de Normandie AOC, the makers have to follow Marie Harel's method and use at least 50% of Normande cow milk.
Pre -order once a week. The supply depends on the delivery situation, or it will be shipped separately.
👩🏻‍🍳 Suggested Serving:
🍷 Wine Pairing:
Red Wines (Red Beaujolais, Grenache, Pinot Noir)
White Wines (Chenin Blanc)
Sparkling Wines (Champagne, Prosecco)
🥗 Product Line:
Soft Cheese
🔅 Remark:



Store it in the fridge wrapped in cheese paper for up to 2 weeks.
🚚 Supply Period:
Annual supply
Cheese Pairing Chart cheese matching table