Description
Lyfegreen

🚚 The Fastest Delivery Time : Air Transport Once A Week. Pre -order once every week, and the order is cut at 5 pm on Wed. Arrived Every Saturday.
🐝 Supplier / Place Of Origin:Lyfegreen / Taiwan
🔖 Certification: Taiwan Organic Certification

🌱 About the Producer:
Background
Lyfetribe builds a health and wellness platform, Lyfegreen was founded as a joint collaboration between Lyfetribe and Fushan Grange, taiwan's leading social enterprise for organic agriculture and sustainable producers.
Today, Lyfegreen supports and works with a network of more than 100 carefully curated organic farms and sustainable producers across taiwan, showcasing an array of over 200 varieties of fruits and veggies throughout the year.
Our mission: fresh, high-quality and diversified are the core of our work. In addition, we don't want to only sell fruits and vegetables. We want to help you discover a new healthy food concept and contribute to a more sustainable world.
There are also airline shipping every week to hong kong and ship directly after arriving at hong kong, so the fruits and vegetables are 100%fresh.
🌱 Supplier Products:
🛍 Product Information:
Binomial Name:Brassica juncea
Chinese Name:包心芥菜
Other Names:Wrapped Heart Mustard Green
Product Description:Rich in glucosinolates, which have the potential to prevent cancer and neurodegeneration.
Glucosinolates are also known as glucosinolates. From young leaves to mature mustard, the concentration of total glucosinolates will gradually increase, which helps plants defend against pests and diseases. This is also the source of the unique bitter and spicy flavor of mustard. Found in multiple animal studies, it may help kill cancer cells or stop them from spreading, but more clinical research is needed. In addition, studies have found that the organic compounds "isothiocyanates (ITCs)" produced by the decomposition of glucosinolates have neuroprotective effects and have the potential to be developed as alternative drugs for the prevention or treatment of neurodegenerative diseases.
Chinese Mustard are often dried in the Hakka area and processed into well-known Hakka names. Vegetables, Hakka sauerkraut, dried plums, etc., are widely used.
Variety:Chinese mustard greens, or jiè cài (芥菜) in Mandarin and gai choy in Cantonese, have been cultivated for centuries. There are many types, such as the leafy xuě lǐ hóng (雪里红) pictured left, as well as others, like head mustard and "large petiole mustard," which are harvested for their thick stems (to be pickled and preserved).
Supply Season:The main production period is from November to April of the following year, and it is available in Hong Kong throughout the year.
Storage Method:Mustard greens: Put them in a plastic bag, squeeze out the air in the bag with your hands and seal the opening, or wrap it directly in white newspaper, put a layer of plastic bag on the outside, secure it with a rubber band, and then put it in the refrigerator. Refrigerator.
#Should Be / Avoided:
Improves digestion and aids in fat metabolism. Used internally, it helps to improve chest congestion, inflammation, injury and associated pain.
*Edible Compatibility:
Cooking Skills:Mustard Chicken Soup is an extension of Taiwanese cuisine. In Taiwan's past agricultural society, long-term labor unions rented farmland from landlords during the fallow period to grow mustard greens. The harvest of mustard greens coincided with the Chinese New Year, so it was called a dish eaten at reunions back home. The Hakka people live in hilly areas. In order to preserve food, they preserve excess mustard greens by pickling and other methods.
In cooking, since glucosinolates are easily lost when heated for a long time, it is recommended to shorten the cooking time as much as possible. Moreover, steaming and microwave are better cooking methods to maintain the glucosinolate content. However, if it is boiled, about 90% of the glucosinolates will be lost in the water, reducing the nutritional value.
As for how to remove the bitter taste, we recommend two steps to ensure delicious mustard greens that are not bitter:
Know how to clean first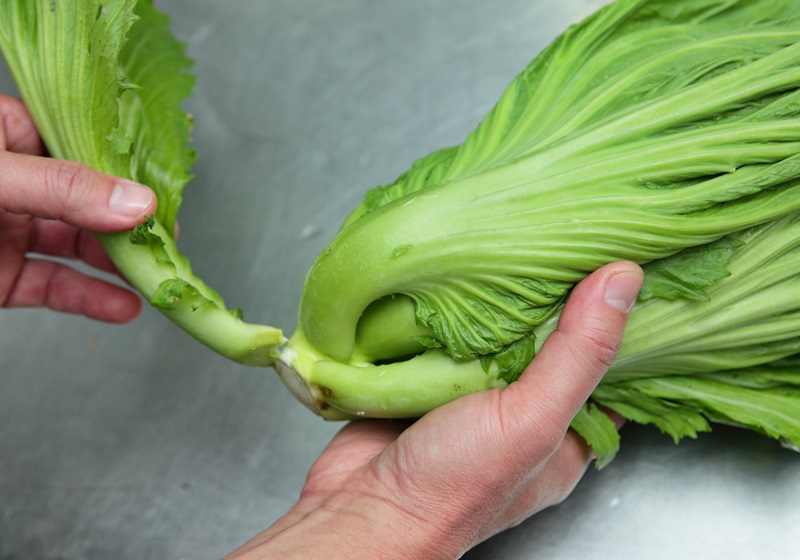 The base of the leaf tips of mustard greens tends to hide sediment. It is recommended to peel off the leaves one by one from the outside to the inside, place them under running water and wash them with your hands, especially the thick petioles, which need to be cleaned carefully.
- Be sure to blanch it first, rinse it with water, and squeeze out the water before cooking.
- Cook with stock or ingredients high in protein. For example: scallops with mustard greens (use stock), mustard greens patties (use minced pork), mustard greens chicken soup (use chicken stock).
It tastes better this way
It can be cut into various shapes according to cooking needs. If you want to stir-fry, you can cut it into strips or thin slices. Blocks and thick slices are suitable for stewing soup. The fibrous part of the mustard leaves has been removed and can be stir-fried like ordinary leafy vegetables. It can also be chopped and pickled with salt. After the salt water is drained, it becomes a delicious pickle.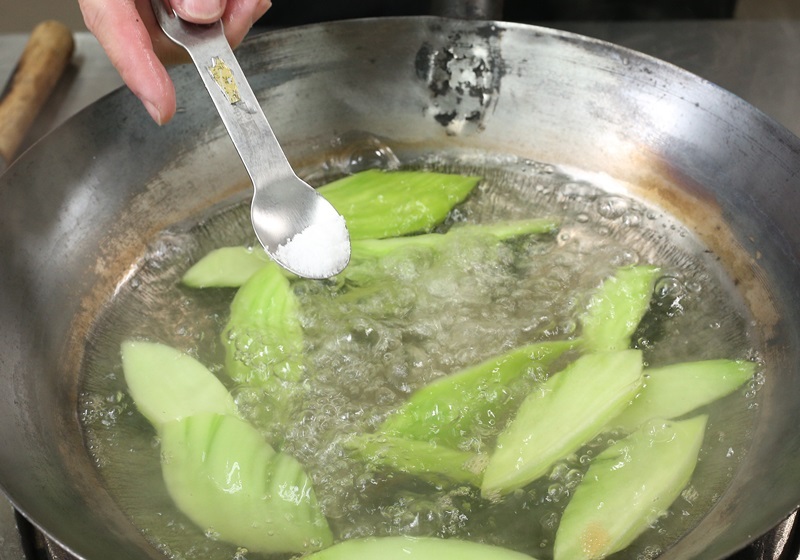 ・Blanching in salt water: clean and cut into sections, then blanch in boiling salt water. This can reduce bitterness, maintain color, and help soften fibers and shorten subsequent cooking procedures. After cooking, rinse with clean water or soak in ice water. It can increase the crispness and maintain the emerald green appearance. It can be quickly stir-fried and simmered over high heat before serving.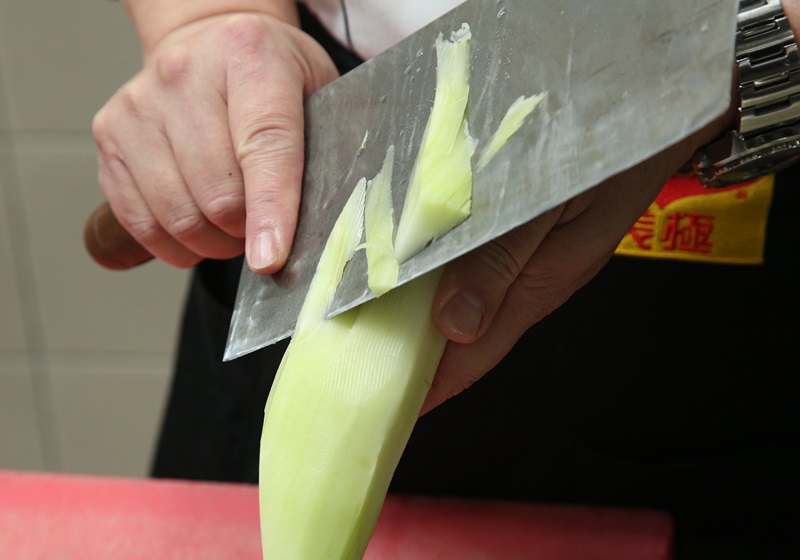 ・Remove the hard parts: Before cooking with mustard greens (such as cabbage sum), the outer skin must be peeled off to remove the rough and hard parts for a better taste. Then cut it into pieces according to the cooking method. For example, strips and cubes are suitable for marinating, while hob cubes and thick cuts are suitable for stewing.
How to cook?
Mustard greens are slightly bitter in the mouth at first, but after chewing for a while, the sweetness develops. The transition from bitter to sweet is a symbol of "after all the bitterness, sweetness comes"! Because it tastes astringent and slightly bitter on its own, it is usually stewed with meat with a higher oil content. Quick frying in chicken oil is more suitable for the taste. In addition, during the Chinese New Year, mustard greens and scallops are also steamed or stir-fried together. By combining the sweetness of seafood and the slight bitterness of mustard greens, it helps to remove the fishy smell and enhance the taste, making it sweet after eating.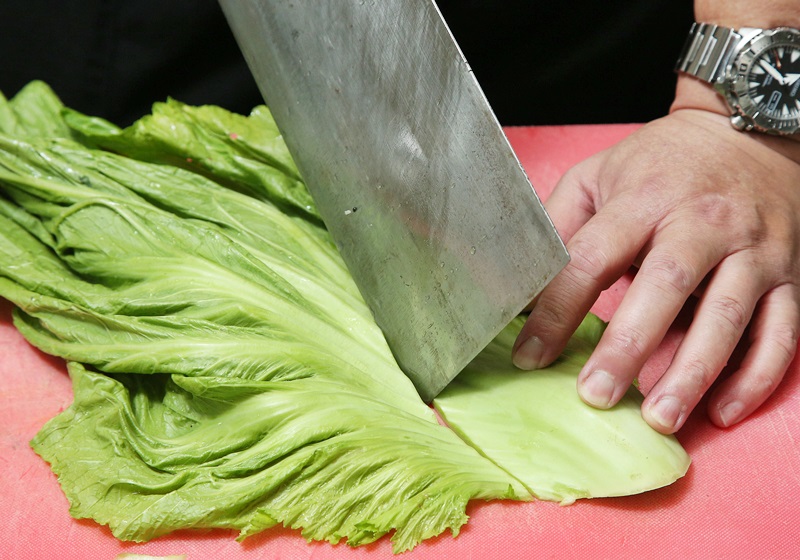 Many people remove the leaves from perennial vegetables and only eat the stems.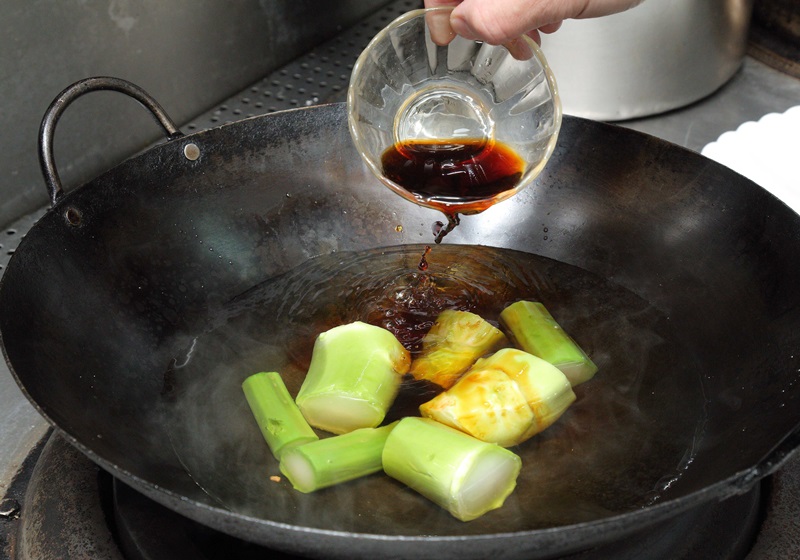 The cabbage sum is sweet enough and suitable for stewing.
Notes:
Dish:
Three fresh meatloaf and mustard greens in pot
The leaves are used in African cooking, both in Nepali cuisine, especially in the mountains of Nepal, and in Punjabi cuisine in the north of the Indian subcontinent, where a dish called salsa da saag (mustard greens) is prepared.
Brassica juncea subsp. The stems of tatsai are particularly thick and are used to make achar, a Nepali pickle, and zha cai, a Chinese pickle. The plant, known as "lai xaak" in Assamese, is grown in abundance during winters. In Assam and the Northeast, it is eaten in any form, whether cooked or raw in salads, cooked alone or with pork.
The Gurkhas of Darjeeling, West Bengal, Sikkim, and Nepal use mustard greens (also called rayo in Nepali) to cook pork. It is usually served with relish and rice, but can also be served with roti (pan bread). It is also a common practice in Nepal to cook these vegetables with various meats, especially goat. It is usually cooked in a pressure cooker, using only minimal spices to accentuate the flavor of the vegetables and dried chili peppers. Mustard greens (especially the seeds) are more pungent greens than the closely related kale (kale, broccoli, and kale) and are often mixed with these milder greens in a dish of "mixed greens."
Chinese and Japanese cuisine also use mustard greens. In Japanese cuisine, it is known as Takashi and is often pickled and used as a filling or condiment for rice balls. Many varieties of mustard are used, including takana, mizuna, takana (var. integrifolia), juk gai choy and shilihong. Asian mustard greens are most commonly stir-fried or pickled.
Cantonese Style Wolfberry Braised Mustard Greens
Stir-fried mustard greens
A pickle made from mustard greens
A Southeast Asian dish called asam gai choy or kiam chai boey is often made with leftovers from a large meal. It involves simmering mustard greens with tamarind, dry chillies and leftover meat. Mustard greens are also known as mustard greens, mustard greens, mustard greens, mustard greens, mustard greens, or mostaza.
If the order has a Taiwan produce, recommended to choose to deliver on Sat or it'll be shipped separately.
🥗 Product Category (English): Wrapped Heart Mustard Green
Google Recipe 🔍 :

English CookPad 🍳 :

BBC Good Food 🥙 :

🔅 Remark:
🍎 Preserve fruits
1. Fruits especially with softer skin, if packaged, should be placed in the cold box in the original package;
2. Organic fruits are more prone to spoilage if they have water droplets. Put the fruits in a ventilated place to dry or wipe off the water vapor, then wrap the fruits in slightly damp newspaper and put them in a plastic bag before refrigerating. ;
3. Organic fruits do not use preservatives or special treatments. fruits are generally stored for three to five days in room temperature only, should be kept in fridge. Some fruits e.g. papaya will decompose enzymes, so they should be eaten as soon as possible.
🍏 How to wash fruits
1. Wash fruits before eating to keep them fresh;
2. It is not advisable to soak the fruits for too long, and they should be washed first and then cut to avoid the loss of vitamins;
3. Washing fruits with dilute salt water or Dish Drop can easily remove vegetable insects;
4. Cut fruits with a stainless steel knife to reduce vitamin loss;
5. Vegetable leaves contain a lot of nutrients, so you should avoid shredding, chopping or grinding the leaves;
6. Immediately eat after cutting, to avoid the loss of vitamins due to air oxidation.