Description
Yau Wah Organic Farm, Kam Tin
🚚  The fastest delivery time: 2-day delivery. 
🐝  Supplier / Origin : Yau Wah Organic Farm, Kam Tin 
🔖  Certification : HKORC Number - C10005 
🌱  Producer introduction : We need to let everyone know that the fresh organic vegetables are not used with pesticides, and the small insects can coexist. After a child came to the farm, they found that there were vegetable insects on the leaves, so they raised them, and finally found The experience of turning cabbage insects into cabbage butterflies may be a good ecological education. The farmers all have one wish, and hope that the public can support them, understand their hard work, and support them by doing their best to make eating local food a habit: "Hong Kong people support Hong Kong agriculture, buy Hong Kong food!"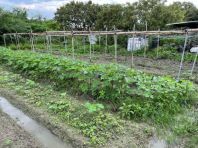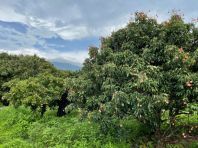 🛍  Product Information : 
Binomial Name:
Chinese Name:白茄子
Other Names:White Eggplant
Product Description:Eggplant has anti-cancer effects and is a very healthy vegetable. If you are afraid that the eggplant will change color after cooking, you can soak the cut eggplant in salt water diluted about five times for a while, so that the bright color can be maintained when it is put into the pot!
Variety:Eggplants are not only divided into purple, black, white, and green in color, but also have obvious differences in shape, and the most common ones are round eggplant and long eggplant. The key difference is that the taste of the two is different. The long eggplant skin is thinner and has a higher water content, while the round eggplant skin is thicker and the fiber is thicker. The color is mostly purple or purple-black, and there are also light green or white varieties, and the shapes are also long, round, oval, pear-shaped and so on.
Supply Season:The supply season is from December to August each year.
Storage Method:
#Should Be / Avoided:
Medicinal
Traditional Chinese medicine believes that eggplant is sweet in taste and cool in nature. It has the effects of clearing away heat and promoting blood circulation, relieving pain and reducing swelling.
When eating eggplant, try not to peel it, because the nutritional value of the skin is more abundant, and the eggplant is easily oxidized after peeling, and the internal nutrients are also easily destroyed;
Eggplant must not be eaten raw, because raw eggplant contains a substance called solanine, which can cause strong irritation to the stomach and even cause shortness of breath;
*Edible Compatibility:
Cooking Skills:Usually white eggplant will cut it into pieces, like coins, and then put oil, green pepper, etc. braised in brown sauce. Or peel the white eggplant, cut it into shreds, and fry it with more oil.
The method of purple eggplant is usually cut into strips, or fried eggplant, fish-flavored eggplant, fried eggplant, etc., or cooked with other vegetables, such as ground three delicacies, tomato roasted eggplant, etc.
Notes:
Dish:
Supply Period: The Supply Season Is From December To August Each Year.
Suggested Eating Method:
Usually white eggplant cuts it horizontally into pieces, like coins, and then put on saffron and green peppers. Or peel the white eggplant, cut into eggplant shreds, and stir -fry.
The method of purple eggplant is usually cut into strips, or oily eggplant, fish fragrant eggplant, fried eggplant, etc., or cooking with other vegetables, such as Di San, tomato roasted eggplant, etc.
🥗 Recipe (English Version):
Google Recipe 🔍 :

English CookPad 🍳 :

BBC Good Food 🥙 :