Description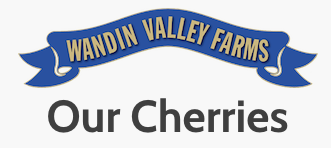 Hung Tai Fresh Fruit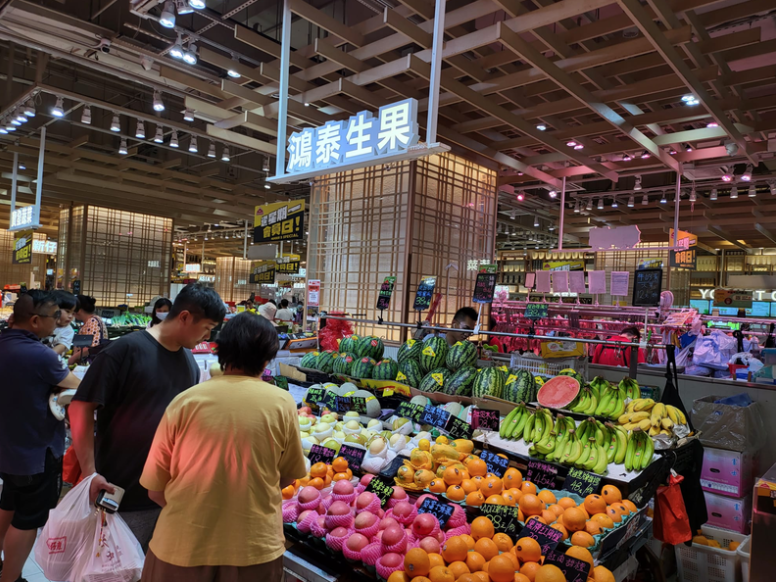 🚚 The Fastest Delivery Time : 2-3 day delivery.
🐝 Supplier / Place Of Origin:Hung Tai Fresh Fruit / Japan, Taiwan, China and Thailand and other places

🌱 Producer Introduction:
Cheung Gor have worked as a chef in a hotel for many years, and I definitely have requirements for ingredients. In another runway, He engaged in fruit wholesale. In 2013, Cheung Gor just rented my own durian factory in Thailand. Winning the love of customers and scientists, there is a T Market in Tin Shui Wai that sells fruit directly and operates a neighborhood business.
🌱 Supplier Products:
🛍 Product Information (Main) (English):
Binomial Name:Prunus Prunoideae
Chinese Name:塔斯曼尼亞車厘子
Other Names:Tasmanian Cherries
Whilst growing a small quantity of blush cherries, the main area of focus is on traditional dark cherries, with many classic varieties such as Bing and Lapin grown, mixed with new varieties such as Royal Hazel, Black Star and Regina to name but a few.

Wandin Valley Farms also grow sour cherries which are available from late December each season.
We also produce Sweet Pixie Cherry Plums, which are harvested throughout January - sweet and juicy, for the domestic and International markets.
Product Description:Tasmania is an island, largely influenced by the temperate marine climate, which ensures that the fruit has a long and mild growth period, so that the fruit can grow slowly and full of flavor, crisp and sweet. It is native to China and distributed in Hebei, Anhui, Shanxi, Shaanxi, Gansu, Shandong, Guizhou and Guangxi provinces. Now Japan and North Korea are also cultivated.
The main varieties of cherries grown in Tasmania are Lapin, Simone, Sweetheart, Sylvia, Regina, Kordia and the new variety Sweet Georgia, and they are usually packaged into 2 kg or 5 kg cartons for sale, which can be roughly divided into four types according to the size of the fruit Grades: 28-30mm, 30-32mm, 32-34mm and 34-36mm. Because the production period of each variety is different, so remember to check the information on the carton before buying.
43° South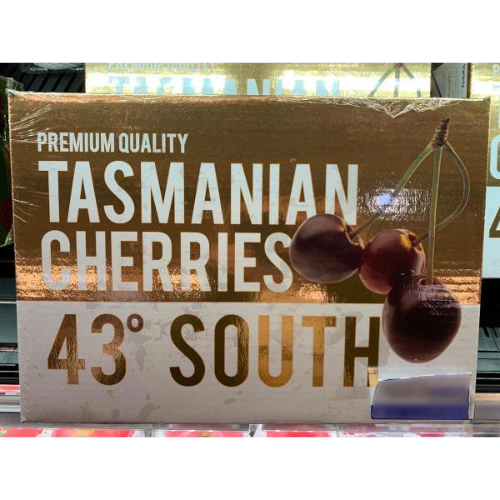 Produced by HANSEN ORCHARDS, it specializes in planting cherries and apples. The orchard is located in the Huon Valley in the south. It is named after the orchard is located at 43 degrees south latitude. The cherries are round and plump, with crispy skin and tender meat.
Reid Fruits
The Reid Fruits farm is located in the Derwent Valley in southern Tasmania. The box is printed with a kangaroo pattern and is called "kangaroo card".
T.R Red Diamond/Ruby (T.R Tasman Ruby)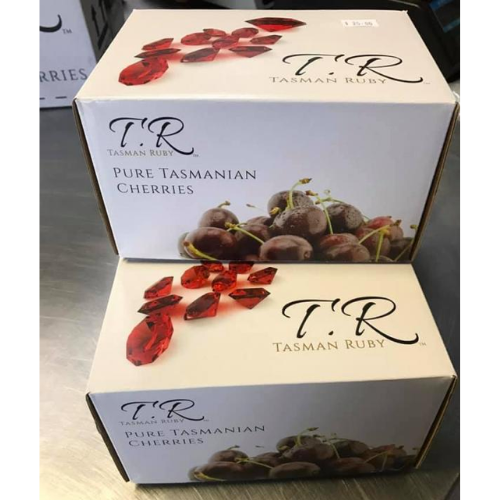 From Lucaston Park Orchards, the farm is located in the Huon Valley in southern Tasmania. The cherries have thick flesh and fine core, crisp taste and moderate sweetness.
Not only are cherries a delicious sweet treat but they are also outstandingly good for you too. From healthy inflammation levels to a healthy weight, cherries are a small but mighty superfruit packed with so many nutrients and antioxidants that may have an array of benefits to your health!
Rich in ANTHOCYNANINS
They're the reason why your cherry is radiantly red. Not only do they act like a 'sunscreen' for the fruit, they are also filled with super antioxidants and anti-inflammatory properties to protect your overall health, from healthy joints to glowing skin.
Filled with MELATONIN
Not only are cherries a great fruit to eat before bed as they contain Melatonin which has a sleep-promoting effect, it also helps decrease stress and improve mental health. So go on, indulge in some sweet cherries for some restful slumber.
Excellent source of VITAMIN B & C
Just one cup of cherries will provide you with 50% of your recommended daily dose of vitamins. Vitamin C is a great friend to your immunity and skin health, while Vitamin B is your buddy to keep energy and spirits up!
A good source of FIBRE
Just one cup of cherries contains on average 2 grams of fibre. Fibre is essential for good digestive health, to keep your tummy happy, regular and healthy.
Packed with POTASSIUM
One cup of cherries contains as much potassium as a banana does – helping to you keep your blood pressure levels in check!
Low GI
Did you know cherries rank as one of the lowest GI fruit amongst many others? Helping your body to regulate energy levels more efficiently, while keeping you fuller for longer!
Variety:Among them, 43° South, Reid Fruits Gold Kangaroo and T.R Tasman Ruby are the most familiar to Hong Kong people.
Supply Season:Tasmanian cherries are produced from December to February of the following year. The peak production period is from mid-January to late January. There is only one production per year, which is very precious.
Storage Method:Cherry is not conducive to preservation, it is best to eat fresh. Generally, it can be stored for about 3 days. Cherries are easy to rot when exposed to water, so wash them before eating.
#Should Be / Avoided:
Appropriate: Cherries have the effect of relieving pain and reducing inflammation. Patients suffering from gout and arthritis can eat 20
Cherries help relieve symptoms. It is suitable for people with indigestion, loss of appetite, diarrhea due to spleen deficiency, nocturnal emission due to kidney deficiency, waist and leg pain, numb limbs, and paralysis.
Avoid: cherries are warm and astringent, which can easily lead to internal heat, so it is not suitable to overeat. Those with fever, fever, cough, asthma, etc. should eat with caution. It should not be eaten by patients with yin deficiency and hyperactivity of fire, lung heat in the respiratory system and chickenpox.
Pregnant women can eat a small amount of cherries

Properties (TCM): warm
Five Flavors in TCM: sweet
Efficacy Tonify the middle and replenish qi, invigorate the spleen and remove dampness
The nutritional value of cherries is very high. It is rich in iron, good for blood production, and contains phosphorus, magnesium, and potassium. Its vitamin A content is 4-5 times higher than that of apples. It is an ideal fruit for pregnant women and breastfeeding women. Cherry is a warm food, and it is easy to get angry if eaten in large quantities. Therefore, pregnant women with body heat and ulcers are best not to eat cherries.
*Edible Compatibility:
Affordable: 1. Cherry and cantaloupe: The vitamin C of cantaloupe helps the body absorb the iron of cherries, helps prevent anemia, promotes rosy complexion, and can enhance physical strength and promote development and growth. 2. Cherry and salt: The potassium in cherries and the sodium in salt help maintain the body's acid-base balance. Phase grams: 1. Cherry and nuts: The iron contained in cherries may hinder the absorption of vitamin E in nuts. 2. Cherry and honey: The vitamin C of cherries is combined with the copper and other minerals contained in honey, which is easy to lose its nutritional value due to oxidation. 3. Cherry and animal viscera: Vitamin C in cherries is easily oxidized by minerals such as copper and iron in animal viscera, which affects the absorption of vitamin C, but vitamin C can also promote the absorption of iron at the same time.
Cooking Skills:The fruit is oblate, green when fruiting, and turns red when ripe. The meat is thick, juicy and sweet. In addition to fresh food, it can also be processed into cherry jam, cherry juice, canned cherry, preserved fruit and dew wine. The sugar-sweetened cherries that are now commonly found on banquets, cakes or breads are dyed bright red and green and are mainly used for decoration and accompaniment.
Notes:It is not advisable to eat a lot, because cherries have high iron content and a certain amount of cyanogenic glycosides. Excessive consumption will cause iron poisoning or hydroxide poisoning. Those with mild discomfort can use sugarcane juice to clear away heat and detoxify.
Its roots, leaves and flowers are used medicinally.
Dish:Cherry Vanilla Frozen Yoghurt
Cherry Coconut Creamsicles
Cherry Nice Cream
Waffles With Coconut Blueberry Swirl
Choc-Heaven Cake by Katherine Sabbath
Chocolate and Cherry Trifle
Suggested Eating Method:
The fruit is flat and round, and the result is green, and it becomes red after maturity. The meat is thick and juicy. In addition to fresh food, it can also be processed into cherry sauce, cherry juice, canned cherry, preserved fruit and dew. At present, the common sugar cherry on the banquet, cake or bread will be dyed bright red and bright green, mainly used for decoration and accompanying discs.
🥗 Recipe (English Version):
Google Recipe 🔍 :

English CookPad 🍳 :

BBC Good Food 🥙 :

🔅Precautions (English Version):
🍎 Preserve fruits
1. Fruits especially with softer skin, if packaged, should be placed in the cold box in the original package;
2. Organic fruits are more prone to spoilage if they have water droplets. Put the fruits in a ventilated place to dry or wipe off the water vapor, then wrap the fruits in slightly damp newspaper and put them in a plastic bag before refrigerating. ;
3. Organic fruits do not use preservatives or special treatments. fruits are generally stored for three to five days in room temperature only, should be kept in fridge. Some fruits e.g. papaya will decompose enzymes, so they should be eaten as soon as possible.
🍏 How to wash fruits
Special attention: The dishes, especially small flowers and broccoli, are best soaked in the water to remove residual pesticides (this is organic farm, but will have, but not chemical, except to Re-generative Farm). It is recommended to use our vegetables and vegetables environmentally friendly cleaner
Dish Drops
for 3 to 5 minutes to eliminate residuals Sand and organic pesticide.
1. Wash fruits before eating to keep them fresh;
2. It is not advisable to soak the fruits for too long, and they should be washed first and then cut to avoid the loss of vitamins;
3. Washing fruits with dilute salt water or Dish Drop can easily remove vegetable insects;
4. Cut fruits with a stainless steel knife to reduce vitamin loss;
5. Vegetable leaves contain a lot of nutrients, so you should avoid shredding, chopping or grinding the leaves;
6. Immediately eat after cutting, to avoid the loss of vitamins due to air oxidation.