Description
Uncle Ping Wusan Plateau Produce

🚚 The Fastest Delivery Time : It Takes 3-4 Days.
🐝 Supplier / Place Of Origin:Uncle Ping Wusan Plateau Produce / Shaanxi
🔖 Certification: HK Castco Tested / Not Certified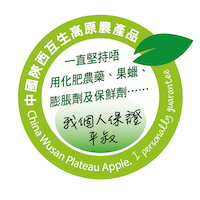 🌱 Producer Introduction:
It's more than 10 years! Come to Hong Kong to sell apples for 10 years! Passed the Hong Kong Fruit Food Safety Test for 9 consecutive years without pesticide residues.
Always insist on absolutely not using chemical fertilizers, chemical pesticides, artificial fruit wax, bulking agents and preservatives. During the epidemic period, people don't care about the effect, just want to feel more at ease than us. All uncle Ping's fruits are sterilized and sterilized by ozone machine in the freezer. They will be out of the warehouse to you, PIE Ozonation. (This information is provided by the supplier, we cannot ensure that all the information is correct) 🙏🏻
🌱 Supplier Products:
🛍 Product Information (Main) (English):
Binomial Name:
Chinese Name:紅棗
Other Names:Red Dates
Product Description:Originated in northern China, it tastes sweet and can improve symptoms such as anemia, insomnia, and hyperacidity. Because it contains fat, protein, sugar, fruit acid and other nutrients, it also relieves cough, diuresis, nourishes the stomach, strengthens the spleen, and strengthens the spleen. The effect of physical strength, eating more red dates can make the complexion ruddy and radiant.
Variety:
Supply Season:Supply throughout the year
Storage Method:
#Should Be / Avoided:
*Edible Compatibility:
Cooking Skills:practice:
Wash red dates with water, drain and set aside.
Put water and red dates into a pot, bring to a boil over medium-high heat, then turn to low heat, and continue to boil until about a bowl of water remains.
In another small pot, put in cold water and eggs, cook the eggs over medium heat. Drain and immediately place in cold water to cool. Shelling. Put it back into the jujube water and continue to cook for a while. Serve. Serve hot.
Notes:
Dish:
Supply Period: Supply Throughout The Year
Suggested Eating Method:
practice:
Wash the red dates with water, drain the water, and set aside.
Put the water with the red dates into a pot together, cook it with medium heat, turn slowly, continue to cook until about a bowl left.
Use another small pot, add frozen water and eggs, and use medium heat to cook the eggs. Pick up, then put in frozen water to cool. Peel. Put back the red dates and continue to cook for a while. Immediately. Enjoy it while it is hot.
🥗 Recipe (English Version):
Google Recipe 🔍 :

English CookPad 🍳 :

BBC Good Food 🥙 :

🔅Precautions (English Version):
HK's fruits are either cheap goods from the mainland, or imported from a long distance. Preservatives are indispensable, and everyone is not surprised if they are dressed in fruit wax. Plateau apples are grown in their own orchard. They absolutely don't use chemical fertilisers or chemical!
FALSE🍎 Preserve fruits
1. Fruits especially with softer skin, if packaged, should be placed in the cold box in the original package;
2. Organic fruits are more prone to spoilage if they have water droplets. Put the fruits in a ventilated place to dry or wipe off the water vapor, then wrap the fruits in slightly damp newspaper and put them in a plastic bag before refrigerating. ;
3. Organic fruits do not use preservatives or special treatments. fruits are generally stored for three to five days in room temperature only, should be kept in fridge. Some fruits e.g. papaya will decompose enzymes, so they should be eaten as soon as possible.
🍏 How to wash fruits
Special attention: The dishes, especially small flowers and broccoli, are best soaked in the water to remove residual pesticides (I will have organic farms). It is recommended to use our vegetables and vegetables environmentally friendly cleaner
Dish Drops
for 3 to 5 minutes to eliminate residuals Sand and pesticide.
1. Wash fruits before eating to keep them fresh;
2. It is not advisable to soak the fruits for too long, and they should be washed first and then cut to avoid the loss of vitamins;
3. Washing fruits with dilute salt water or Dish Drop can easily remove vegetable insects;
4. Cut fruits with a stainless steel knife to reduce vitamin loss;
5. Vegetable leaves contain a lot of nutrients, so you should avoid shredding, chopping or grinding the leaves;
6. Immediately eat after cutting, to avoid the loss of vitamins due to air oxidation.