Description
Hung Tai Fresh Fruit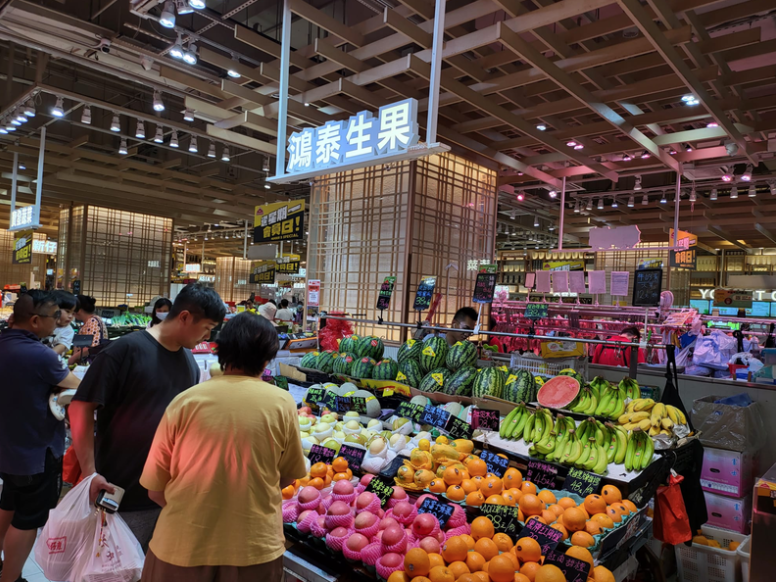 🚚 The Fastest Delivery Time : 2-3 day delivery.
🐝 Supplier / Place Of Origin:Hung Tai Fresh Fruit / Japan

🌱 Producer Introduction:
Cheung Gor have worked as a chef in a hotel for many years, and I definitely have requirements for ingredients. In another runway, He engaged in fruit wholesale. In 2013, Cheung Gor just rented my own durian factory in Thailand. Winning the love of customers and scientists, there is a T Market in Tin Shui Wai that sells fruit directly and operates a neighborhood business.
🌱 Supplier Products:
🛍 Product Information (Main) (English):
Binomial Name:Brassica pekinensis (Lour.) Rupr.
Chinese Name:大白菜
Other Names:Napa Cabbage | Peking Cabbage
Product Description:In Cantonese, my parents always used to refer to napa cabbage as "wong nga bok."
Sweet, slightly cold in nature. It has the effect of clearing the stomach, digestion, and diuresis. Chinese cabbage is rich in nutrients. Its calcium and phosphorus components can help strengthen teeth and bones, promote and coordinate the operation of the nervous and muscular system; and it contains low calorie value and moderate fiber content, which can provide satiety Besides, eating more will not take in excess energy. In addition, Chinese cabbage contains a variety of plant components, including: sulforaphane (Sulforaphane), indole (Indoles), isothiocyanate (Isothiocyanate), etc., its high antioxidant capacity, help inhibit early cancer cell lesions, Effectively fight and prevent tumor diseases.
Originated in China, it is one of the specialty vegetables in China. The "song" that Ji Han in the Jin Dynasty called in "The Shape of Southern Plants and Trees" is this species. It is cultivated all over the country.
Variety:Chinese cabbage is made of multiple leaves tightly wrapped together to form a cylinder. Because the wrapped leaves are not exposed to sunlight, the color is lighter or even pale yellow. It is generally divided into two types: cylindrical Shao Cai and short round Baotou Chinese cabbage. The common straight cylindrical vegetable is called "Yellow Bud White", which is an ecological variety of this species; another cultivar with a small plant is called "Baby Cai".
Supply Season:The main production period is from November to February of the next year, and it is available in Hong Kong throughout the year.
Storage Method:Wrap it with toilet paper and put it in a ventilated and dark place, it can be stored for about 1 week; it can also be stored in the refrigerator. The shelf life is shorter in summer, about a few days, and generally about 15 days in winter.
#Should Be / Avoided:
Appropriate: It is suitable for people with difficulty in defecation, internal heat cough, vitamin deficiency, high blood pressure, cardiovascular disease, chickenpox, whooping cough.
Contraindications: People with too cold constitution, weak spleen and stomach, and prone to diarrhea should eat less. In addition, those with intestinal, stomach or heart and lung deficiency should not eat or eat with caution.
Pregnant women can eat Chinese cabbage

Five Flavors in TCM: Bitter, Pungent, Sweet
Efficacy Antipyretic and restorative, clearing the stomach, nourishing the stomach and promoting body fluid, relieving restlessness and quenching thirst, diuresis and laxative, clearing away heat and detoxification
Chinese cabbage is rich in vitamin C and vitamin E. Eating cabbage regularly can enhance the skin's ability to resist damage, and can play a good role in skin care and beauty. Vitamin C in Chinese cabbage also has a certain therapeutic effect on gastric and duodenal ulcers.
The cellulose in Chinese cabbage can not only moisten the intestines, promote detoxification, help digestion, prevent indigestion of pregnant women, prevent pregnant women from suffering from intestinal diseases, and have a good effect on preventing intestinal cancer. Chinese cabbage can also promote the body's absorption of animal protein and prevent senile arteriosclerosis and cardiovascular diseases. In addition, Chinese cabbage also has the effect of preventing breast cancer, and can also prevent arteriosclerosis and cardiovascular diseases.
*Edible Compatibility:
Chinese cabbage with pork can supplement nutrition and laxative. Matching with soy milk can regulate endocrine and anti-aging.
should:
1. Cabbage and tomato: Both Chinese cabbage and tomato are rich in vitamin C and potassium, and eating together can help prevent colds, relax muscles, and relieve emotions.
2. Cabbage and cheese: Both Chinese cabbage and cheese contain calcium and phosphorus and should be paired in moderation. For example, maintaining a high calcium-to-phosphorus ratio helps to form calcium phosphate, which strengthens teeth and bones, and helps prevent osteoporosis and muscle cramps.
3. Cabbage and lean meat: The vitamin C in Chinese cabbage combines with the protein in lean meat, which helps the synthesis of collagen and enhances the elasticity of the skin.
avoid:
1. Cabbage and cucumber: Cucumber contains vitamin C decomposing enzyme components, which will decompose the vitamin C contained in Chinese cabbage, resulting in nutrient loss.
2. Cabbage and pork liver: Pork liver contains copper, which will oxidize the vitamin C contained in oxidized Chinese cabbage, and then reduce the intake of vitamin C.
3. Cabbage, shrimp, squid, etc.: Since these foods are cold in nature, they are likely to cause diarrhea, allergies, asthma, cold hands and feet, etc., so they should be eaten less.
4. Cabbage and licorice: Cabbage is cold in nature and sweet in taste, while licorice is flat in nature and slightly warm in nature. The functions of the two are just opposite. Eating them at the same time can easily cause physical discomfort.
5. Eating Chinese cabbage and Atractylodes atractylodes at the same time will make the medicinal properties of Atractylodes atractylodes overpowering and harmful to the body.
Cooking Skills:We use napa cabbage in soups, stir-fries, slaws, dumplings, noodle dishes, and more. The water content of this vegetable is quite high. When cooked, it has a pleasantly sweet and juicy taste to it.
Notes:If it is marinated with sea salt, pepper and garlic are added to make "kimchi", which is an extremely popular food in Japan, South Korea, and northern China.
Rotten cabbage contains toxins such as nitrite, and these nitrites finally combine with secondary amines in the gastrointestinal tract to synthesize nitrosamine carcinogens. In fact, as long as the human body absorbs a large amount of nitrite, poisoning will occur, and the patient will have degenerative hemoglobinosis, black mouth disease, gastroenteritis, dyspnea, unconsciousness and other symptoms, which are fatal; If left overnight after frying, the nitrite content will also increase sharply, so it is not suitable for consumption, so as not to cause nitrite poisoning.
Dish:Stir-fried Chinese cabbage with bacon, grilled Chinese cabbage with minced legs, and soaked Chinese cabbage.
Suggested Eating Method:
The edible part is tender stems and leaves. The first thing that grows when the Chinese cabbage grows is the outer leaves, and the inner heart lobe grows slowly after the inner heart lobe. Therefore, the outermost leaves have a greater opportunity to contact pesticides, so they must be removed. After about 45 minutes in the water, rinse with flowing water. If you add a little vinegar or other acidic substances when cooking, you can keep its white color.
🥗 Recipe (English Version):
Google Recipe 🔍 :

English CookPad 🍳 :

BBC Good Food 🥙 :