Rooibos tea
🚚 Fastest delivery time: 2-3 day delivery.
🐝 Supplier / Origin: Fleur Tea / Hong Kong, tea ingredients from South Africa, france, china, etc.
🌱 Supplier introduction: Tea Lao Fleur Tea – "Sa Lao" takes high-quality herbal and fruit tea crops from all over the world as the core, and insists on natural and no additives.
🛍  Product Information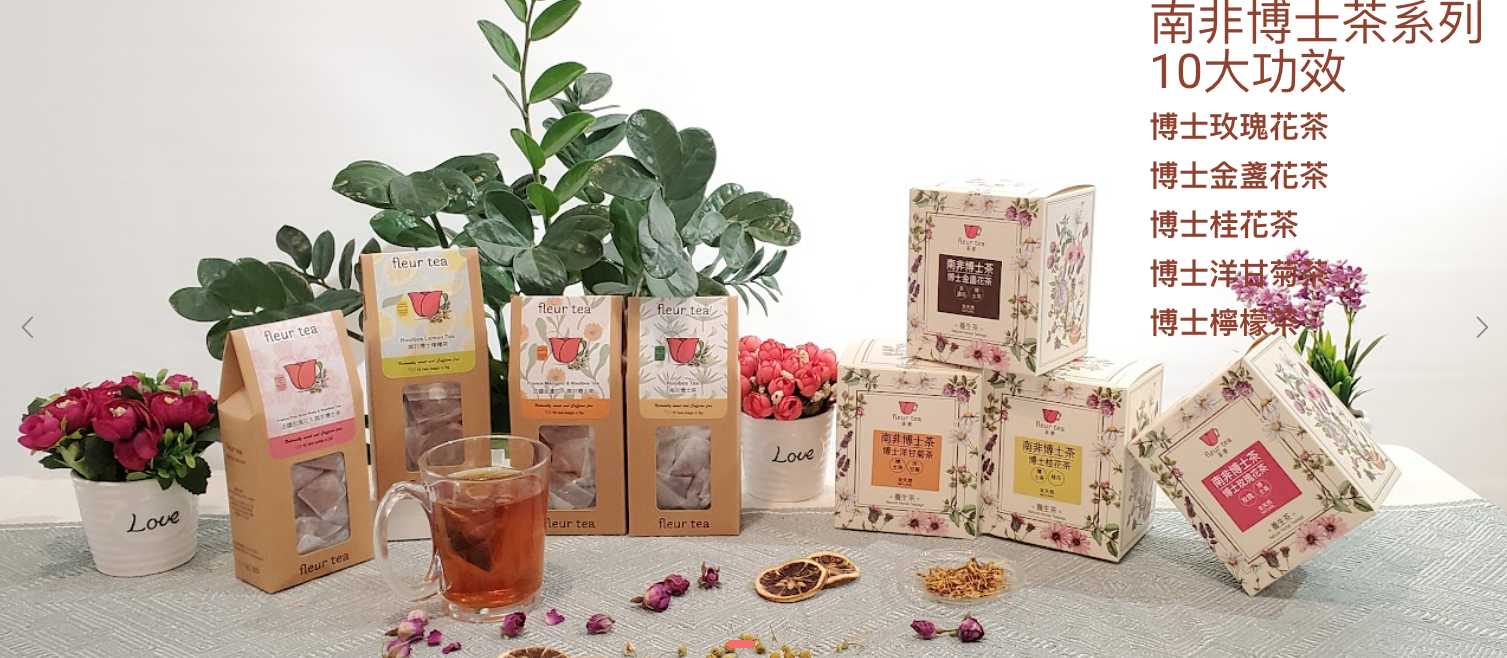 Drinking method:
Put a tea bag into a teacup, pour into 300 cc of boiling water, cover and steep for about 3-6 minutes before drinking
In addition, honey/stevia leaves/sugar can also be added to enjoy together.
Rooibos tea from South Africa, also known as national treasure tea, does not contain caffeine, has excellent antioxidant effect and soft sweetness, suitable for people of all ages including children and pregnant women.
In Afrikaans, Rooibos means "red bush". Rooibos does not come from the tea tree, but from a thorny shrub: Aspalanthus linearis. It only grows in the mountains of South Africa where the climate is very dry. Using the same fermentation method as black tea, it is oxidized using appropriate humidity and heat, during which stage the green needles turn reddish and immediately develop a strong vanilla aroma.
The tea soup of Rooibos tea has a clear and beautiful amber color, and the taste is very smooth and mild, with natural sweetness and nutty taste. As for green rooibos tea, it is unfermented, has higher antioxidant content, and has plant, grain and malt flavors, which is very suitable for mixing with different plants or natural ingredients. Rooibos tea is also known as national treasure tea. Its antioxidant effect is 50 times higher than that of green tea. It is also rich in polyphenols, flavonols, iron, potassium, magnesium, calcium and vitamin C, etc., which can effectively improve skin texture and whiten skin. Helps detoxify and fight free radical damage to our body. Drinking it before going to bed can relieve nervous tension and improve sleep quality.
It can be brewed with 90-95°c hot water. If steeped longer, the flavor will be stronger and help release more antioxidants. In addition, as a decaffeinated drink, Rooibos quenches thirst quickly, either hot or cold. The terre d'Oc zero-caffeine organic Rooibos tea series combines a variety of natural plants and aromatic fruit essences, with a mild and delicate taste. You can also try adding milk, honey and fruit juice to find the most suitable creative taste for you.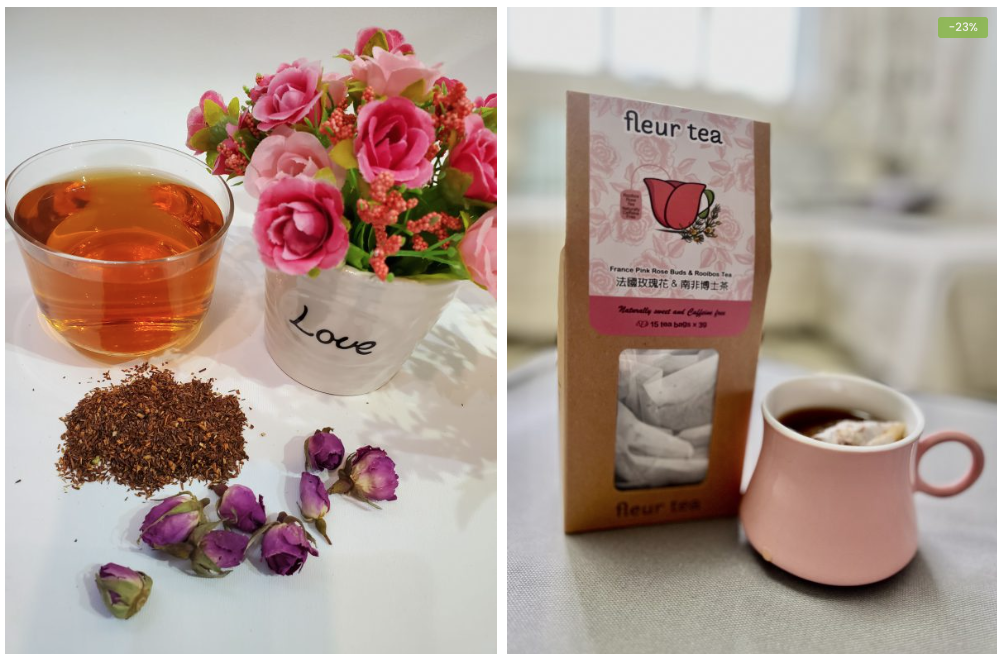 Product description:
The mellow rooibos tea is mixed with the original rose flower. It tastes mellow and sweet, with the fragrance of rose flower. The taste is smooth and relaxing.
France Roses
Rich in vitamin C, it can enhance immunity, help prevent colds and improve liver and gastrointestinal functions. Roses are very effective in whitening and removing spots, can help improve blood circulation, and make the skin smooth and elastic. Roses have the effect of balancing hormones, which can help remove toxins from the body and reduce fat and slimming. In addition, they can also help digestion and solve constipation problems. The floral fragrance of roses soothes tense nerves, improves sleep, fights fatigue and eliminates depression.
Ingredients: Rooibos tea, original rose
Origin: South African Rooibos, French Rose
Box |5 Tea Bags X 3g
Rooibos Osmanthus tea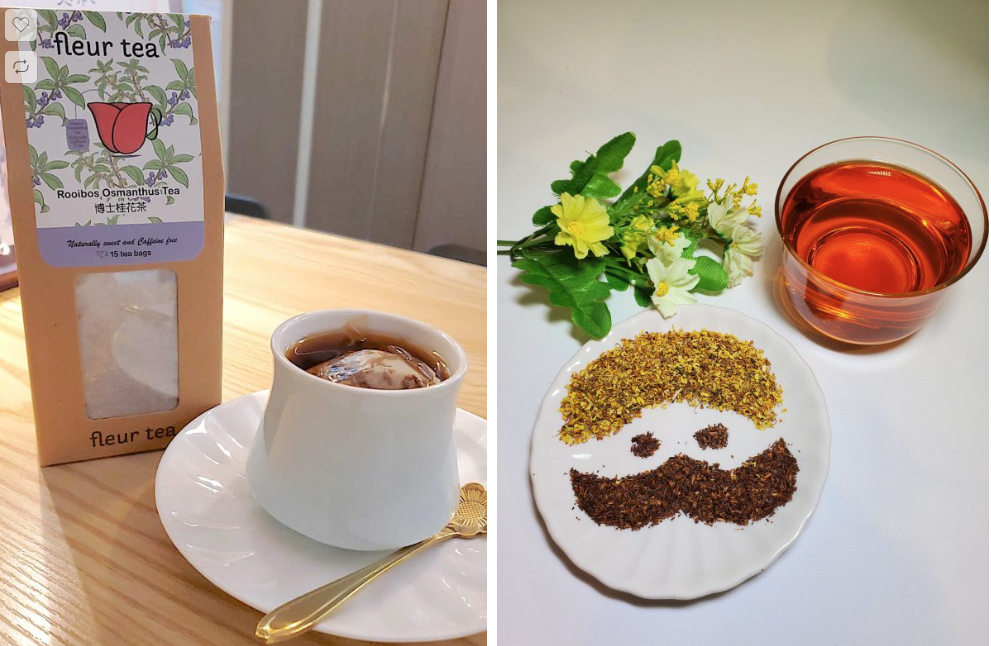 Rooibos Osmanthus Tea 5 bags
Product description:
The mellow Rooibos tea is mixed with the original osmanthus flower, which tastes mellow and sweet. The osmanthus flower makes the tea rich and aromatic, and the taste is smooth and refreshing.
Osmanthus fragrans tastes sweet and fragrant. It has the effect of whitening and removing freckles, and promotes smooth and elastic skin. It can also detoxify and clear the intestines, relieve constipation, improve gastrointestinal discomfort, freshen breath, and relieve throat inflammation and cough.
Ingredients: Rooibos tea, osmanthus
Origin: Rooibos tea from South Africa, Osmanthus fragrans from China
Hong Kong Style Mini mooncake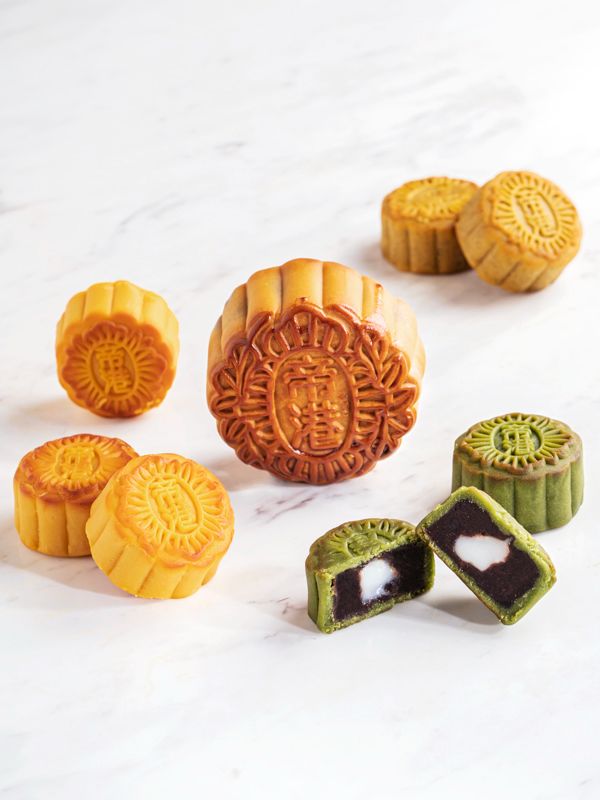 Eating mooncakes on Mid-Autumn Festival is a traditional custom in East Asian cultures. Among Chinese mooncakes, "Cantonese-style mooncakes" are the most common. In addition, there are various kinds of mooncakes in various places. In Hong Kong and Taiwan, there are egg yolk cakes, mung bean cakes, taro cakes and pine nut cakes, custard mooncakes and ice skin mooncakes. The main features of Cantonese-style moon cakes are exquisite and embossed patterns on the cake surface, thin skin with rich filling, moist and soft, shiny and golden in color. Cantonese-style moon cakes can be divided into three categories: syrup skin, meringue skin and ice skin. The syrup skin moon cakes are mainly produced, and the main products are lotus paste-type sweet cakes.
There are many types of Hong Kong-style mooncake fillings. Peeled lotus seeds are used to make white lotus paste. In Hong Kong, where Chinese and Western cultures blend, mooncakes with local characteristics have also been developed. The representative is custard mooncakes. The appearance of custard mooncakes was inspired by Hong Kong The dim sum custard buns in the tea house are also filled with custard and salted egg yolk. It is a kind of moon cake that combines Chinese and Western styles. Cheese, Earl Gray tea, and green tea red bean mochi are also available. The mochi mooncakes are wrapped in soft and glutinous mochi, which has a rich and layered taste.
Precautions:
Since mooncakes are high in salt, fat and cholesterol, even snowy mooncakes are high in sugar, so eat them in moderation.
The shelf life of traditional mooncakes is about one month. If the mooncake package has been opened, it should be refrigerated in a refrigerator at 4 degrees Celsius.
Every year during the Mid-Autumn Festival, a large amount of festive waste is generated due to the packaging materials of mooncakes, which has aroused public concern in recent years. After the coordination of the government departments, mooncake manufacturers in Hong Kong have agreed to minimize unnecessary packaging materials or use recyclable packaging while maintaining hygiene, quality assurance, transportation, appearance and brand image. materials.