Description
Hung Tai Fresh Fruit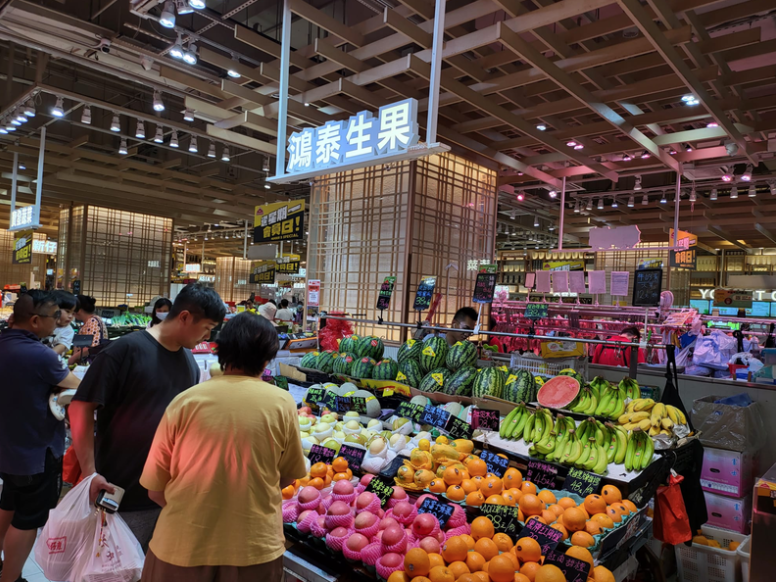 🚚 The Fastest Delivery Time : 2-3 day delivery.
🐝 Supplier / Place Of Origin:Hung Tai Fresh Fruit / Italy

🌱 About the Supplier:
Cheung Gor have worked as a chef in a hotel for many years, and I definitely have requirements for ingredients. In another runway, He engaged in fruit wholesale. In 2013, Cheung Gor just rented my own durian factory in Thailand. Winning the love of customers and scientists, there is a T Market in Tin Shui Wai that sells fruit directly and operates a neighborhood business.
🌱 Supplier Products:
🛍 Product Information:
Binomial Name:Actinidia deliciosa,A. chinensis
Chinese Name:黃金奇異果
Other Names:Golden Kiwi
Product Description:Golden kiwi fruit has a smooth, bronze skin and golden flesh that is sweet and juicy. Rich in vitamins and minerals. It is a kind of kiwi fruit that we often call it. Its nutritional value is very high.
This new yellow-fleshed golden variety is less hairy than the green variety and tastes sweeter and more tropical. Jintao is a midseason cultivar that ripens three to four weeks before the standard green Hayward cultivar (Actinidia deliciosa Chev). It offers growers in warmer climates an alternative to Hayward because of its higher productivity and improved heat tolerance.
Kiwi growers are working hard to learn to grow this new variety of golden kiwifruit. In 2010, kiwifruit growers encountered a bacterial vine disease, Pseudomonas syringae kiwifruit disease (Psa). By July 2012, nearly half of New Zealand's kiwi orchards had suffered losses due to Psa infection. Golden kiwifruit are particularly susceptible to the Psa bacteria and their vines are severely affected. This new golden variety, with Psa tolerance, has a more balanced sweet tropical flavor than the original golden variety - and has smoother skin!
The calcium content of kiwi fruit is 2.6 times that of grapefruit, 17 times that of apples, 4 times that of bananas, and the vitamin C content is twice that of oranges. Therefore, its nutritional value far exceeds that of other fruits. In addition to being rich in vitamins C, A, E, potassium, magnesium, and fiber, kiwi fruit also contains nutrients that are relatively rare in other fruits—folic acid, carotene, calcium, lutein, amino acids, and natural inositol. The calcium content of kiwi fruit is 2.6 times that of grapefruit, 17 times that of apples, and 4 times that of bananas. The vitamin C content is twice that of oranges. Therefore, its nutritional value far exceeds that of other fruits. Kiwi fruit is rich in vitamin C, which can strengthen the immune system, promote wound healing and absorb iron; it is rich in inositol and amino acids, which can inhibit depression and replenish nutrients consumed by the brain; it is low in sodium and high in The perfect ratio of potassium can replenish the energy lost by staying up late and working overtime.
Variety:There are many varieties of kiwifruit, among which Acitinidia chinensis and Acitinidia deliciosa are the main varieties.
There are three main varieties of Chinese kiwifruit, which are:
1, Soft-haired kiwi (A. chinensis var. chinensis),
2, A. chinensis var. hispida and
3, A. chinensis var. setosa, this variety is rich in Taiwan, locally known as red rattan pear or golden peach.
Famous varieties of delicious kiwifruit include Hayward, bred in New Zealand, and Gold kiwifruit, Hinabelle.
Supply Season:Harvest and Availability: Jin Tao's supply tends to come from the following sources:
January: Italy
February: Italy
March: Italy
April:
May: Chile
June: Chile
July: Chile
August: Chile
September:
October:
November:
December: Italy
Storage Method:Unripe fruits can be put together with apples to accelerate ripening; or placed at room temperature for about 5 days to ripen naturally. Fruits that are not to be eaten for the time being are best wrapped and stored in the refrigerator, but the storage time should not be too long.
Can kiwifruit be refrigerated?
Yes, you can refrigerate kiwifruit. Ripe green kiwifruit will keep in the refrigerator for up to 5 days and gold kiwifruit will last up to 7 days in the refrigerator. Putting in the refrigerator will help slow down the ripening process, which will help prolong the shelf life of kiwifruit.
We always recommend that you ripen kiwifruit at room temperature. Ripe kiwis will stay delicious for days in your fruit bowl. But if you can't eat an entire bag of kiwifruit in one sitting, you can keep kiwifruit fresh for up to a week by refrigerating.
If you need to ripen kiwifruit quickly, you can store it in a paper bag with other fruit, such as bananas or apples, at room temperature. These fruits release ethylene, which helps speed up the ripening process.
Yes, you can freeze kiwis too!
You can extend the shelf life of ripe kiwifruit by storing them in the refrigerator to use later in refreshing recipes like smoothies and sorbets. Remember to freeze kiwis in half or peeled, otherwise the whole kiwi may split.
#Should Be / Avoided:
Appropriate: Suitable for people suffering from high blood pressure, hemorrhoids, nausea, hiccups, belching, and blood in the stool.
Avoid: Exogenous cold, cough, frail, postpartum women, women should not eat during menstruation.
*Edible Compatibility:
Availability: Not reported in the literature. Compatibility: 1. Prickly pear and wine: Eating persimmons and drinking together will speed up the absorption rate of wine, making it easy to hangover; alcohol will stimulate gastrointestinal secretion, and the tannins and gastric acid in persimmons will form a thick and thin substance, which is easy to mix with Cellulose solidifies and affects gastrointestinal health. 2. Persimmons and oysters or crabs: When persimmons and oysters or crab meat are eaten together, the tannins of persimmons will coagulate and agglomerate with the proteins of oysters or crab meat, hindering the digestion and absorption of proteins, stimulating the stomach and easily causing diarrhea. 3. Persimmons and acidic foods: The tannins contained in persimmons can synthesize an indigestible coagulation substance with acidic foods.
Cooking Skills:Common varieties are about the size of an egg (about 6 cm high and 4.5 to 5.5 cm in circumference), and are generally oval in shape. The peel is dark brown with short hairs and is generally not eaten. The pulp is bright green and has a row of black seeds. The flesh is soft, sweet and juicy, and its flavor is sometimes described as a mix of strawberry, banana and pineapple. The flesh of golden kiwi fruit is golden yellow and tastes sweeter than kiwi fruit. It can be eaten raw, and can be made into juice, jam, dried fruits, preserved fruits, processed to brew fruit wine or canned for storage.
Kiwi Coconut Popsicles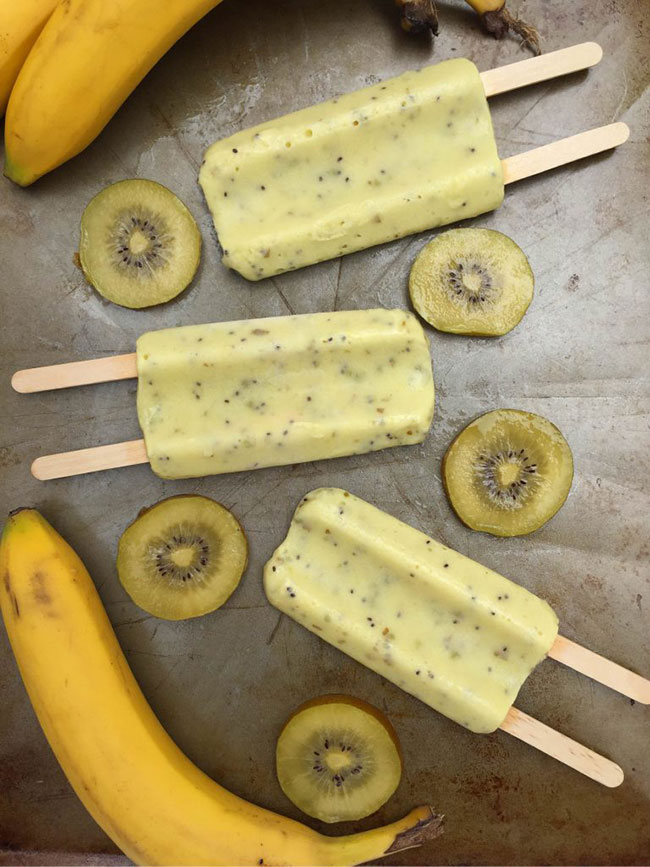 raw material
4 golden kiwis
1 cup coconut milk
2 bananas
unsweetened coconut flakes
½ teaspoon salt
method
Peel golden kiwis and bananas.
Place all ingredients in a blender or food processor and blend until smooth.
Pour into popsicle molds and refrigerate for 2-3 hours or until frozen.
When ready to enjoy, remove from popsicle molds and garnish with unsweetened coconut flakes, if desired.
SUMMER SQUASH SMOOTHIE (zucchini smoothie)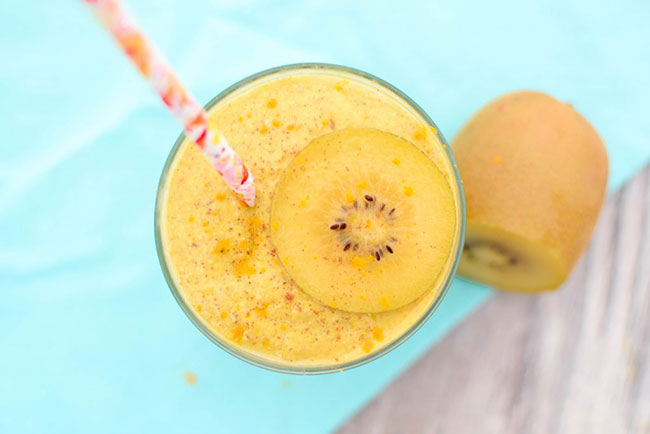 raw material
3 golden kiwis
1 small yellow watermelon, quartered and frozen
⅓ cup quick oats
Slices 2 tablespoons chia seeds
½ teaspoon freshly grated ginger
1 teaspoon turmeric
½ teaspoon cinnamon
1 cup milk of your choice
method
Wash the zucchini and cut into quarters. Place in refrigerator for at least 2 hours or until chilled.
Use a spoon to scoop out Zespri kiwi pulp.
Place pumpkin, Zespri kiwis, and remaining ingredients in a blender and blend until smooth.
Garnish with Zespri kiwi slices, if desired.
Kiwi Toast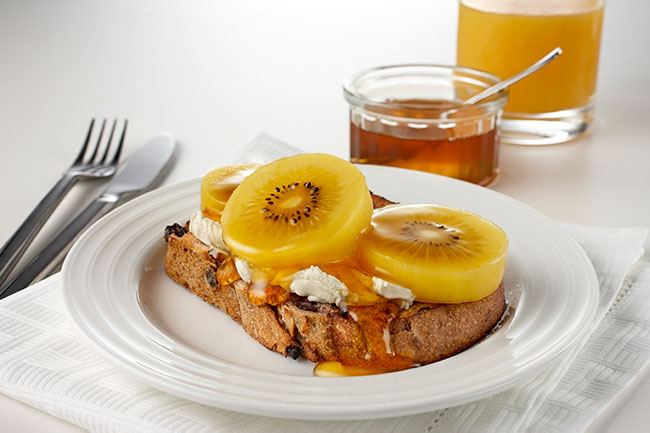 raw material
2 golden kiwis
2 slices fruit and nut bread
2 teaspoons butter
4 tablespoons cream cheese
2 tablespoons honey
method
Toast 2 thick slices of fruit and nut bread
2 Zespri SunGold kiwis, peeled and sliced ​​into thick slices
Spread cream on warm toast and then spread with cream cheese.
Top with Zespri™ SunGold Kiwi Slices. Drizzle with honey.
Serve immediately.
Notes:Patients with spleen and stomach deficiency, frequent urination, cold, malaria, cold-damp dysentery, and chronic gastritis should not eat it. Do not drink milk immediately after eating kiwi fruit. Children are prone to allergies when eating kiwi fruit, so be careful.
Dish:
Can be eaten as fruit, made into wine or canned and paper-packaged beverages, etc.
Kiwi Coconut Popsicles
Kiwi Toast
KIWIFRUIT MOJITO (kiwi fruit mojito)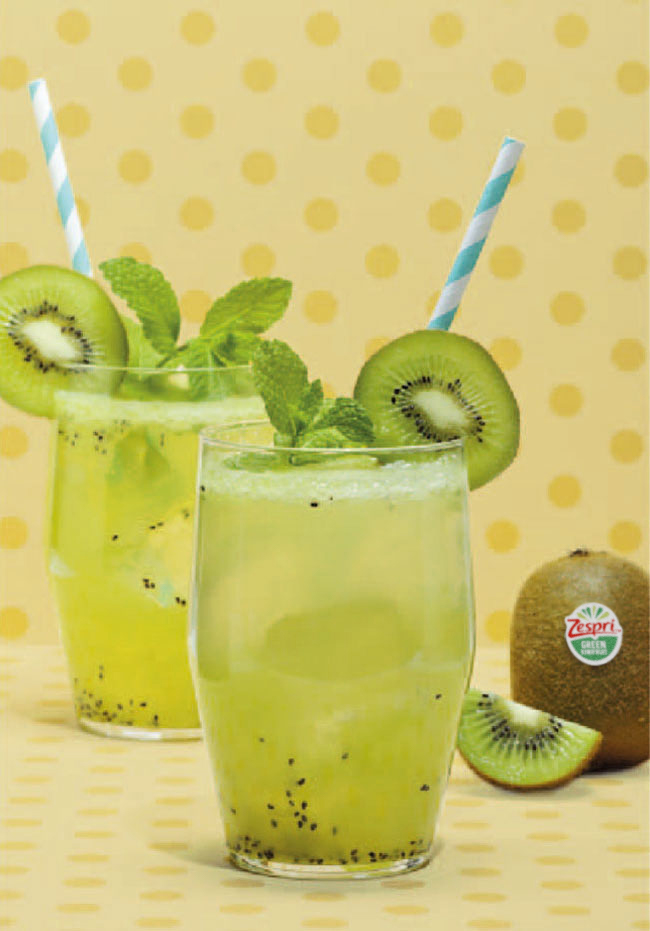 🔸 Supplementary Information:
In 2001, they obtained the global exclusive production and commercialization of "Golden Peach" yellow fruit kiwi. In 2012, manufacturers and retailers joined forces to create jingold.
/>/>/>/>/>/>/>/>/>/>/>/>/>/>/>/>/>/>/>/>/>/>/>>/200 "/>/>/>/>/>/>/>/>/200" width = "200"/>
/>/>> 800 "/>
Pre-order for 2-4 days. The supply depends on the delivery situation, or it will be shipped separately.
🥗 Product Category (English): Golden Kiwi
Google Recipe 🔍 :

English CookPad 🍳 :

BBC Good Food 🥙 :

🔅 Remark:
🍎 Preserve fruits
1. Fruits especially with softer skin, if packaged, should be placed in the cold box in the original package;
2. Organic fruits are more prone to spoilage if they have water droplets. Put the fruits in a ventilated place to dry or wipe off the water vapor, then wrap the fruits in slightly damp newspaper and put them in a plastic bag before refrigerating. ;
3. Organic fruits do not use preservatives or special treatments. fruits are generally stored for three to five days in room temperature only, should be kept in fridge. Some fruits e.g. papaya will decompose enzymes, so they should be eaten as soon as possible.
🍏 How to wash fruits
Special attention: The dishes, especially small flowers and broccoli, are best soaked in the water to remove residual pesticides (this is organic farm, but will have, but not chemical, except to Re-generative Farm). It is recommended to use our vegetables and vegetables environmentally friendly cleaner
Dish Drops
for 3 to 5 minutes to eliminate residuals Sand and organic pesticide.
1. Wash fruits before eating to keep them fresh;
2. It is not advisable to soak the fruits for too long, and they should be washed first and then cut to avoid the loss of vitamins;
3. Washing fruits with dilute salt water or Dish Drop can easily remove vegetable insects;
4. Cut fruits with a stainless steel knife to reduce vitamin loss;
5. Vegetable leaves contain a lot of nutrients, so you should avoid shredding, chopping or grinding the leaves;
6. Immediately eat after cutting, to avoid the loss of vitamins due to air oxidation.