Description
Hung Tai Fresh Fruit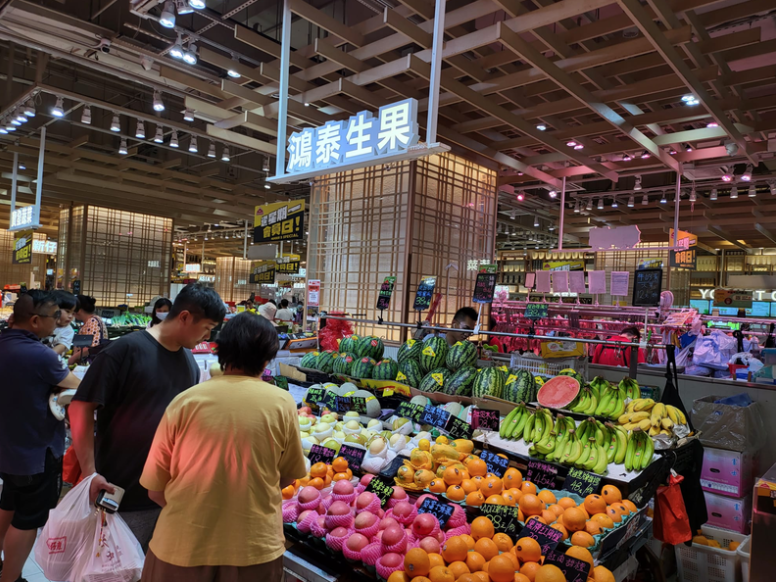 🚚 The Fastest Delivery Time : 2-day delivery.
🐝 Supplier / Place Of Origin:Hung Tai Fresh Fruit / Japan, Taiwan, China and Thailand and other places

🌱 Producer Introduction:
Cheung Gor have worked as a chef in a hotel for many years, and I definitely have requirements for ingredients. In another runway, He engaged in fruit wholesale. In 2013, Cheung Gor just rented my own durian factory in Thailand. Winning the love of customers and scientists, there is a T Market in Tin Shui Wai that sells fruit directly and operates a neighborhood business.
🌱 Supplier Products:
🛍 Product Information (Main) (English):
Binomial Name:Durio zibethinus Murr.
Chinese Name:長柄干堯 | D158 榴槤
Other Names:Kanyao Durian | D158 Durian
Product Description:It is the fruit of the kapok plant durian. Sweet and hot. It has the effects of warming and nourishing, aphrodisiac to help fire, and the effect of warming meridians and promoting qi. The sugar content of durian is very high, which can provide heat for the human body and supplement physical strength, but it is not advisable to eat too much to avoid weight gain. Its cellulose content is also a lot, which can promote intestinal peristalsis and prevent constipation.
Native to Malaysia, it is distributed in the Philippines, Indonesia, Myanmar and Sri Lanka. There are introduced and cultivated species in China, which are distributed in Guangdong, Guangxi, Hainan, Taiwan and other places.
However, the strong smell often makes many people stay away. In fact, durian has a milky smell, which is a bit different from its smell.
Variety:A durian clone is a descendant of a selected durian cultivar which is produced by vegetative reproduction, usually bud-grafting or inarching.
Malaysian varieties
Musang King (D197) is the most popular durian breed from Malaysia, rendered in Chinese as "Mao Shan Wang" (猫山王), which is usually the priciest of all cultivars.
"D24" (Sultan), a popular variety known for its bittersweet taste
"XO", which has a pale colour, thick flesh with a tinge of alcoholic fermentation
"Chook Kiok" (Cantonese meaning: bamboo leg) which has a distinctive yellowish core in the inner stem
"D168" (IOI), which has a round shape, medium size, green and yellow outer skin colour, and has flesh easy to dislodge. The flesh is medium-thick, solid, yellow in colour, and sweet.[28]
"Red Prawn" (Udang Merah, D175), found in the states of Pahang and Johor. The fruit is medium-sized with oval shape, brownish green skin having short thorns. The flesh is thick, not solid, yellow-coloured, and has a sweet taste.
Thai varieties
In Thailand, some popular varieties include Sultan (D24), Kop (D99 Thai: กบ – "frog" Thai pronunciation: [kòp]), Chanee (D123, Thai: ชะนี – "gibbon" Thai pronunciation: [tɕʰániː]), Berserah or Green Durian or Tuan Mek Hijau (D145 Thai: ทุเรียนเขียว – Green Durian Thai pronunciation: [tʰúriːən kʰǐow]), Kan Yao (D158, Thai: ก้านยาว – Long Stem Thai pronunciation: [kâːn jaːw]), Mon Thong (D159, Thai: หมอนทอง – Golden Pillow Thai pronunciation: [mɔ̌ːn tʰɔːŋ]), Kradum Thong (Thai: กระดุมทอง – Golden Button Thai pronunciation: [kràdum tʰɔːŋ]), and with no common name, D169. Each cultivar has a distinct taste and odour. More than 200 cultivars of D. zibethinus exist in Thailand. Mon Thong is the most commercially varieties.
Supply Season:Available in Hong Kong all year round, the most suitable period is from May to August. Every year from April to June is the best time for golden pillows.
Storage Method:It can be stored at room temperature and should be eaten as soon as possible.
#Should Be / Avoided:
Appropriate: People with deficiency cold, postpartum sweating due to debility, and women with cold dysmenorrhea may wish to take an appropriate amount as a tonic.
Bogey: People with yin deficiency and liver heat, patients with skin diseases, diabetes, kidney disease, high blood pressure, and heart disease should eat with caution.
Pregnant women should avoid eating durian

Four gas heat
Five Flavors in TCM: Spicy, Sweet
Efficacy Strengthening the spleen and replenishing qi, nourishing the kidney and strengthening yang, promoting blood circulation and dispelling cold
Although durian has many benefits, due to the special constitution of pregnant women, it is recommended not to eat durian during pregnancy, because durian has the effect of promoting blood circulation and repelling cold. If pregnant women eat too much, it is easy to cause miscarriage, so pregnant women should exercise some restraint Touch your own mouth.
Pregnant women eating durian can easily cause fetal fever symptoms, because durian is a warm fruit and eating too much can easily lead to getting angry and insomnia. If pregnant women eat too much durian, it is easy to aggravate the symptoms of constipation in pregnant women. The digestive function of the stomach of pregnant women is not very good during pregnancy. Excessive fiber will increase the burden on the stomach of pregnant women and cause constipation.
In addition, the sugar content in durian is very high. If pregnant women eat durian, it is easy to cause the onset of diabetes in pregnant women. Especially obese pregnant women should not eat more durian to avoid aggravating the condition.
If you really like to eat, a small petal a day is appropriate. Pregnant women with body heat should not eat it.
Pregnant women should not eat mangosteen together, because durian and mangosteen contain too much cellulose. If both fruits are eaten together, it will increase the burden on the stomach of pregnant women and cause constipation.
*Edible Compatibility:
Availability: Not reported in the literature. 1. It is not suitable to drink alcohol after eating durian, so as not to cause gastrointestinal discomfort.
Cooking Skills:The fruit is oval in shape, with thick exocarp and dense thick spikes, yellow when ripe, and the peel is cracked. The pulp is soft but sticky with a special aroma. The seeds are chestnut-shaped and light brown. The fruit can be eaten raw or processed into a series of foods, such as durian cake, durian candy, durian ice cream, etc. Or canned. In addition, the seeds can also be roasted.
Notes:Avoid eating too much, because it may cause hot phlegm, dyspnea, flushing, and bloating. At this time, you should eat mangosteen immediately to dissolve it, because mangosteen is a very cold thing, which can restrain the heat of durian. To open a durian, simply use a knife or sharp object to peel from the bottom of the fruit and cut it along the hilly stripes.
odor
Human beings have very extreme olfactory reactions to the smell of durian. Some people think it is very fragrant, and those who love to eat it think it is very fragrant. Its seeds are also edible. Generally, there is rarely a fruit with such an obvious olfactory contrast, but due to public feedback, many countries such as Malaysia, Thailand and Singapore prohibit hotels, airplanes, restaurants and other public transportation from carrying open durians.
It is said that if you wash your hands with durian shells as a container for water, the effect of removing odors is better than washing hands with soap, and the odor will be eliminated immediately.
Dish:Unripe fruit can be used as dishes, such as fried durian.
It can also be made into different delicacies, such as: durian chocolate, durian mooncake and durian bomb. Durian core can be fried and eaten, and its taste is like chestnut.
Suggested Eating Method:
The fruits are ovate, the outer fruit is thick and dense and thick, and it is yellow when mature, and the peel cracks. The flesh is soft but sticky, rich in special fragrance. The shape of the seeds is like chestnut and light brown. Fruit can be eaten raw, and can also be processed into a series of foods, such as durian cake, durian sugar, durian ice cream, etc. In addition, seeds can also be baked.
🥗 Recipe (English Version):
Google Recipe 🔍 :

English CookPad 🍳 :

BBC Good Food 🥙 :