Description

🚚  The fastest delivery time : 2-day delivery.
🐝  Supplier / Origin : Yuet Wo  / Sheung Shui Kwu Tung
🔖  Certification : Some products have obtained HKORC organic processing certification (IFOAM certification) P16003 (certified products: organic premium soy sauce, organic sweet soy sauce, organic pure rice vinegar, organic natural sweet vinegar, organic milled soy sauce, organic vegetarian sweet sauce); ISO 9001 and HKQAA - HACCP, etc.
🌱  Producer introduction : Jack Pong, the third-generation descendant of Yuet Wo Sauce Garden, recalled the story of his grandfather. In the 1930s, he came to Hong Kong with the same sauce making technology, and took root in Tsuen Wan. With the rise of the catering industry, Yuet Wo also began to supply restaurants in Tsuen Wan. Therefore, a factory was set up on Texaco Road in Tsuen Wan, and the neighborhood was also mainly in the area. Yu moved the sauce garden to Gudong in 1971. Because the Gudong is flat and wide, there are no barriers in all directions, and the sunshine time is very sufficient, which is very suitable for the production of soy sauce. There are still four time-honored sauce gardens settled here. Yuet Wo has been using non-genetically modified Canadian soybeans since then, and has used traditional ancient methods to brew soy sauce. Naturally sun-dried soy sauce has a delicious flavor that cannot be replaced by chemically synthesized soy sauce. It has always only focused on serving Hong Kong. 
Yuet Wo is the only sauce garden in Hong Kong that uses its own rice wine to ferment into vinegar. The store in Tsuen Wan Market Street is currently the only directly-operated store, and its signature product is 100% 100% Hong Kong-made sweet vinegar.
Sauce Garden originally set up a factory on Texaco Road, Tsuen Wan, but moved to Kwu Tung due to the development of the New Territories.
At present, the third generation inheritor has changed the soy sauce garden even more, and developed organic and gluten-free soy sauce.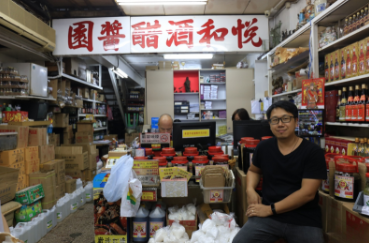 The third generation "Soy Sauce Guy" gently promotes organic soy sauce with local farmers.
🛍  Product Information : 
The ingredients such as meat and vegetables are of good quality, but you don't have any sauces made in Hong Kong. Even if you are a chef, you can't cook the real Hong Kong taste. Yuet Wo Sauce Garden is a time-honored sauce garden in Hong Kong. Hong Kong people will eat Yuet Wo products in chain fast food restaurants, rice noodle shops and tea restaurants every day. Rooted in Hong Kong for more than 70 years, Yuet Wo has insisted on producing various sauces and wine vinegar in Hong Kong since its establishment.
Fermented Red Beancurd Paste - 210ml
Ingredients: Zhejiang Fermented Red Beancurd, high-grade Shaoxing wine   Made in HK 
Are sauced tofu, fermented bean curd and Fermented Red Beancurd the same?
Sauce tofu (jiɑ̀ngdòufu), fermented bean curd (fǔrǔ) and southern milk (nánrǔ) are actually a class of things, all of which are side dishes made from fermented tofu. Because of the different manufacturing techniques in the north and the south, there are three names.
Bean curd with soy sauce in the north, fermented bean curd in the south
"Fermented beancurd" is fermented bean curd, represented by "Wang Zhihe" in Beijing. The sauced tofu in the north can be divided into three categories: Hongfang (soy sauce tofu), Qingfang (stinky tofu), and Baifang (Southern flavor). It is mostly called sauced tofu in the northern region, but many people in the Northeast are also accustomed to calling it "fermented bean curd". "Sufu" was originally called in the south. "Fu" means tofu, and "milk" means its juice. The fermented bean curd in the south is smaller than the sauced tofu in the north, and the production is much finer. This is the common white fermented bean curd in Hong Kong, such as "Shuikou fermented bean curd".
Guangdong, Jiangsu and Zhejiang "Fermented Red Beancurd" are different
Generally, the raw material of fermented bean curd is tofu, but there is a kind of fermented bean curd made from taro in Guangdong, which is called "Southern Milk". Because of its large size and red color, it is called "fermented red beancurd" in English. I don't know if it is used in the famous local snack "Nanrurou" (Fermented Red Beancurd Peanut) (it is called "meat" which is actually peanuts, and there is a small shop in the south of Prince Edward Road West Road that makes the most authentic ones). Northerners also call the fermented bean curd produced in Jiangsu and Zhejiang as "Nanru", which is actually the abbreviation of "Jiangnan fermented bean curd".
Because this kind of food is produced in both the north and the south, the vocabulary was fused earlier, so the "Modern Chinese Dictionary" included both "soy bean curd" and "fermented bean curd". In Mandarin, it can be called soy bean curd, or fermented bean curd.
The positioning of sauced tofu is always a condiment and a side dish, which is different from the concept of sauced elbow and sauced beef. "Jiang" has two meanings for cooking: one is the condiment (sauce) made by fermenting soybeans and wheat and adding salt; the other is marinating (vegetables) with sauce or soy sauce, or cooking (meat) with soy sauce . "Sauce tofu" is obviously closer to the former. Whether condiments can be called dishes is a matter of opinion, but it is also a good thing to enjoy clear porridge with fermented bean curd.
Seasoning is also called "seasoning" (zuòliɑo), and it is customary to pronounce it as zuóliɑo in spoken language. Some people write it as "酱料", but "佐" should actually be pronounced with the third tone zǒ, and there is no such way of writing in "Modern Chinese Dictionary", so let's use "酱料".