Description
Seignemartin

🚚 The Fastest Delivery Time : It takes 2-3 days.
🐝 Supplier / Place Of Origin:Seignemartin / Jura, France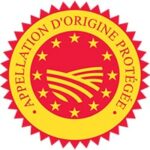 appellation d'origine protégée (AOP)
🌱 About the Producer:
Seignemartin cheese milk factory is a family company, which has inherited 3 generations and has been producing and aging cheese. They have mastered the aging time of Contests wines, up to 4 years.
SEIGNEMARTIN is headquartered in NANTUA in the Rula area in France.
🌱 Supplier Products:
🛍 Product Information:
Rated 5.00 out of 5 based on 11 customer ratings (11 customer reviews)
Comté cheese has been produced for a very long time. The first indications of this cheese date back more than 2000 years: it was much appreciated in Rome, especially by Julius Caesar. In the Middle Age, producers began to band together to form dairy cooperatives known as 'fruitières'. This made it easier to produce large Comté cheeses. The cheese's protein content made it easier to get through the winter. Nowadays, Comté has the highest production of all French AOC cheese, it is also one of our best sellers !
This exceptional Comté is designed for the most discerning palate. This cheese worthy of the greatest stars has lost water and crystallized, revealing fine, delicious amino acid crystals on the palate. After twenty-four months of maturing, the texture of Comté cheese becomes smoother, associated with rich, persistent aromas of walnuts, roasted almonds, melted butter and spices, softened by notes of mature cream.
Our Comté 24 months will reveal all its aromas on a cheese board with white or black grapes, dried fruit or nuts.
Pre -order once a week. The supply depends on the delivery situation, or it will be shipped separately.
👩🏻‍🍳 Suggested Serving:
🍷 Wine Pairing:
Sweet White Wines, Especially Burgundy (Puligny Montrachet, Meursault)
DRY White Wines (Chablis), VIN JAUNE from Jura
🥗 Product Line:
Hard Cheese
🔅 Remark:




Can be stored in the fridge for up to 5 weeks. Take it out of the refrigerator an hour before serving it at the table to taste all its flavours.
🚚 Supply Period:
Annual supply
Cheese Pairing Chart cheese matching table