"Cooperation is an art. In addition to resources, the most important thing is the clash of character and rules."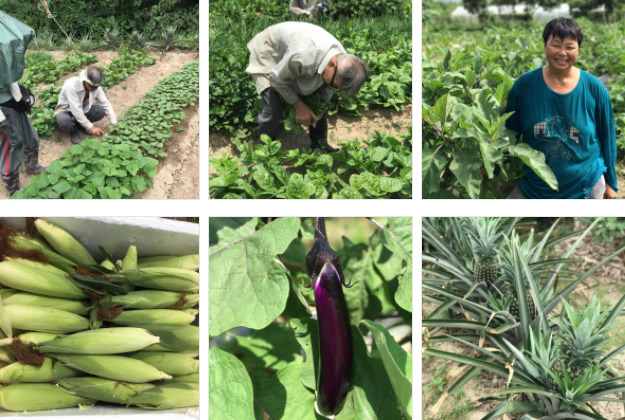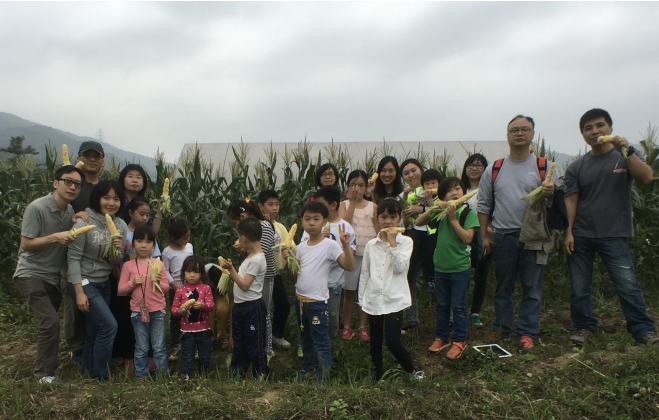 The "My Land Farm" in Pat Heung, Yuen Long, has been developing steadily since it opened in 2000. WongLing, the talkative farm manager, has been working silently for many years, and he can feel his honesty and persistence in his words. He hopes that through his own practice, he can restore the original appearance of agriculture-improving the quality and yield of agricultural products. Over the years, he has also been actively exploring new production outlets, experimenting with a variety of business cooperation models, from production to promotion, and embarking on an agricultural road that belongs to Hong Kong people.
Chui Je's Farm, Ping Long, Lam Tsuen (俏姐農場)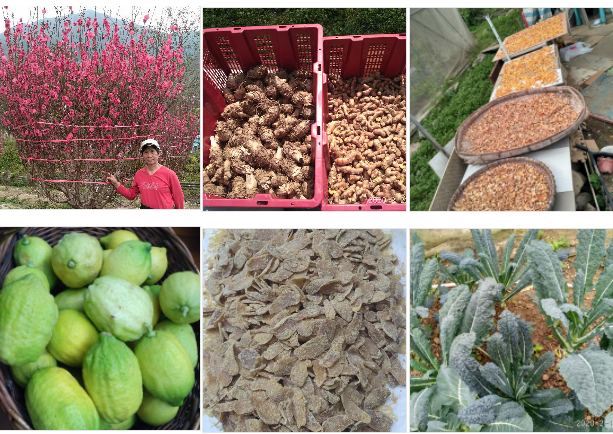 Chui Je's Farm, Ping Long, Lam Tsuen-located in Pinglang, Lam Tsuen, Tai Po, New Territories. As early as 700 years ago, at the end of the Song Dynasty, there were people living in Dapu. The Lincun Wishing Trees are two big banyan trees that are regarded as gods by the villagers, and are a place for locals and tourists to pray and wish. Lincun has great people and a natural ecological environment. Vegetables grown are particularly delicious. In addition to making tea and fruits, Qiao Jie also has many handmade products, such as sugar ginger, tangerine peel and lemon stewed rock sugar.
YeeLok Taikongpo Farm(

Kam Sheung Farm)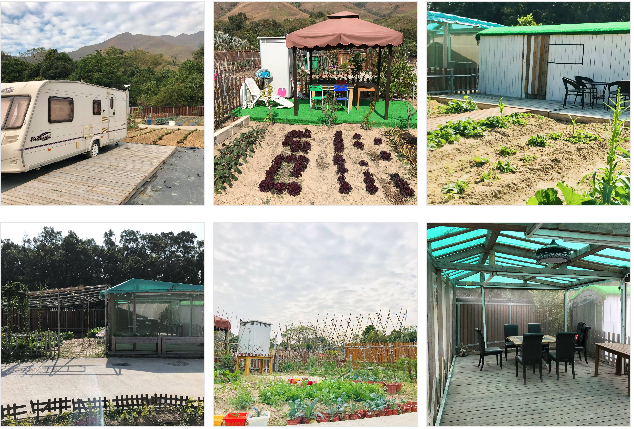 YeeLok Taikongpo Farm
-
It is located in Tai kong Po, Yuen Long (formerly Kam Sheung Farm). Owner Bosco was doing business in China in his early years. By coincidence, he returned to Hong Kong to operate an organic farm. The farm is located in the valley between KaiKongLing and Tai Mo Shan, with invincible green mountain scenery, a large grassland suitable for a large camping, and Hong Kong A rare campervan, with fresh organic fruits and vegetables for picking and eating, can be taken away from busy urban life, allowing children to get close to nature, experience farming, environmental protection, leisure, farming, health preservation, parenting, farm vegetables, barbecue, etc. Organic life, full of fresh air and idyllic scenery.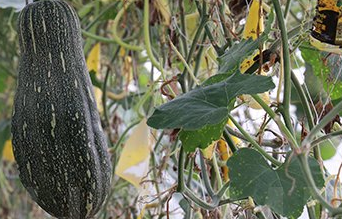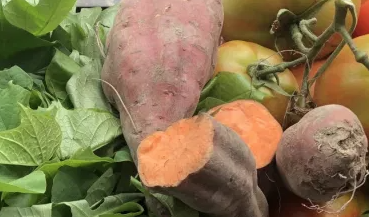 Mrs' Lam Organic Farm-located at No. 99 Ng's Village in Kam Tin. The owner Mrs' Lam has been selling local vegetables for more than 20 years. They mainly sell directly to customers at the farm market. Since they only sell directly to regular customers, not many people know local vegetables. In view of this, Mr LeeKaHung and Mrs"s Lam the founders of " Healthy Express", used the online platform to cooperate to change their business methods, hoping to send organic vegetables to the market, so that more people can learn about organic food and enjoy a healthy life. With years of farming experience and hard work, Mrs' Lam  has obtained the certification of the Hong Kong Organic Resource Center. The Hong Kong Organic Resource Center is currently the only independent certification agency in Hong Kong, and the agricultural products certified by the agency are "guarantees of confidence."
Agricultural Pioneer Farm in Choi Yuen Village (
菜園村農業先鋒田)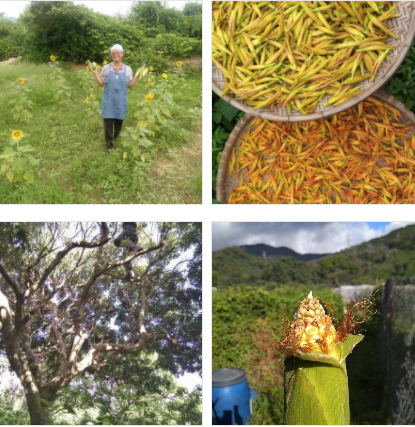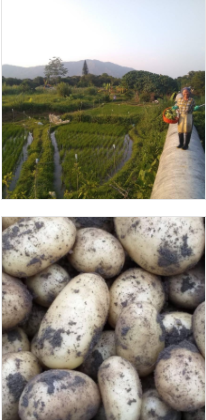 Agricultural Pioneer Farm in Choi Yuen Village 
-
 AChuk  who has been farming for nearly 10 years now deals with nature every day. Birds, mice, goats and wild boars are all diners, but she said it doesn't matter, "I can't finish harvesting anyway." The wild boar eats sweet potatoes. Light, but just to loosen the soil; to plant a late-harvested radish, but just in time. "We treat animals better, and they will treat people better." Now she cultivates with a "compassionate organic" method, telling everyone that humans and nature are not necessarily opposed to the crisis of loss of income. Some people have food and no one buys them, and some people want to eat local dishes but cannot buy them."A lot of farmers can't directly sell vegetables to consumers themselves. The checkpoints in the middle are blocked, the vegetables are beaten back, and they are composted. These things happen all day long." AChuk believes that local organic vegetables can be made. Yes, the biggest problem is how to help farmers in the countryside deliver vegetables to consumers. Now, organic vegetables can be delivered directly to consumers through the platform of " Healthy Express".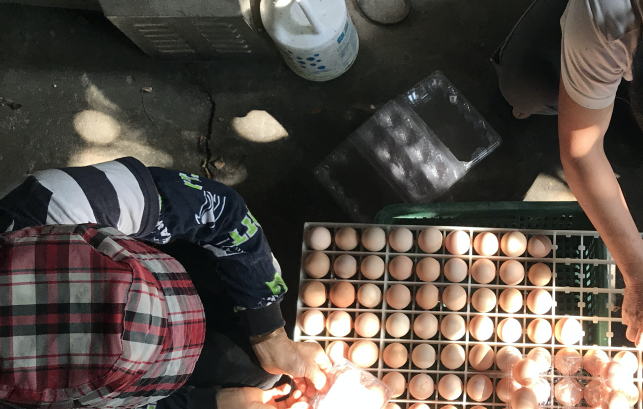 Wing Ming Farm-Located in Yuen Long, New Territories, away from the city, surrounded by mountains and rivers, with fresh air, suitable for live poultry breeding. Chicken farmer Leeleungyi has been raising chickens for more than 30 years. He is experienced and developed his own black feather chicken and black-bone chicken suitable for steaming. The meat is tender and smooth, and the chicken tastes sweet. Chickens are only produced with Hong Kong-made Dasheng feed, mixed with first-class corn and sustainable fishmeal, and the quality is guaranteed. Most of the chickens on the farm are Shiqi chickens, which are made of steamed chickens with thin skin, tender meat and less oil. In 2003, Wing Ming Farm introduced French chicken breeds and crossed them with local chicken breeds to become the current Wing Ming chickens. The hybrids grew fast and had good meat quality; the raw eggs had good color and taste. There are not only Wing Ming chicken, but also silky chicken with very high medicinal value, which can be used for boiling soup or steaming. There are also old chickens, roosters, and raw chickens, all suitable for cooking and stewing, there is always one suitable for you.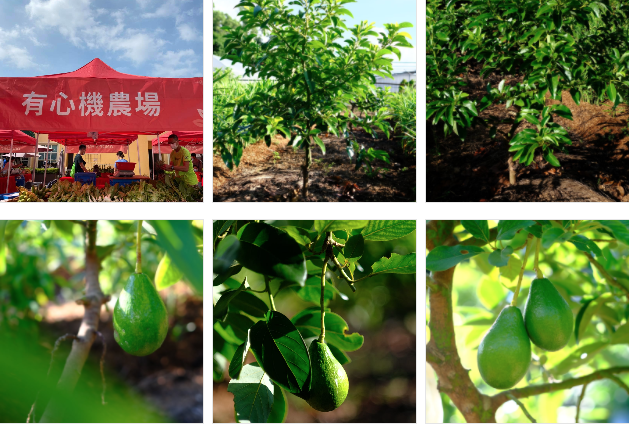 Zen Organic Farm (有心機農場)-Located in Daguling, New Territories, Hong Kong, with an area of ​​about 250,000 square feet, it is an organic farm on a large scale in Hong Kong. It has the largest greenhouse and uses scientific research technology to develop modern organic farming. With the mission of cultivating healthy and delicious organic fruits and vegetables, the farm continuously discovers and introduces overseas vegetables suitable for cultivation in Hong Kong,supplies more diversified local crops, and brings more choices to friends who support an organic low-carbon life.
Yat Fung Organic Farm (
日豐有機
農場
 )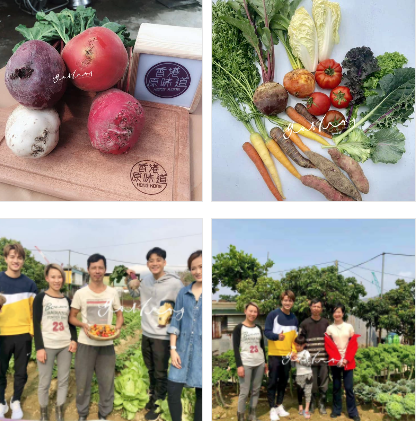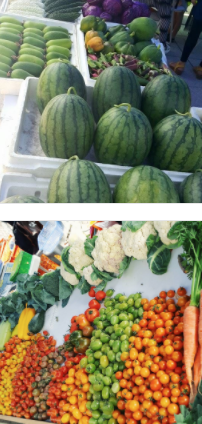 Yat Fung Organic Farm (日豐有機農場 )
-Located  the foot of Tai Mo Shan in Hong Kong, Tai Po Lin O Village is a Hakka village with a long history. Worked with TVB to film the program "The Original Taste of Hong Kong". The farmer has been engaged in organic farming for more than ten years. The farm work is windy and rainy, and it is not easy to support the family. Later, he became interested in continuing the local organic industry, pursuing quality, trying new varieties, and new planting methods. , Like to challenge high difficulty. In winter, the main color cherry eggplant, variegated jade melon, four-color beetroot, variegated carrot, variegated kumquat, corn, cucumber, etc. in summer... (The original site is in Yuen Long, due to urban planning, The developer reclaimed the land and moved to Lin O Village, Tai Po).
Fu Kam Organic Farm (
富琴有機火龍果有機農莊)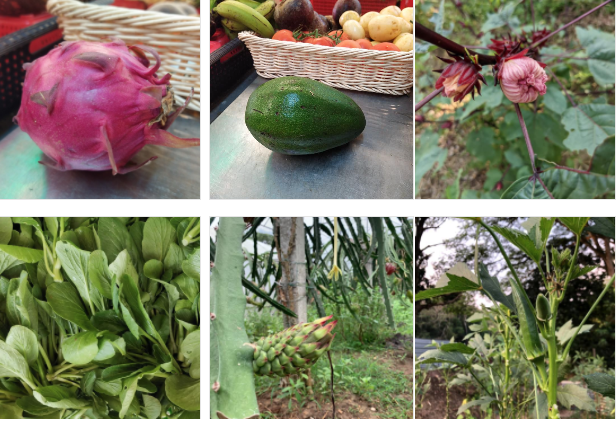 Fu Kam Organic  Farm-Located in Gudong, Sheungshui, the owner of the farm, Yan Fuqin, was born in the countryside of Chongqing. She learned to plant as a child. She married in Hong Kong 20 years ago and started to help her husband manage the family farm more than 10 years ago. Since its establishment in 2007, it covers an area of ​​approximately 500,000 square feet and has various organic vegetables and fruit gardens. Therefore, from December to June of each year, we can provide seasonal vegetables and fruits, such as strawberry, fennel, cherry tomato, corn... and from June to November, dragon fruit, watermelon, lychee , Longan, Luo Han Guo and Passion Fruit when they were produced. Therefore, the products are organic, healthy, high-quality and delicious!

Petani, Shek Wu Sun Tsuen North, Sheung ShuI (農家扎記)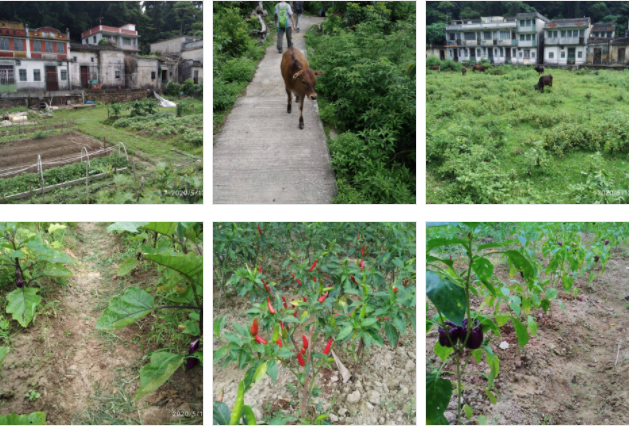 Petani, Shek Wu Sun Tsuen North, Sheung ShuI (農家扎記)-
Located in the  New Village, Sheung Shui. Different farmers, different crops, and different planting methods, but the only thing is the same, they are all attentively planting each vegetable, the farmer remembers to use a "semi-agricultural, half-X" and "flash-flash" vegetable delivery model for a healthy life , To make efforts for a good harvest and plant certified organic vegetables.
Green Kam Sheung Road (綠色錦上路)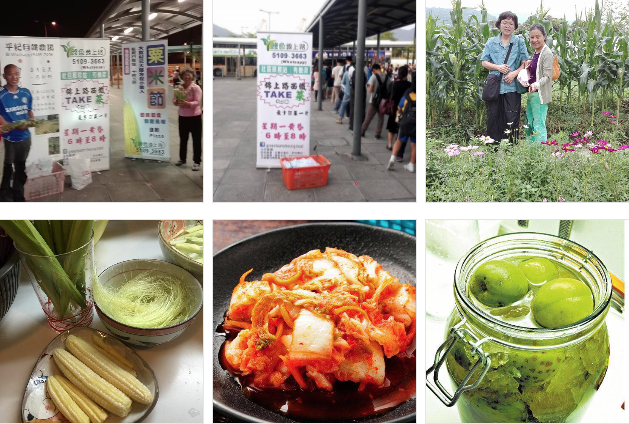 Green Kam Sheung Road (綠色錦上路)The leader, Mr. Wong Ling, assembled several local farmers in Kam Tin, Yuen Long, in 2015 to form an organic cooperative. Using the collective farm concept, coordinate the production of each farm, use collective propaganda, resource sharing, form a logistics team, and collectively sell. The new model of Hong Kong's organic farms delivers organically grown fruits and vegetables directly to consumers. Green Jinshang Road has held a variety of activities: parent-child activities, guided tours, corn festivals, collective ordering of carrot cakes, etc... to promote organic and healthy living and let more people know about local farms in Hong Kong.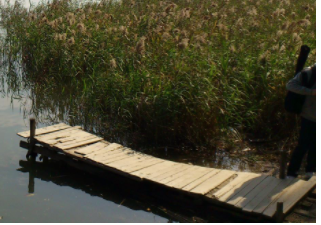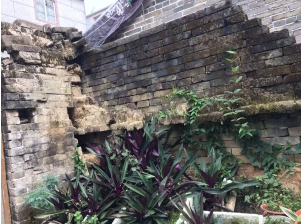 Nam Sang Wai Organic Farm-Located in Nambin Wai, Yuen Long District, surrounded by Kam Tin River and Shan Pui River. Looking north, it is the Futian District of Shenzhen. The natural ecological environment here is particularly suitable for the cultivation of organic Chinese herbal medicines. The owner is committed to using organic methods to cultivate and protect the natural ecology of Nanshengwei, and vigorously promote local natural treatments. The main plantings in the field are: hand incense, wormwood, winter grass, fairy grass and other Chinese herbal medicines, and sometimes some domestic high-quality yam and mangosteen are also found. The owner's husband is a local scientific research engineer, who mainly develops some local environmentally friendly products, with the goal of promoting environmental protection, healthy and organic life. The Wai in Nam Sang Wai means Ji Wai, which mainly breeds Ji Wai shrimp. There are still many fishing ponds inside. Nanshengwei bird watching is also top-notch. The area retains a large area of ​​woods, which is a habitat for many birds and a paradise for flora and fauna.
Trepunti Organic Farm, 
Sicily, Italy
  (意大利西西里)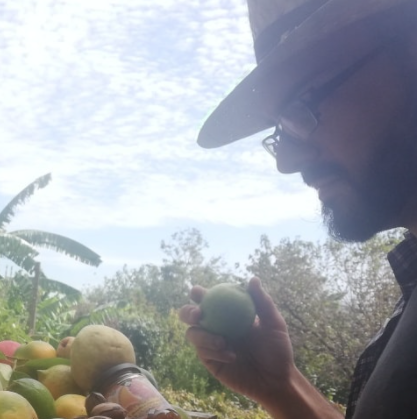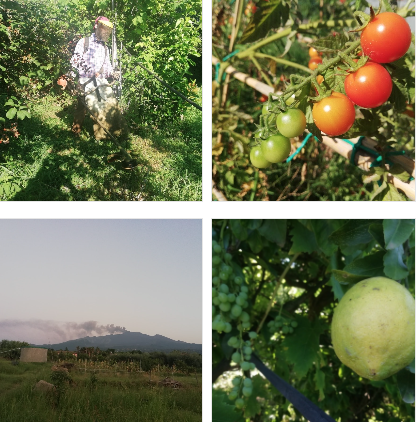 Italy Trepunti Organic Farm (Sicily, Italy) The farmer Jennifer is a girl from Hong Kong. Jennifer pays great attention to the quality of fruits and vegetables. She married a Sicilian farmer and began to learn how to cultivate organic fruits and vegetables.Jennifer and her husband like Hong Kong very much. In order to allow Hong Kong citizens to eat Sicily's high-quality fruits and vegetables, in order to seek more high-quality fruits and vegetables, Jennifer began to open an online store in Hong Kong in 2019, bringing the original flavors of high-quality Sicilian fruits and vegetables Brought to Hong Kong citizens.

Tai Lam Country Park Bee Farm (
大欖郊野公園養蜂場)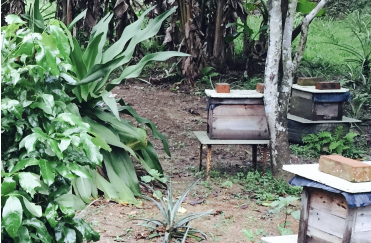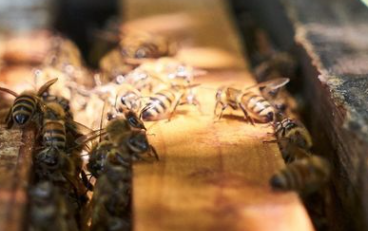 Tai Lam Country Park Bee Farm-Located in the forest area of ​​Tai Lam Country Park, its large area and dense forest area are suitable for bees to survive. The honey sold in "Food for Your Health" comes from the apiary in Tai Lam Country Park, where the environment is not polluted, the honey produced is free of additives, and the output is not much and is very precious. It is definitely the best choice for consumers. Einstein said: "If bees disappear from the earth, humans will become extinct within 4 years." Many people don't know that bees are of great importance in the earth's ecosystem and to the world's crops. In human food, more than one-third of the types of crops, or more than 70% of the amount of food, rely on bee pollination to have a harvest. Therefore, if the bees disappear, humans may face consequences such as food shortages, rising food prices, and famine. Bees are an indicator of local ecological pollution. Therefore, we must take good care of the environment and the earth.
Green At Heart (
綠色心意-
有機認證蔬果供應商)

Green at Heart Green at Heart opened two retail stores in 2008 and continues to this day. Green Mind imports a variety of organic and natural foods from the United States and Taiwan. The current focus is on imported organic fresh produce, such as tomatoes, carrots, red apples, onions from the Netherlands; pumpkins, oranges, lemons, sweet potatoes from Spain; ginger and bananas from South America and Peru, all by the operator Peggy chose very carefully. Peggy is also an advocate of TCM diet therapy. She has taken several diploma and certificate courses in TCM diet therapy. She was extremely surprised that some simple foods could easily solve certain chronic health problems. These products are also organic and made in Hong Kong. I hope everyone can support our work.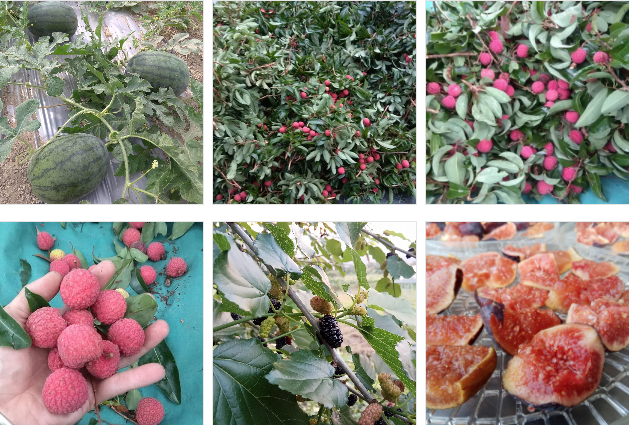 The farm is located on Huangni Dun Village Road, Huangni Dun Village, Yuen Long. Provide the most natural organic fresh fruits and vegetables Johnny worked part-time on a local farm when he was studying in Australia. He fell in love with the uncontested and natural life attitude. After returning to Hong Kong, he worked in a hotel and trading company. He saw news about various food safety issues every day, which further deepened his idea of ​​creating an organic farm. He began to study various agricultural knowledge and devoted himself to related industries such as arboriculture, flower gardening and farming. Finally, in the summer of 2013, he found an abandoned farm in Wong Naidun Village, Yuen Long, and started his first step towards realizing his dream. The certified cultivated land area is 8,788 square meters, mainly for growing organic watermelons and figs.
Mr. Hon 
Tuen Mun Tiger Underground Village Farm
 (韓先生屯門虎地下村農場)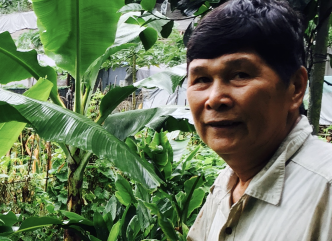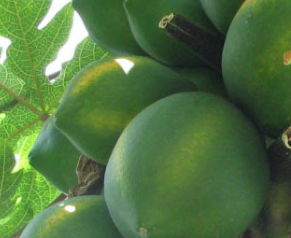 Tiger Village-Located in Tuen Mun District, New Territories, it is an indigenous Hakka village with a history of nearly 100 years. Hudi Village is based on farming and mainly grows vegetables. Mr. Han runs a farm on the hillside of Tiger Underground Village. He is a very experienced farmer and has rich planting experience. He is very knowledgeable about growing bananas and papaya. He will go to Baini to help herding sheep in his spare time. 
Nip's Organic Farm (
聶氏有機農場)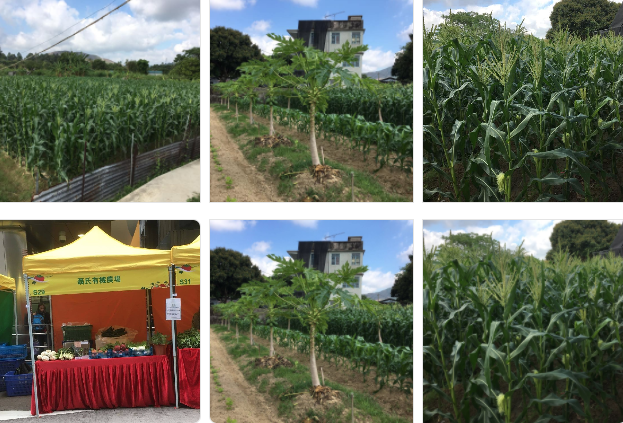 Nip's Organic Farm -Located in Tai Kong Po Village, Kam Tin, Yuen Long, New Territories. The farm grew up in Yuen Long and keeps his track record. He reclaimed his farmland into an organic farm, hoping to preserve the farmland, develop sustainable organic agriculture, and use farming to develop a healthy life. The farm mainly grows organic corn, papaya and kale, beetroot, golden cabbage, milk banana, lemon, purple cauliflower, fig, dragon fruit, etc. The farm has been certified by the Hong Kong Organic Resource Center. The Hong Kong Organic Resource Center is currently the only independent certification organization in Hong Kong. The agricultural products certified by the organization are "guarantees of confidence."
Healthy Organic Farm, Yuen Long (
元朗健康有機農場)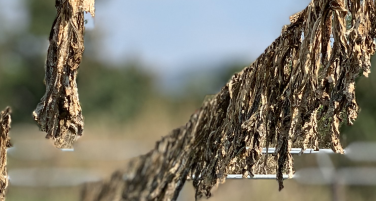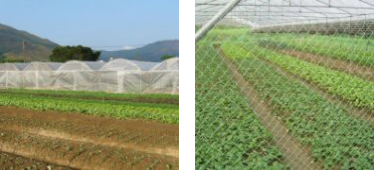 Yuen Long Healthy Organic Farm-Located at Sha Tin Hang, Kam Sheung Road, Yuen Long, New Territories. It is one of the largest organic farms in Hong Kong, with its own logistics direct sales and shops. The owner, Mr. Fung, is the chairman of the Hong Kong Organic Farmers Association. Due to urban planning, the developer may repossess the land in the next few years and affect the operation of the farm, but the owner insists Local organic farming promotes healthy living. The farm has been certified by the Hong Kong Organic Resource Center. The Hong Kong Organic Resource Center is currently the only independent certification organization in Hong Kong. The agricultural products certified by the organization are "guarantees of confidence."

So Kwun Wat Lychee Garden (
掃管笏荔枝園)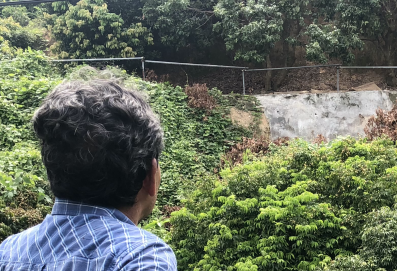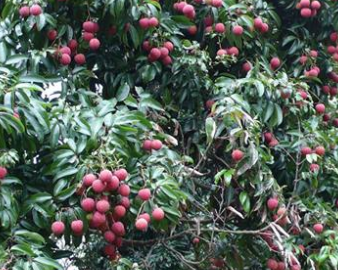 So Kwun Wat Lai Chi Yuen-Located in the southeast of Tuen Mun, New Territories, Hong Kong, So Kwun Wat Lai Chi Yuen is certified by the Fisheries Department. The lychee garden uses organic fertilizers such as sheep dung and chicken dung to grow lychees, longan and yellow peel. Lychees will be harmful to insects during the flowering period. In order to ensure the fruit of the flowers, appropriate pesticides will be used to control the pests (for the time being only this method is effective for control), but when the fruiting period is reached, it will be treated with organic methods. "You Health" pays great attention to this problem , In order to bring healthier food to consumers.
Eva's Farm (Regenerative Farming Farm)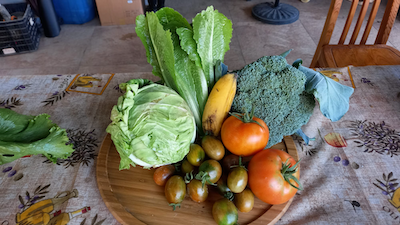 Eva's Farm is located in Kei Leng, Fanling, New Territories. Eva's crops are grown by composting method, which is particularly fragrant and has many benefits: its fiber can promote gastrointestinal motility, help to eliminate waste and toxins from the body, and can also reduce cholesterol.
Regenerative farming uses enzymes and organic compost to allow vegetables to absorb soil minerals. Emphasis is placed on maintaining high levels of soil organic matter, minimizing tillage, increasing biodiversity, crop rotation, cover crops, green manure, compost, mulch, etc. Therefore, it is not just organic, but sincerely introduces to our customers, so that our customers can benefit from delicious organic dishes!